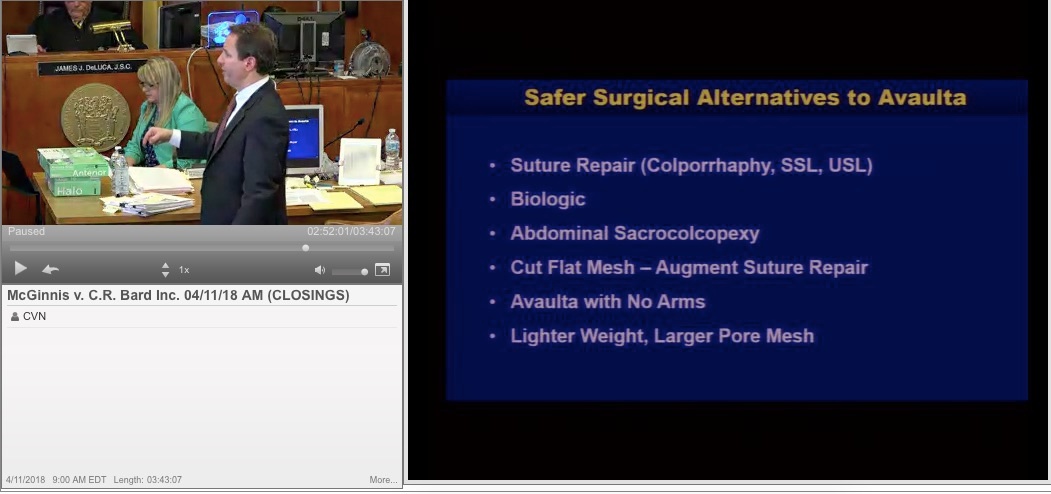 CVN screenshot of plaintiff attorney Adam Slater delivering his closing argument
UPDATE Friday 4/13 - Jurors on Friday afternoon returned a punitive damages verdict of $35 million dollars, in addition to Thursday's compensatory award, bringing total damages to $68 million.
Hackensack - A New Jersey state court jury slapped C.R. Bard Inc. with a $33 million verdict on Thursday in the first lawsuit to go to trial in the state over the company's supposedly defective pelvic mesh implants.
The Bergen County jury awarded $23 million in compensatory damages to plaintiff Mary McGinnis and $10 million to her husband Thomas McGinnis. A second phase of the trial to determine punitive damages begins Friday.
Jurors determined Bard's "Avaulta" and "Align" transvaginal mesh implants, which McGinnis received to treat her bladder prolapse and stress incontinence, were defectively designed and left her suffering from chronic pain.
Bard denied the allegations, maintaining that its products were extensively tested, and that McGinnis' ailments are the results of other underlying medical issues. Both the Avaulta and Align implants were taken off the market in 2012 and 2016, respectively.
The full trial, which began on March 19, is being recorded and webcast gavel-to-gavel by Courtroom View Network.
The parties did not immediately respond to a request for comment.
The verdict marks a loss for C.R. Bard at its first trial in New Jersey, where the company's headquarters are located and numerous pelvic-mesh related lawsuits are consolidated.
Out of the roughly 30 pelvic mesh cases to go to trial in state and federal court since the first trial in 2012, only three have involved C.R. Bard implants.
An initial trial in California state court involving the Avaulta device ended in a $5.5 million verdict in 2012, and a federal jury in West Virginia returned a $2 million verdict in an Avaulta case in 2013. A trial in Missouri state court involving the Bard Align and Boston Scientific's "Solyx" implant ended in a defense verdict in 2016.
The same attorney who lead Bard's defense in that Missouri trial, Lori Cohen of Greenberg Traurig, is representing the company in this current case. Cohen is based in the firm's Atlanta office.
McGinnis is represented by Adam Slater of Mazie Slater Katz Freeman Roseland, a New Jersey-based firm. Slater represented plaintiffs in the only two previous pelvic mesh trials in New Jersey, which both involved implants manufactured by Johnson & Johnson's Ethicon subsidiary and ended in plaintiff verdicts.
Both of those trials were recorded by CVN, in addition to the previous Bard trial in Missouri.
CVN also previously recorded pelvic mesh trials in Texas, California and Massachusetts, which are all available to subscribers as part of CVN's one-of-a-kind online video library of gavel-to-gavel civil jury trials.
The current trial in New Jersey is taking place before Bergen County Superior Court Judge James DeLuca.
The case is captioned Mary McGinnis and Thomas Walsh McGinnis v. C.R. Bard Inc., et al., case number BER-L-17543-14.
Email David Siegel at dsiegel@cvn.com