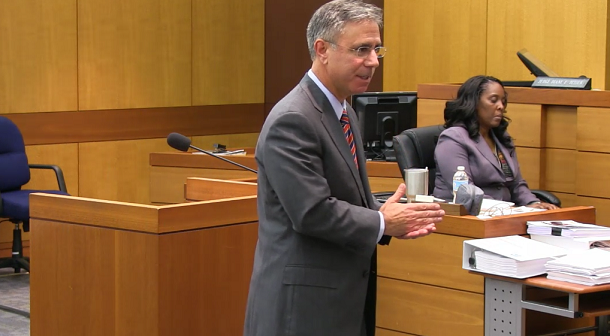 Jay Sadd delivers his closing argument on behalf of Patricia Smith, who claims Logisticare's failure to properly supervise a contracted paratransit transportation service led to the loss of her arm and the use of her leg.
---
Atlanta—Jurors Friday awarded $5M to a Georgia woman who lost her left arm and had her right leg rendered useless in a fall on a paratransit van. Smith v. Logisticare, 2014EV002438-J.
Jurors spent about 7 hours in deliberations before concluding non-emergency transportation company Logisticare LLC was partially at fault for the 2012 Adele, Georgia accident that left Patricia Smith with the use of only one limb.
The accident occurred when Smith, a left-leg amputee traveling in a Logisticare-contracted paratransit van to a dialysis appointment, fell from her wheelchair as the van struck a pothole. She was not safety belted and suffered crush fractures to her left arm and right leg, ultimately requiring her arm to be amputated and rendering her right leg useless, her attorney, Slappey & Sadd LLC's Jay Sadd, told jurors. Smith, who had lived in her own home before the accident, spent three years in a nursing home afterward. Sadd said she lives in constant pain and can no longer perform activities of daily living without complete assistance.
Smith, now 63, claims Logisticare breached its duties under its transportation agreement with the Georgia Department of Community Health, or DCH, by failing to properly monitor or supervise Alicia Mathis Gardner, the paratransit van's driver and an employee of MIDS, the company Logisticare contracted with to provide paratransit transportation.
Notably, jurors refused to find MIDS acted as Logisticare's agent, which likely insulates Logisticare from responsibility placed on MIDS. That, combined with the jury's apportionment of only 36% of responsibility to Logisticare, means the post-verdict judgment will likely be reduced to $1.8 million.
MIDS, which was not a party in the case, was found 54% responsible, while jurors allocated 10% of liability to Smith.
Sadd requested up to $24 million in damages during Thursday's closing arguments, including $19 million in damages for future pain and suffering, or $1 million a year for the rest of Smith's expected life under a Georgia mortality table. "If there was a job ad for [Smith's post-accident life], and it paid $1 million a year, I don't know anybody who'd take that job," Sadd said, describing Smith's days with only one working limb.
The three-day trial focused largely on whether Logisticare was responsible for any negligence of MIDS, and whether it breached any duty to oversee and monitor MIDS drivers. During Thursday's closing arguments, Scrudder Bass' Glenn Bass, representing Logisticare, painted the company as a transportation broker limited in its authority under its agreement with Georgia DCH. "Of course we don't meddle in MIDS' operations. We couldn't even if we wanted to, that would be illegal," Bass said. "In terms of the independent contractor relationship, it couldn't be anything but that. We would be violating, not only DCH regulations, we would be violating state law to do that. So, of course, this is an independent contractor relationship. It can't be anything else."
Bass reminded jurors of testimony Logisticare spot-checked MIDS drivers to ensure their compliance with safety rules and noted a DCH representative testified the agency found Logisticare complied with its requirements under the state agreement. "What more can we do folks, other than bring the person that we contract with to tell you that?" Bass asked.
But Sadd countered that MIDS' designation as an independent contractor and Logisticare's claims of spot-checking were empty statements intended to insulate Logisticare from liability. "[Logisticare says] 'To heck with safety. I mean sure we promised it. Hey, those are just words. We [use] independent contractors,' they say. 'Leave us alone. We've got no responsibility.'"
Sadd added the fact that Smith had been traveling generally unbelted in Gardner's van three times a week for three months before the accident belied Logisticare's claims of proper monitoring. "It shouldn't take a doggone lawsuit for them to find out that they had an employee that wasn't strapping somebody down for three months," Sadd said.
Originally founded in 1986 as a technology company, Logisticare now manages more than 250 non-emergency transportation programs in 39 states and the District of Columbia, according to the company's website.
CVN recorded the trial and will provide gavel-to-gavel coverage as soon as it is available.
Email Arlin Crisco at acrisco@cvn.com.
Editor's note: An earlier version of this story incorrectly reported the allocation of responsibility. Logisticare was found 36% liable by jurors.

Related information
Slappey & Sadd LLC's Jay Sadd and The Stillwell Law Firm's Mike Stillwell represent Patricia Smith.
Scrudder Bass' Glenn Bass and Trisha Godsey represent Logisticare LLC.
CVN will provide gavel-to-gavel coverage as soon as it is available.
Not a subscriber?
Learn how you can see the best attorneys in action, in Georgia and across the country.