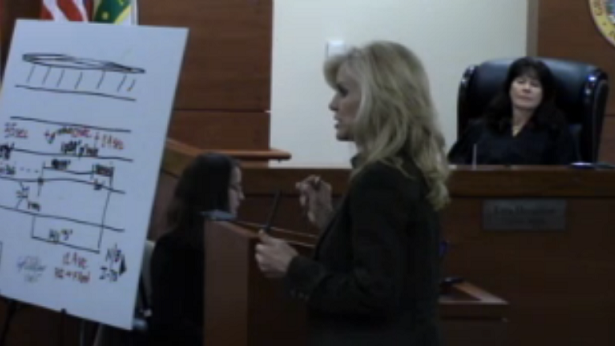 Marianne Howanitz delivers her closing argument at trial over the deaths of Deborah and Eliezer Maldonado, Jr.
---
Ocala, FL—Jurors Friday awarded more than $3.9 million to the family of a Florida mother and son killed in a late-night, 2012 truck crash, but found a non-party drunk driver largely at fault, likely reducing the award. Maldonado v. Wayne T. Fellows, et al., 2013CA001308.
The Florida State Fifth Circuit Court jury in Marion County needed about five-and-a-half hours to find trucker Theorphilus Clark 22% responsible for the crash that killed Deborah E. Maldonado, 35, and her son Eliezer Maldonado, Jr., 12. Clark's truck slammed into the Maldonados' car as it sat stranded late at night in the middle of the road on I-75. The car had been disabled minutes earlier when it was struck by another car driven by Lanessa Riobe, who fled the scene and was later arrested for drunk driving.
Jurors found Riobe 78% responsible for the fatal crash. Riobe is serving 10 years in prison after pleading guilty to two counts of DUI manslaughter.
The jury's unreduced award included $1,400,500 to Eliezer Maldonado Sr., and $2.5 million to Eliezer and Deborah's daughter, Andeliz. The father and daughter had escaped the stranded car on the night of the accident and saw the second, fatal crash.
The jury's apportionment of fault likely means damages against Clark, his trucking firm, Wayne T. Fellows Inc., and Peoplease Corporation will be reduced to $858,000.
Maldonado's attorney, Ocala's Marianne Howanitz, requested more than $15.1 million in damages for the crash, including $3 million for the death of Eliezer Sr's. son. "There can be no greater loss than the loss of a child," Howanitz said. "It's unnatural. It's not supposed to happen."
Friday's verdict capped a 12-day trial that turned on whether Riobe or Clark ultimately caused the fatal wreck. Maldonado's legal team argued Clark suffered from a history of medical problems, including sleep apnea that left him so fatigued he did not notice the Maldonados' disabled car or the flashing headlights of the their traveling companions, trying to warn of the stranded vehicle.
During Thursday's closings, Howanitz reminded jurors of records showing Clark had complained to his doctor of various sleep problems, including falling asleep while driving and extreme fatigue, for years before the accident. However, Howanitz noted Clark had not provided similar information to Department of Transportation examiners, which she said rendered his commercial driver's certification invalid. "He shouldn't even be behind the wheel," Howanitz said. "On the night [the Maldonado crash] happens, he should not have been [in the truck]."
Howanitz told jurors fatigue kept Clark from reacting appropriately, despite seeing stopped cars and lights attempting to warn him of trouble 35 seconds before he struck the Maldonados' car at highway speed. "It's not OK to drive into… flashing lights, stopped traffic, as fast as you can go, at 70 miles-per-hour, on cruise control, without putting your high beams on," Howanitz said. "The rules and regulations in [the trucking] industry say that is not OK. That is negligence."
Howanitz argued the fact that Riobe had disabled the Maldonados' car in the first crash did not absolve Clark from liability. "Why the Maldonado vehicle is in the road is not a determining factor of Mr. Clark's actions, whether they were negligent or not. It doesn't matter why [the car] was in the middle of the road," she said.
However, the defense countered that there was no proof Clark was fatigued at the time of the crash, and they argued Clark's collision with the Maldonados' car was unavoidable, given poor visibility on the dark highway. During Thursday's closings, Clark's attorney, Rissman Barrett's Richard Womble, reminded jurors that the plaintiff's expert on occupational fatigue, Dr. Stefanos Kales, could not see a stranded car in a photographic recreation of the late-night accident, despite maintaining Clark should have seen the Maldonados' car. "Ladies and gentlemen, if Dr. Kales, the plaintiff's expert, is telling you this is plainly visible and he can't see it, then you must reject his testimony," Womble said.
Peoplease's attorney, Alvarez Winthrop Thompson & Storey's Susan Seigle, told jurors the roadside warnings from the Maldonados' companions were well-meaning but failed to properly highlight the trouble ahead. "They did it in a desperate attempt to help their friends. But the problem was [that] it created a distraction." Seigle said, walking jurors through a diagram of the accident. "It didn't illuminate this car, the Maldonado vehicle, and it didn't give Mr. Clark any clue that there was something ahead of him."
Cole Scott Kissane's Daniel Kissane, representing Wayne T. Fellows Inc., said Lanessa Riobe's prison sentence for the two deaths showed she was the one responsible for the fatal crash. [Lanessa Riobe] pled guilty, which is the equivalent of 'I did it. It's my responsibility,'" Kissane said. "And now in this lawsuit [plaintiff is] coming into the courtroom and saying 'Well, take the bill for all these damages caused by Ms. Riobe and walk it across the room, and hand it to Mr. Fellows or Mr. Clark,'" he added. "That's not fair. That's not justice."
Email Arlin Crisco at acrisco@cvn.com.
Related Information
Eliezer Maldonado, Sr. is represented by Marianne Howanitz and The Ramsdell Law Firm's Dan Ramsdell.
Wayne T. Fellows Inc. is represented by Cole Scott Kissane's Daniel Kissane and James Sparkman.
Theorphilus Clark is represented by Rissman, Barrett, Hurt, Donahue, McClain & Mangan's Richard Womble.
Peoplease Corporation is represented by Alvarez Winthrop Thompson & Storey's Griffith Winthrop and Susan Seigle.
Not a subscriber?
Learn how you can see the best attorneys in action, in Florida and across the country.