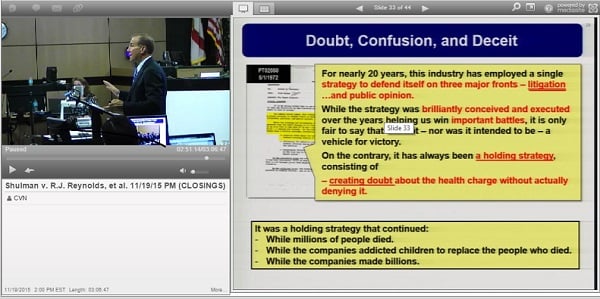 Scott Schlesinger delivers closing arguments on behalf of his client, Robert Shulman, who claims the concealment of smoking's dangers by the nation's three largest tobacco companies caused his cancer, heart, and respiratory diseases. Jurors last week found in favor of the tobacco companies.
---
West Palm Beach, FL—Jurors last week cleared the nation's three largest tobacco companies of liability for the cancer and heart and lung diseases a 95-year-old former former pilot claims stemmed from more than four decades of smoking. Shulman v. R.J. Reynolds, et al. 2007-CA-023832.
The six-member jury deliberated for about four hours before concluding nicotine addiction did not cause Robert Shulman's bladder cancer, coronary artery disease or chronic obstructive pulmonary disease.
Shulman, a pilot who ran businesses ranging from a cleaning company to a charter airline, smoked cigarettes made by R.J. Reynolds, Philip Morris, and Liggett Group LLC for more than 40 years before quitting around 1975. He claims the cigarette makers covered up the dangers and addictiveness of smoking, hooking him on nicotine and ultimately causing his 1995 bladder cancer and subsequent heart and pulmonary diseases.
Shulman's attorney, Sheldon J. Schlesinger P.A.'s Scott Schlesinger requested more than $8 million in compensatory damages, plus unspecified punitives during closing arguments.
Last week's verdict capped a trial that spanned more than four weeks of evidence on issues ranging from Shulman's reasons for smoking to his claim of Florida residency.
However, it was the link between Shulman's alleged nicotine addiction and his subsequent health issues that turned the verdict.
During closing arguments, Schlesinger told jurors Shulman was the victim of a successful tobacco industry campaign to addict smokers to nicotine. Schlesinger reminded jurors of testimony describing Shulman suffering from body aches and depression when he tried to quit smoking, which, Schlesinger noted, led experts to conclude Shulman was addicted to nicotine. "Nicotine addiction is why people keep smoking," Schlesinger said. "This is why (Shulman) kept smoking. It sustains the chain of addiction. Every cigarette contributes."
Schlesinger argued medical evidence proved Shulman's smoking caused his diseases despite their development more than a decade after he quit. Highlighting R.J. Reynolds internal documents acknowledging a lag of 10 or more years between quitting smoking and the development of cancer, Schlesinger said "They knew what the truth of the science was."
However, the defense argued a variety of factors, including age, high blood pressure and long-termexposure to carcinogenic cleaning solvents, caused Shulman's coronary disease and cancer. The defense also rejected outright Shulman's contention that he suffered from chronic obstructive pulmonary disease. During closing arguments, King & Spalding's Jeffrey Furr noted a recent pulmonary function test, typically used to diagnose COPD, showed normal results for a man of his age. "Mr. Shulman did not have COPD now, and that means he could never have had COPD," Furr said. "When you get COPD it doesn't go away. That decrease in lung function remains with you for the rest of your life."
Beyond a link between smoking and disease, Furr argued Shulman was never addicted to cigarettes, but smoked by choice. In contrast to addicted smokers, who often need assistance to quit successfully, Shulman quit with "no counseling needed, no help from any family member. He made up his mind, took it out of his mouth, threw it down, and never smoked again," Furr said. "That was the only occasion he had gone even 24 hours without a cigarette since he began smoking, and he could have quit any time he chose to."
Shulman is one of thousands of smokers suing the nation's tobacco companies as part of Florida's Engle progeny class of cases. The claims stem from Engle v. Liggett Group, a 1994 class action suit in which a jury found tobacco companies knowingly produced dangerous, addictive cigarettes and hid those dangers from the public. The Florida Supreme Court subsequently decertified the class on appeal, but its holding allows individual plaintiffs to rely on the jury's conclusions in the original trial if they can prove the smokers at the center of their cases were Florida residents whose addiction to cigarettes caused a smoking-related disease to develop between May 5, 1990 and November 21, 1996.
Email Arlin Crisco at acrisco@cvn.com.
---
Related Information
Scott Schlesinger, Jonathan Gdanski, and Steven Hammer, of Sheldon J. Schlesinger P.A., represent Robert Shulman.
Jeffrey King and Nathan Guest of King & Spalding, represent R.J. Reynolds Tobacco Co.
Andrew Brenner, of Boies Schiller, represents Philip Morris Tobacco Co.
Maria Ruiz, of Kasowitz, Benson, Torres, represents Liggett Group LLC.
Watch gavel-to-gavel coverage, live and on demand.
Not a subscriber?
Learn more about CVN's unrivaled tobacco litigation library.