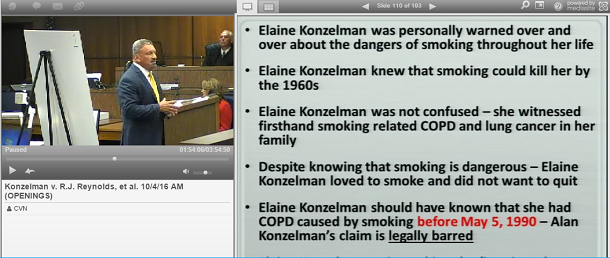 Jeffrey Furr delivers his opening statement on behalf of R.J. Reynolds, on trial for the COPD death of Elaine Konzelman.
---
Fort Lauderdale, FL—Attorneys argued whether a suit against R.J. Reynolds over a Florida woman's respiratory disease is time barred, as trial in a suit by the woman's widower opened this week against the tobacco powerhouse. Konzelman v. R.J. Reynolds, 2008-CV-019620.
Elaine Konzelman, 79, died in 2010, 15 years after doctors diagnosed her with chronic obstructive respiratory disease, or COPD. Her husband, Alan Konzelman, claims his wife's COPD was caused both by nicotine addiction that drove her to smoke up to two packs of cigarettes a day for more than 30 years and Reynolds' participation in a decades-long scheme to hide the dangers of smoking.
But Reynolds says the suit is barred by the statute of limitations because Elaine Konzelman suffered from COPD before May 5, 1990 and should have known it was related to her smoking. During Tuesday's openings, King & Spalding's Jeffrey Furr told jurors Konzelman showed tell-tale signs of COPD in the 1980s, including coughing and shortness of breath, and that those close to her, including her niece, warned her the symptoms were caused by her smoking. "[Frost] would give Elaine that warning when she would see Elaine being short of breath in the 1980s," said Furr. "She would tell Elaine, 'Cigarettes are going to kill you…. You have to stop smoking.'"
But Alan's Konzelman's attorney, Kelley Uustal's Eric Rosen countered medical records and testimony from family members would show Elaine remained in good health until the 1990s, and he noted a 1995 pulmonary function test led to her COPD diagnosis. "Before [1995] you're going to see there's no evidence she's ever been diagnosed or anyone ever told her she had COPD," Rosen said. "And… it's their burden of proof she should have known."
Konzelman's case stems from Engle v. Liggett Group Inc., a Florida state court class-action lawsuit originally filed in 1994, in which jurors found for the plaintiffs. The high court later decertified the class, but ruled that so-called Engle progeny cases may be tried individually. Engle progeny plaintiffs are entitled to the benefit of the jury's findings in the original verdict, including the determination that tobacco companies placed a dangerous, addictive product on the market and hid the dangers of smoking, if they prove the smoker at the heart of a case suffered from nicotine addiction that was the legal cause of a smoking-related disease.
On Tuesday, Rosen told jurors evidence would show Elaine's smoking and eventual COPD was tied to a nicotine addiction that controlled her life. Rosen said Elaine was so addicted to cigarettes she smoked while pregnant and could not sit through a movie or church service without needing to leave for a cigarette. Rosen said she quit smoking in 1995 only after doctors put her on a ventilator for her respiratory disaease. Rosen told jurors they would hear "why she loved, loved, loved to smoke; why she didn't want to give it up. You're going to learn about it. It's powerful."
However, Furr said Konzelman enjoyed smoking and her quit attempts before doctors placed her on a ventilator were likely made to placate family members rather than beacuse she really wanted to stop smoking. Furr told jurors a pre-trial deposition showed that even her husband was not able to say his wife's pre-1995 quit attempts were completely genuine. "He could not say, under oath, that any of the attempts that she made before 1995 were whole hearted," Furr said.
Trial in the case was suspended due to the approach of Hurricane Matthew. It will resume next week and is expected to last through the week.
---
Related Information
Alan Konzelman is represented by Kelley Uustal's Eric Rosen.
R.J. Reynolds is represented by King & Spalding's Jeffrey Furr
Not a subscriber?
Learn how you can watch CVN's unrivaled tobacco litigation coverage.