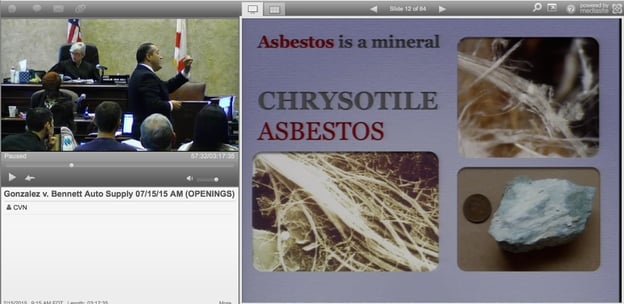 Plaintiffs' attorney Janpaul Portal shows jurors an image of asbestos fibers during his opening statement. Click here to see video from the trial.
Miami — The family of a mechanic who allegedly died of cancer caused by decades of exposure to asbestos took heavy equipment giant Caterpillar Inc. and auto parts manufacturer Dana Co. LLC to trial on Wednesday in Florida state court, claiming the companies knew their products contained the deadly material but failed to provide adequate warnings.
Attorney Janpaul Portal of The Ferraro Law Firm told jurors during his opening statement that Pablo Gonzalez Sr. developed mesothelioma, a type of lung cancer that has been linked to inhaling asbestos fibers, as a result of working with brakes and gaskets for over 30 years. In 1974 Gonzalez opened a garage that serviced large equipment like bulldozers, and he frequently used compressed air to clean up work areas after cutting and sanding replacement brakes, creating large clouds of asbestos dust, Portal said.
Gonzalez died in 2011 at the age of 79 less than three months after being diagnosed with mesothelioma, and in 2013 his son of the same name sued Caterpillar and Dana claiming the companies knew for decades about the dangers posed by asbestos used in its products. Portal told jurors the warnings that were eventually put on asbestos-containing brake products were inadequate and didn't suggest use of a respirator or include the words "death" and "cancer" which is standard on all asbestos warnings on American-manufactured products today.
Portal claimed Caterpillar knew as early as 1959 that asbestos in its brake products was toxic, but no warning labels were used until 1984, and the products continued to be sold until 1990. Dana, which bought Victor Gasket Manufacturing Co. - the company that manufactured gaskets used by Caterpillar - developed an asbestos substitute in 1980 but didn't issue any warnings until 1985, according to Portal.
"We do not want your sympathy. We want justice, because the evidence we believe shows that they knew these products were dangerous," Portal said, according to a Courtroom View Network webcast of the trial. "They didn't adequately warn about it and as a result Mr. Gonzalez was exposed to a deadly carcinogen."
Portal didn't ask the jury to award a specific amount of damages, but plaintiffs' verdicts in the few asbestos cases that actually make it to trial each year can run into the millions.
Representing Caterpillar, Jose Gaitan of The Gaitan Group told the jury that while there was no dispute over whether or not Gonzalez died of mesothelioma, that there was no evidence directly linking his illness with Caterpillar's products. He said Gonzalez's lung tissue was not preserved after his death, so there was no way to verify if the mesothelioma was naturally occurring or caused by the inhalation of asbestos fibers.
"There is no evidence whatsoever as to what was in his lungs," Gaitan said.
Gaitan claimed the Caterpillar brake products Gonzalez worked with were so-called "wet systems" which meant the components were coated in oil to prevent the discharge of dust particles, and that he could have been exposed to asbestos in products manufactured by a number of other companies. Gonazles Jr. testified in a pretrial deposition that his father would purchase parts from whichever manufacturer was cheapest.
During his opening statement on behalf of Dana, James Powers of Wilson Elser Moskowitz Edelman & Dicker LLP cited scientific studies that he claimed showed mechanics were not at any greater risk than the general population for developing mesothelioma as a result of working with asbestos-containing products like gaskets.
Powers said Dana's experts would testify that Gonzalez faced the same danger from exposure to asbestos, a naturally occurring mineral, as "people have from being exposed to the asbestos in the air in cities like Miami or New York or Los Angeles or Houston."
He also said that the specific type of asbestos used in some of the company's gaskets, known as Chrysotile asbestos, is easily broken down and released from the lungs, unlike other types with longer, more rigid fibers that become embedded in pulmonary tissue.
"The science is that Victor's gaskets don't cause mesothelioma," Powers said.
Circuit Judge Jacqueline Hogan Scola is presiding over the trial, which is being webcast and recorded gavel-to-gavel by CVN.
Representatives for the parties did not respond to requests for comment.
Gonzalez is represented by Janpaul Portal and Marc Kunen of The Ferraro Law Firm.
Caterpillar is represented by Jose Gaitan of The Gaitan Group PLLC, and by Timothy Ferguson of Foley & Mansfield PLLP.
Dana is represented by James Powers of Wilson Elser Moskowitz Edelman & Dicker LLP, and by Evelyn Davis and Catherine McCormack of Hawkins Parnell Thackston & Young LLP.
The case is Gonzalez v. Bennett Auto Supply Inc, et al., case number 2013-CA-031838, in the 11th Judicial Circuit Court of Florida in Miami-Dade County.
E-mail David Siegel at dsiegel@cvn.com.
Related:
Click here to check out other product liability trials, including asbestos cases, in CVN's one-of-a-kind online video archive.