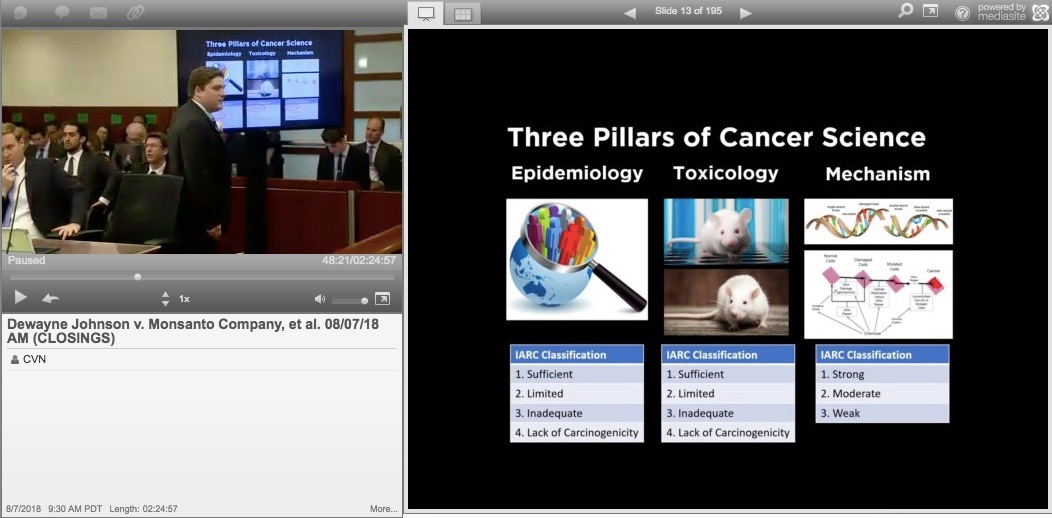 CVN screenshot of Brent Wisner delivering his closing argument
Correction: An earlier version of the story indicated a July 24 hearing listed as upcoming on the Monsanto MDL website was with regards to the recent $10 billion settlement, and not a separate proposed class-action settlement that has now been withdrawn
San Francisco, CA - Bayer-owned Monsanto recently reached a $10 billion settlement to resolve thousands of lawsuits alleging exposure to the popular Roundup weedkiller causes cancer.
In light of the landmark agreement, Courtroom View Network decided to look back at the first Roundup case to go to trial, which got underway roughly two years ago at this time.
CVN filmed the opening and closing arguments in the case of Johnson v. Monsanto in state court in San Francisco. None of the subsequent Roundup trials were subject to video coverage, either because of taking place in federal court where video coverage is prohibited, or in state courts where judges assented to Monsanto's requests to bar members of the news media from public courtrooms.
Some Roundup cases not resolved in the settlement could still potentially proceed to trial, and this rare video of the only Roundup opening and closing statements filmed to date could present an important roadmap for both plaintiff and defense attorneys.
Jurors in the case awarded DeWayne Johnson, a former school groundskeeper who alleges he developed non-Hodgkin lymphoma from repeated exposure to glyphosate, a chemical used in Roundup and other weedkillers, $289 million. The judge later trimmed the award to $78.5 million, but Monsanto (which Bayer acquired in 2016) sought a new trial, based in part on a determination by the EPA that glyphosate is not carcinogenic.
The openings and closings in the Johnson trial feature R. Brent Wisner for the plaintiff, a partner with the Los Angeles-based firm Baum Hedlund Aristei Goldman.
Monsanto was represented by George Lombardi, a partner with Winston & Strawn based out of the firm's Chicago office.
In addition to the video, CVN captured digital images of the demonstratives shown to the jury during the opening and closing arguments, offering an unusual front-row look at the visual aides that both sides used to convey the extremely complex scientific arguments at the heart of the case.
Become a subscriber to CVN's trial video library today for just $99/month, or even less with an annual subscription, and get unlimited, on-demand access to these landmark arguments and hundreds of other trials - including two trials involving Monsanto's PCB chemicals.

CVN screenshot of George Lombardi delivering his closing argument
Related: Jury Clears Monsanto In $15M PCB Cancer Trial
E-mail David Siegel at dsiegel@cvn.com