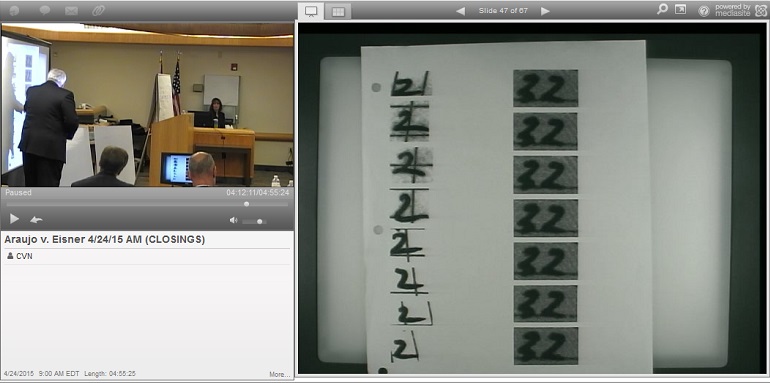 Jay Chimpoulis details a medical entry made by Heidi Aleman-Ortega in closing statements of Jorgina Araujo's negligence suit against Chimpolis' clients, Ortega and Dr. Tatiana Eisner.The parties reached a settlement while the jury was deliberating in the $3.3 million trial. Terms of the settlement were not announced.
---
Ft. Lauderdale, FL—An anesthesiology team reached a last-minute settlement with the patient who claims the team's negligence during a hysterectomy caused a stroke that left her partially blind.
Araujo v. Eisner, CACE13012999.
Judge Patti Englander-Henning announced the settlement Monday morning between Jorgina Araujo and the defendants, anesthesiologist Dr. Tatiana Eisner and nurse-anesthetist Heidi Aleman-Ortega. Jurors had deliberated about three hours Friday afternoon and more than two hours Monday before the settlement was announced. Terms of the parties' agreement were not released.
The agreement concludes a week-long trial in which Araujo claimed Eisner and Aleman-Ortega failed to notice the symptoms of an air embolism, or air in the veins, during Araujo's 2011 hysterectomy. Araujo contends she suffered a stroke from the embolism, which left her with left-side blindness and rendered her brain unable to understand what she sees. Araujo sought up to $3.3 million in the suit.
Araujo's in-surgery, end-tidal C02 measurements, or the amount of carbon dioxide in the lungs after an exhale, served as the trial's key point of dispute. Araujo's attorneys contended that the measurement dropped significantly during surgery, signaling an embolism, but that the anesthesiology team did nothing and ultimately changed an end-tidal C02 record entry from 22 to 32. Throughout the trial, both sides offered expert testimony detailing an embolism's tell-tale effects and whether Araujo's surgical records had been altered.
During closing arguments Friday, Morgan & Morgan's John Dill, representing Araujo, reminded jurors of expert testimony that Araujo could have suffered an air embolism without a "cascade" of complications, despite Ortega's claim to the contrary. "Maybe Nurse Ortega doesn't know what she doesn't know," Dill said.
Dill argued that Ortega likely dismissed the drop in end-tidal C02 because it was not accompanied by additional complications and then, subsequent to surgery changed the entry believing it was an error in the reading. "Not a big conspiracy, not some crime," Dill said. "A correction, of what she thought was going on, and she was mistaken."
The defense, by contrast, argued that the end-tidal C02 never dropped and that Ortega did not alter the surgical record. During closings, Chimpoulis, Hunter & Lynn's Jay Chimpoulis questioned the qualifications of Jan Leach, the plaintiff's documents analyst. Leach, Chimpoulis said, had "no real training, other than correspondence courses, no real documents-examining training other than mailing something off, so they mail something back, so you get a certificate to put on your resume."
Chimpoulis argued that without Leach's testimony and the argument that the document had been altered, Araujo's case fell apart. "If that's a 3 (for 32), rather than a 2 (for 22)," Chimpoulis said, "the case is over."
The parties' attorneys could not be reached for comment.
---
Related information
Attorneys include Morgan & Morgan's Grant Kuvin and John W. Dill, representing Jorgina Araujo, and Chimpoulis, Hunter & Lynn's Chimpoulis and Barbara Paige, representing Dr. Tatiana Eisner and Heidi Aleman-Ortega.
Read a copy of the pre-trial stipulation here.
Not a subscriber?
Learn how you can watch CVN Florida's unparalleled coverage of the state's key trials.