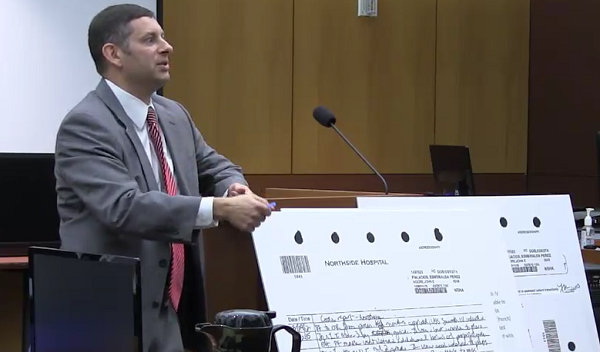 Jonathan Marigliano tells jurors medical negligence led to the life-long brain damage Esmeralda Palacios suffered during a 2012 lung biopsy procedure. Palacios' husband, Raul, represented by Marigliano, claims Drs. Laura Kaufman and Donald Silverman were negligent in their treatment of his wife during the procedure.
---
Atlanta—Whether the catastrophic brain damage an Alpharetta woman suffered during a lung procedure was reasonably preventable became the key question presented to jurors as trial began against the anesthesiologists involved in the surgery. Palacios v. Kaufman, 13EVO17275.
Esmeralda Palacios, a former loan officer from Alpharetta, suffered lifelong brain damage that has rendered her unable to care for herself when a bronchospasm, or spasm in her respiratory system's bronchioles, deprived her of oxygen during a March 29, 2012 lung biopsy in which Dr. Laura Kaufman served as attending anesthesiologist and Dr. Donald Silverman responded to assist when complications arose.

Palacios' husband, Raul, claims Kaufman failed to take appropriate safeguards to avoid the bronchospasm and did not respond appropriately when it occurred. During Tuesday's openings, the Palacioses' attorney, Slover Prieto's Jonathan Marigliano, told jurors Kaufman knew Palacios' chronic asthma placed her at a higher risk for bronchospasm while her lung disease rendered her more susceptible to serious injury from oxygen deprivation. However, Marigliano said Kaufman failed to insert an arterial line to better monitor Esmeralda's blood pressure and detect a bronchospasm more quickly. That failure, Marigliano said, was "akin to a pilot taking off on a foggy night without putting on his radar."
Marigliano claimed that error was compounded after Palacios suffered the bronchospasm when Kaufman and Silverman, who responded to Kaufman's call for assistance, failed to promptly inject Palacios with Epenephrine. "Proper care, proper precaution, could have prevented this," Marigliano said.
However, the defense contended plaintiffs' case amounted to second-guessing the medically appropriate decisions Kaufman and Silverman made to an emergency caused by an unforeseen complication. "(The plaintiffs') accusations . . . for committing malpractice are based upon clinical judgments that were made in the middle and in the heat of one of the most unprecedented and severe anesthetic emergencies that can happen in an operating room," Huff Powell's R. Page Powell told jurors Tuesday.
Powell told jurors Kaufman took into account Palacios' higher risk for bronchospasm by ordering a variety of medications to keep Palacios' airway open and said the anesthesiologists followed appropriate protocol after the bronchospasm, including administering Epinephrine when it was clear other medication wasn't working. "Dr. Kaufman and the emergency response team did everything possible to diagnose the problem and to reopen (Palacios') airways," Powell said.
He argued evidence would show the rare severity of Palacios' bronchospasm, not Kaufman's medical treatment, caused Palacios' brain damage. "There are multiple folks who will tell you, despite collectively decades of experience in treating patients like Ms. Palacios, that they have never seen a circumstance where a bronchospasm occurred and it was this severe and it was this unresponsive to the recognized accepted treatments that anesthesiologists know to use to address these types of events," Powell said.
Trial is expected to last through the week. CVN Georgia is recording the trial and will provide on-demand video as soon as it is available.
The parties' attorneys could not be immediately reached for comment.
Email Arlin Crisco at acrisco@cvn.com.

---
Related Information
Raul and Esmeralda Palacios are represented by Slover Prieto's Michael Prieto, Jack Slover, and Jonathan Marigliano.
Drs. Laura Kaufman and Donald Silverman are represented by Huff Powell's R. Page Powell and L. Evan Cline.
Related information
CVN will provide on-demand video of the trial as soon as it is available.
Learn more about CVN's unparalleled coverage of top Georgia trials.