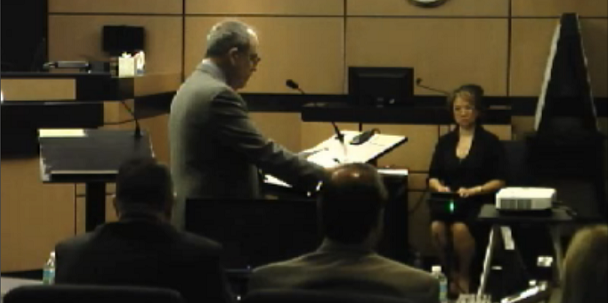 Alvaro Mejer delivers his opening statement in the $4+ million trial for the deaths of 21 polo horses who died after injesting a supplement with toxic levels of Selenium.
---
West Palm Beach, FL—Attorneys Tuesday sparred over responsibility for the deadly prescription supplement that killed 21 thoroughbred polo horses, as trial opened against the compounding lab and professionals involved with the supplement. Quorum Management, et al. v. Franck's Pharmacy, 2010-CA-009112.
Quorum Management and three professional polo players, Juan Martin Nero, Guillermo Caset, and Nicolas Espain, claim their horses collapsed and died during the 2009 U.S. Open polo tournament after ingesting a muscle recovery supplement compounded by Franck's Lab that allegedly contained toxic amounts of Selenium.
"The moment they were injected, it was a death sentence for all 21 horses," Quorum Management's attorney, Alvaro Mejer, told jurors Tuesday.
Mejer contends Franck's Lab representatives entered an incorrect formula for the supplement that contained 100 times the amount of intended Selenium, and pharmacist Anthony Campbell, who worked with Franck's Lab, failed to discover the error when overseeing the supplement. "Dr. Campbell had the opportunity several times to fix this. He did not fix this," Mejer said. "And what happened is these super-athletes of the polo world perished."
Mejer contended Campbell's error was overlooked by Dr. James Belden, the prescribing veterinarian who allegedly breached his duty when he received the supplement and passed it on to be injected without first inspecting it.
Plaintiffs, which include the horses' owners and Quorum's insurer, Diamond State Insurance, are seeking more than $4 million in damages.
However, Campbell's attorney, Hector Buigas told jurors evidence would establish Campbell had a limited role in producing the supplement and another pharmacist, Nefertiti Abdullah, not Campbell, bore the duty to ensure the prescription's formula was correct. "There's not one thing that Dr. Campbell did wrong in this case. Not one thing." Buigas said. "Unfortunately, no matter how much he tries to hide from it, Dr. Abdullah unfortunately dropped the ball. She took the job as a verification pharmacist, it was her job to verify, [and] she didn't do it right."
Belden's attorney, Dan Bachi, agreed with the contention that Abdullah, who is not a party to the case, is responsible for the error, and he argued Belden bore no duty to check the supplement for accuracy. Comparing Belden's role as a veterinarian to that of a person's physician, Bachi said "The doctor orders a prescription, the patient goes to Publix, the CVS, the pharmacy and picks it up. The doctor doesn't go look at it, and check it, and see if it's right. (Belden) had the right to rely on the pharmacist to do that."
Beyond apportionment of responsibility, the defense challenged plaintiffs' damage claim. Keith Puya, representing Franck's Lab, argued the individual owners overvalued their horses while Quorum's choice to insure its 12 horses with Diamond State for half their alleged value was a business decision for which they should bear responsibility. "Why now, are you coming and asking us to evaluate these horses at a million dollars more than you insured them for?" Puya asked.
Trial is expected to continue through next week.
Attorneys for the parties could not immediately be reached for comment.
---
Related Information
Alvaro Mejer represents Quorum Management. Fernando Aran represents Juan Martin Nero, Guillermo Caset and Nicolas Espain.
Hector Buigas represents Anthony Campbell. Keith Puya represents Franck's Lab. Dan Bachi represents Dr. James Belden.
Watch the trial live and on demand.
Not a subscriber?
Learn how you can watch CVN Florida's unparalleled coverage of the state's key trials.