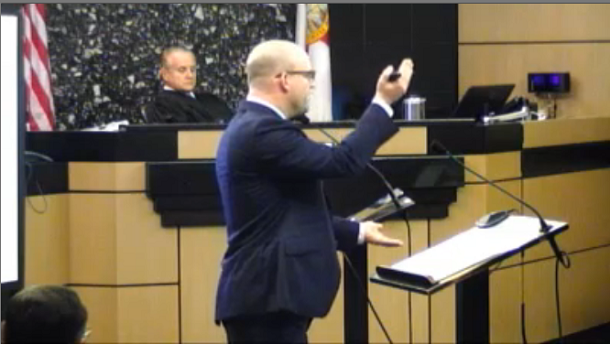 Philip Gold delivers his closing argument on behalf of Stanley Rovner, who claims medical malpractice led to the loss of his leg.
---
West Palm Beach, FL—Jurors awarded $275,000 to a South Florida man last week after concluding a hospital's negligence cost the man his leg. Rovner v. West Boca Medical Center, 2015CA004973.
The 15th Circuit Court jury awarded Stanley Rovner $200,000 for past medical expenses and $75,000 for his past pain and suffering, after concluding a West Boca Medical Center's doctor's improper treatment led to tissue damage that required Rovner's right leg to be amputated below the knee in 2012.

However, jurors declined to award damages for future pain and suffering and rejected a claim by Rovner's wife, Catherine.
The award was a fraction of the roughly $2.5 million Rovner's attorney, Gold & Gold's Philip Gold, requested for the couple during Friday's closing arguments, and less than the roughly $300,000 in medical expenses Gold told jurors Rovner incurred.
Tissue damage from an arterial occlusion, or blockage in Rovner's artery, required doctors to amputate Rovner's leg days after he arrived at West Boca Medical Center's emergency room complaining of right leg pain. Rovner, now 78, who had a history of arterial disease, claims Dr. Deborah Lieberman, the ER physician who initially saw him, failed to conduct a sufficient examination that would have discovered the blockage in time to save his leg.
The five-day trial focused on Lieberman's duty to Rovner and whether his leg could have been saved if Lieberman had ordered diagnostic imaging during her exam. The defense argued Lieberman considered the possibility of an occlusion and correctly determined Rovner did not have an arterial blockage at the time she examined him. During Friday's closing arguments, the medical center's attorney, Adams Coogler's Reed Kellner, reminded jurors that physicians who followed up with Rovner in the hours after Lieberman saw him agreed he was not suffering from an arterial blockage. "The records are so clear that this patient did not have an arterial occlusion," Kellner said.
However, Gold contended Lieberman breached the standard of care in failing to order imaging of Rovner's arterial system given Rovner's past arterial problems and leg pain. Gold argued the imaging would have revealed an occlusion in time to avoid amputation. "When you add up the history, it is unquestionable that Mr. Rovner was suffering from an arterial occlusion," Gold said. "It was certainly more likely than not."
The hospital was the only named defendant at trial.
Email Arlin Crisco at acrisco@cvn.com.
Related information
Stanley and Catherine Rovner are represented by Gold & Gold's Philip Gold.
West Boca Medical Center is represented by Adams Coogler's John "Brad" Moores and Reed Kellner.
Not a subscriber?
Learn how you can watch the best attorneys in the biggest trials, in Florida and across the country.