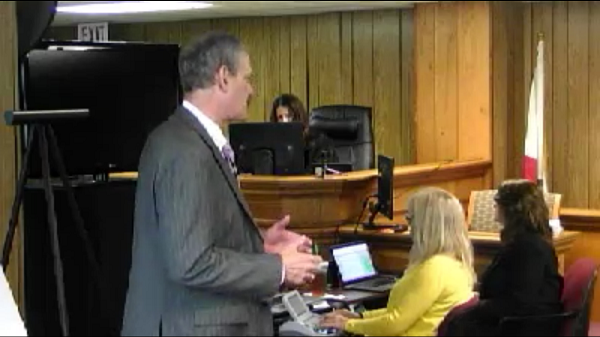 Allan Kaiser delivers opening statements on behalf of Joyce Hardin in her suit against R.J. Reynolds for the COPD death of her husband, Thomas Hardin. Watch video of the trial here.
---
Miami—As trial began Wednesday in a suit against R.J. Reynolds by the widow of a trucker who smoked through six decades, attorneys debated whether he was addicted to the cigarettes that his wife claims caused his fatal respiratory disease. Hardin v. R.J. Reynolds, 07-46973-CA-22.
"In Thomas' mind, he couldn't quit (smoking)," The Ferraro Law Firm's Allan Kaiser told jurors as he described Thomas Hardin's failed attempts to quit smoking for more than a few days despite the use of nicotine patches. "He tried, he couldn't quit."
According to Kaiser, Thomas Hardin began smoking when he was nine and smoked one-to-two packs a day for about 50 years. Hardin, an over-the-road truck driver, was diagnosed with chronic obstructive pulmonary disease in August 1996 and died in 2012 from the condition. His wife Joyce Hardin, represented by Kaiser, claims Reynolds' decades-long conspiracy to conceal the dangers of smoking caused her husband's nicotine addiction and his COPD.
Hardin's suit is one of thousands of similar lawsuits filed against tobacco companies in Florida. The cases arise from a 2006 Florida Supreme Court decision decertifying Engle v. Liggett Group Inc., a class-action tobacco case originally filed in 1994. Although the state's high court ruled Engle cases must be tried individually, it found plaintiffs could rely on certain jury findings in the original verdict, including the determination that tobacco companies had placed a dangerous, addictive product on the market and had conspired to hide the dangers of smoking. To rely on those findings, individual Engle progeny plaintiffs such as Hardin must prove the smoker's addiction to cigarettes and a causal link between the addiction and a smoking-related disease that manifested itself by November 21, 1996.
During openings Wednesday, Kaiser told jurors that nicotine addiction expert Dr. Charles O'Brien would testify Thomas Hardin exhibited classic signs of nicotine addiction, including smoking as soon as he woke up in the morning and being unable finish a meal at a non-smoking restaurant without leaving the building for a cigarette.
Kaiser also claimed that Hardin continued to smoke for years after his COPD diagnosis. "Here's a man who had COPD, he knew he could die from this disease, he knew he was sick, he knew it was from cigarettes, and (he) kept smoking for nine more years before he quit," Kaiser said. "Thomas Hardin did not continue to smoke from this lethal disease because he liked it."
However, King & Spalding's Frank Bayuk, representing Reynolds, told jurors in openings that Hardin failed to meet the clinical criteria for nicotine addiction that O'Brien, the plaintiff's expert, helped draft. Bayuk contended that Hardin's failure to meet that clinical test minimized O'Brien's opinion that Hardin was nonetheless addicted to cigarettes. "You heard, (O'Brien's) going to tell you you have to have six of 11 criteria, and then you kind of heard, 'Well, (Hardin) didn't really meet six, but I know addiction when I see it,'" Bayuk said. "So you're going to have to evaluate his testimony when he comes and testifies."
Bayuk contended Hardin was among the estimated 50% of smokers who are not addicted to cigarettes. Bayuk said Joyce Hardin admitted in depositions that her husband enjoyed the taste of cigarettes, and Bayuk claimed that Hardin suffered no withdrawal symptoms when he successfully quit smoking in 2005.
"Mr. Hardin could control his smoking," Bayuk said.
The trial is expected to last about two weeks.
Neither the parties' attorneys nor R.J. Reynolds representatives could be reached for comment.
---
Related information
Arlin Crisco can be reached at acrisco@cvn.com.
Watch gavel-to-gavel coverage live and on-demand.
Not a subscriber?
Click here to learn more about our expansive tobacco litigation library.