Stock image.
---
Miami, FL— Face shields. Plexiglass barriers. Jurors in the gallery.
Welcome to trial in the age of coronavirus.

Trial over a homeowner's insurance dispute opened in Florida's 11th Circuit Tuesday, with protocol that would have been inconceivable only a few, long months ago, before the COVID-19 pandemic scuttled jury trials across the country. Jurors were spread between the gallery and the well to help enforce social distancing; everyone wore masks, face shields, or both.
The proceeding is an early foray into jury trials as part of Florida's remote civil jury trial pilot program. The 11th Circuit is one of five jurisdictions in the state selected to participate in the initiative, meant to address how to safely return to jury proceedings as hopes for a quick return to more traditional trials dim.
But the state's pilot program has hit stumbling blocks and faced criticism. As COVID-19 cases spiked in Florida, the 9th Circuit, another participant in the program, announced last month it was delaying virtual jury tests. Meanwhile, Morgan & Morgan's John Morgan told the Orlando Sentinel that his attorneys would advise clients not to participate, declaring every case appealable.
Jurors in the 11th Circuit trial this week, an insurance dispute over repairs following damage caused by Hurricane Irma in 2017, will render a non-binding verdict. Both parties volunteered for the proceeding.
Despite the change in procedures, the trial, streamed on the 11th Circuit's YouTube channel, opened relatively smoothly in light of the unprecedented circumstances. Jurors filed in one-by-one to their assigned seats, where they each found boxes containing evidence binders. Judge Beatrice Butchko, presiding over the 1-2 day trial, changed the pattern jury instructions to accommodate the new procedures.
"Sometimes I will need to speak to the attorneys about legal elements of a case that are not appropriate for a jury to hear," Judge Butchko began at one point during instructions. "If we do have to have to have a conference during the testimony, we will hold— this is how it was in the old normal," Judge Butchko said, breaking from the prepared instructions.
"We would go side bar to discuss the matter," she said, pointing to her bench. "But now we will go in there, momentarily," she added, turning from her bench to the judge's chambers, "to safe-distance from each other."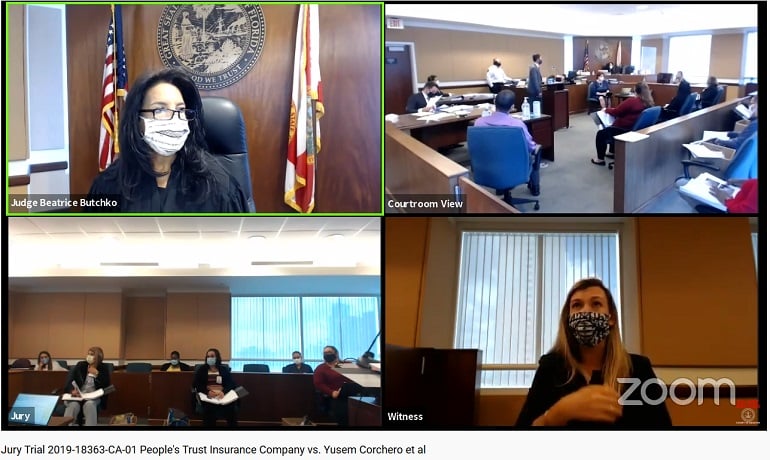 A screen shot of proceedings on the 11th Circuit's YouTube page.
---
People's Trust Company is seeking to enforce a right-of-repair clause in its policy covering Yusem Corchero and Darem Vega's home, and testimony opened with Arielle Peters, Corporate Counsel at People's. The pandemic's impact was felt during testimony as well, with a plexiglass wall around the witness stand and a prohibition on approaching witnesses.
On direct, Peters detailed the policy and the timeline the company argues shows Corchero shut down communications and refused to allow work to be completed.
Meanwhile, on cross, the defense aimed to show Corchero cooperated with the repair contractor, but People's never intended to have all necessary work performed.
At one point, the homeowners' attorney, Vargas Gonzalez Hevia Baldwin's Matthew Baldwin, pressed Peters on the insurer's knowledge of communication between Corchero and the contractor. "You as the company still don't know what those [communications] are. You as the company make the decision to sue," Baldwin, said, his voice rising. "How can you make the decision to sue if you haven't even talked to [the contractor]?"
"I believe that the individual from [the contractor] will testify as to his numerous attempts to contact the insured," Peters answered.
"So you're just going to take [the contractor's] word for it," Baldwin pressed. "You trust, in other words, that [the contractor] did what it did appropriately. Is that what you're saying?"
"Of course. They're a licensed, insured, bonded general contractor in the state of Florida," Peters fired back.
Back-and-forth on the witness stand: one thing coronavirus has not changed.
Update: Late Tuesday afternoon, jurors found in favor of the homeowners, concluding People's breached its contractual obligation to complete repairs, and awarded $12,625.17. The verdict is non-binding.
Email Arlin Crisco at acrisco@cvn.com.
Related Information
The case is People's Trust Insurance Co. v. Yusem Corchero, et al., 2019-CA-018363.
According to court documents, People's is represented by Jonathan Sabghir and Cole, Scott & Kissane's Tyler Sanchez. Corchero and Vega are represented by Vargas Gonzalez Hevia Baldwin's Andrew Vargas and Matthew Baldwin.