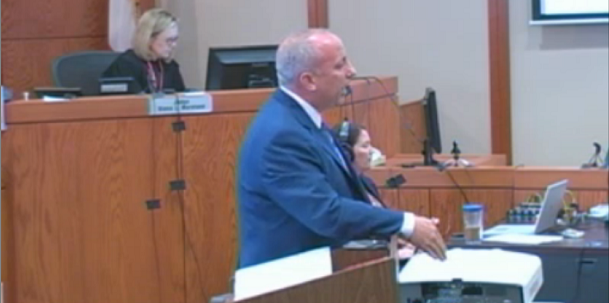 Gary Paige delivers closing arguments at trial against R.J. Reynolds for the lung cancer death of Franklin "Jim" Johnston. The jury awarded $7.5 million in compensatory damages and found the tobacco giant potentially liable for punitives.
---
Sarasota, FL—Jurors Wednesday awarded $7.5 million in compensatory damages to the widow of an Army veteran for the role they found cigarette manufacturer R.J. Reynolds played in his lung cancer death. Johnston v. R.J. Reynolds, 2014-CA-004023.2014-CA-004023.
Jurors also found punitive damages potentially warranted against the cigarette giant for its part in a tobacco industry conspiracy to hide the dangers of smoking that Barbara Johnston claims caused her husband Franklin "Jim" Johnston, 60, to die from lung cancer fueled by a decades-long nicotine addiction.
The punitive phase of trial began shortly after Tuesday's verdict on compensatories was announced.
Jurors deliberated about 6 hours before reaching their verdict, which was the majority of the $10.5 million Johnston's attorney, Gordon & Doner's Gary Paige, requested during Tuesday's closing arguments.
On Tuesday, Paige reminded jurors of tobacco industry marketing schemes throughout much of the 20th century designed to cloud the growing weight of scientific evidence about smoking's dangers. Paige said Reynolds used that messaging to target youth and those like Johnston, who had only a 10th-grade education
"They knew how many of their consumers were less educated. It wasn't a secret to them," Paige told jurors. "The base of their business is the high school student. It always has been and it always will be until a civil jury in a civil society does something about it. And that's why we ask that punitive damages be awarded.
"Choice is a two-way street. They have to talk about their conduct. They cannot avoid talking about their conduct. It's an issue in the case," Paige said.
Reynolds' lawyer, Jackie Pasek, of Jones Day, argued in her closing that Johnston, who served in the Army, enjoyed cigarettes and smoked by choice rather than because of addiction. Pasek reminded jurors none of Johnston's medical records described him as an addict. "If Mr. Johnston's doctors had wanted to write nicotine addiction on one his medical records, they could have, and they didn't," she said.
But Paige countered with a list of Johnston's smoking habits, noting he smoked first thing in the morning, left non-smoking social gatherings to smoke alone, awoke in the middle of the night to smoke, smoked when sick, and continued to smoke after a 1985 respiratory disease diagnosis and his 1994 lung cancer diagnosis.
Johnston's case stems from Engle v. Liggett Group, a class action suit originally filed in 1994. Although the state's supreme court decertified the class in 2006, the state's supreme court ruled Engle cases must be tried individually, and found qualifying Engle progeny plaintiffs are entitled to the benefit of the jury's findings in the original verdict, including the determination that tobacco companies placed a dangerous, addictive product on the market and hid the dangers of smoking, if they prove the smoker at the heart of a case suffered from nicotine addiction that was the legal cause of a smoking-related disease.
Trial on punitive damages is expected to conclude tomorrow.
Related information
Gordon & Doner's Gary Paige represents Barbara Johnston.
Jones Day's Stephen Kaczynski and Jackie Pasek represent R.J. Reynolds.
Watch the trial live and on demand.
Not a subscriber?
Learn how you can watch CVN's unequaled tobacco litigation coverage.