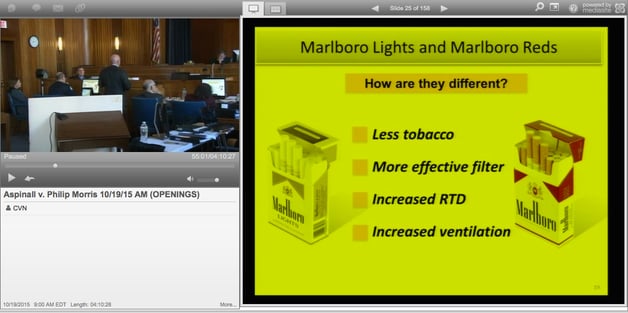 Defense attorney Gregory Stone argues during his opening statement that Marlboro Lights contain less tar and nicotine than Marlboro Reds. Click here to see video of the trial.
Boston — A trial began Monday in a long-running class action filed in 1998 on behalf of nearly 200,000 Massachusetts smokers seeking up to $609 million from tobacco giant Philip Morris USA for allegedly duping them by falsely claiming that Marlboro Light brand cigarettes exposed them to lower tar and nicotine levels than Marlboro Reds.
The plaintiff class, which consists of Massachusetts residents who purchased Marlboro Light cigarettes starting in 1994, accuses Altria Group Inc.- owned Philip Morris of committing fraud by marketing Marlboro Lights as a healthier alternative to Marlboro Reds, while knowing that tar and nicotine levels detected by Federal Trade Commission testing machines weren't the same as those many smokers actually inhaled. The suit claims Philip Morris knew smokers like lead plaintiff Lori Aspinall often drew more heavily off of light cigarettes and covered ventilation holes with their fingers.
During his opening statement, Aspinall's attorney Thomas Urmy of Shapiro Haber & Urmy LLP told Suffolk County Superior Court Justice Edward Leibensperger, who is hearing the case without a jury, that the evidence presented during the trial would prove that Philip Morris engaged in a "deliberate and cynical deception of consumers for over 30 years," according to a Courtroom View Network webcast of the proceedings.
Urmy argued that Philip Morris' deceptive marketing induced class members to purchase roughly 252 million packs of cigarettes, and that the company should pay $512 million if Marlboro Lights are determined by the court to be as harmful as Marlboro Reds, and up to $609 million if the court determines they are more harmful.
"[Philip Morris] knew those people were seriously concerned about the adverse health consequences of smoking, and that they are people to whom its representations would surely be material," Urmy said.
Representing Philip Morris, Gregory Stone of Munger Tolles & Olson LLP told the court that studies performed by both the company and the Centers for Disease Control and Prevention proved that Marlboro Lights contained less tar and nicotine than Marlboro Reds, and that the plaintiff class suffered no actual injuries.
"The question is, did the Marlboro Lights smokers get less tar and nicotine from their Marlboro Lights than if they had smoked Marlboro Reds," Stone said. He also argued that Philip Morris intentionally placed ventilation holes in areas less likely to be covered by smokers' fingers.
An Altria spokesman declined to comment on pending litigation, and an attorney for the plaintiffs did not respond to a request for comment.
Similar suits over the marketing of light cigarettes in other states have presented Philip Morris with the prospect of being saddled with massive judgments. An Illinois state court judge ordered the company to pay $10.1 billion in 2003 in a decision which remains on appeal. An Oregon appeals court in 2013 reinstated a $1 billion class action over light cigarettes, and in 2011 a mistrial scuttled a Missouri state court suit seeking $1 billion dollars. Other suits have fizzled after judges denied class certification.
Edward Sweda, senior attorney at Northeastern University School of Law's Public Health Advocacy Institute, which tracks tobacco litigation, told CVN that he is not aware of any other tobacco case being litigated for this many years before going to trial. The Aspinall suit commenced in 1998, when President Bill Clinton still lived in the White House.
"A number of these cases have gone many years before going to trial, but I can't think of one that has gone this long," Sweda said.
Sweda said the trial will deal with alleged fraud committed by Philip Morris over a number of decades, and that although the suit is brought on behalf of Massachusetts residents, the evidence will address conduct the company supposedly undertook nationwide.
"If there was fraud, it transpired across the country," he said.
The trial is expected to take approximately three weeks to complete and will be webcast and recorded gavel-to-gavel by Courtroom View Network.
The plaintiffs are represented by Shapiro Haber & Urmy LLP.
Philip Morris is represented by Munger Tolles & Olson LLP and by local counsel Latham & Watkins LLP.
The case is Lori Aspinall, et al. v. Philip Morris USA, et al., case number SUCV1998-06002 in the Superior Court of Massachusetts for Suffolk County.
E-mail David Siegel at dsiegel@cvn.com