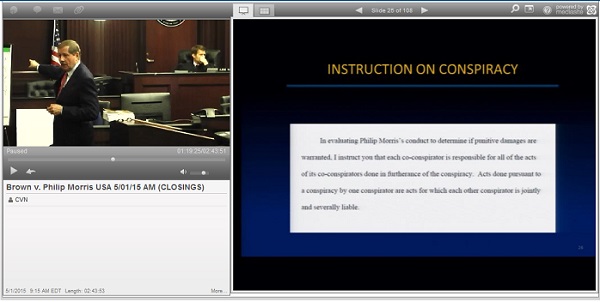 Robert Shields argues that punitive damages should be imposed against Philip Morris in a suit by his client, Mary Brown. The jury awarded more than $6.3 million in compensatory damages but declined to award punitives in the case.
---
Jurors Friday afternoon awarded a smoker's widow more than $6.3 million in her trial on damages for the lung cancer death of her husband.
The jury took less than three hours to reach its decision, which found Phillip Morris liable for $6.375 million in compensatory damages in the wrongful death suit, but declined to find punitive liability.
Determination of damages was the trial's sole issue in Mary Brown's suit for the 1995 lung cancer death of her husband, Rayfield Brown. In August 2013, jurors found in favor of Mary Brown on her claims of Engle class membership and Philip Morris' conspiracy, but it failed to issue a damage award or determine punitive liability. Friday's verdict included more than $4 million to Mary Brown and $2 million to the couple's daughter, Jennifer. The Browns had sought up to $12.5 million in compensatories.
Much of the week-long trial focused on the question of punitive damages. During closings Friday, attorneys debated whether Philip Morris' role in the claimed cover-up of smoking's dangers warranted imposing a punitive award.
Brown's attorney, Doffermyre Shields' Robert Shields, reminded jurors that Rayfield Brown began smoking as a teenager, then reiterated what he described as a tobacco industry conspiracy stretching nearly 50 years to hide the health effects of cigarettes and build new generations of smokers. "([The tobacco industry's] massive, evasive, misleading advertising was geared to, focused on teens, as the most likely source of replacement smokers," Shields said. "The entire marketing was focused on getting kids to start smoking, knowing that when they start smoking they will quickly become addicted and you will have a customer for decades."
However, Shook Hardy's Kenneth Reilly, representing Philip Morris, argued that Rayfield Brown started smoking, and continued to smoke, despite knowing the risks of cigarettes. Reilly reminded jurors of evidence that Brown, an athlete in high school, heard warnings from friends, family, and athletic team coaches concerning the dangers and addictiveness of smoking but failed to heed them. "Is there any explicit, precise evidence that Mr. Brown would have quit smoking if Philip Morris had only said, 'Hey, these are addictive,' or 'Hey, these are cancer sticks?'" Reilly asked. "Of course not. There is none, much less precise and explicit evidence."
---
As trial began Wednesday in a suit against R.J. Reynolds by a bodybuilder's widow, attorneys argued whether the coronary artery disease that killed Richard Dupre in 1994 was caused by smoking or genetics.
"Four generations of Mr. Dupre's family suffered from significant circulatory problems," Jones Day's Stephen Kaczynski, representing Reynolds, told jurors in opening statements. "Mr. Dupre fit right in the family medical history. It existed from his grandparents to his parents to his siblings, all the way down to his nephew."
Dupre, a competitive bodybuilder who smoked a pack or more of cigarettes a day for decades, died at 45 from coronary artery disease, and Kaczynski told jurors that Dupre's relatively young age and exercise habits supported the finding that his family history caused his fatal condition. "This is not a man who laid on the couch eating cheeseburgers," Kaczynski said. "This was a man who was meticulous about staying in top physical condition."
Dupre's widow, Madonna Dupre, is suing Reynolds, claiming its marketing tactics led to her husband's nicotine addiction and death. In openings Wednesday, her attorney, Motley Rice's Lance Oliver, told jurors that medical evidence, including from the coroner who performed the autopsy on Dupre, would prove that smoking caused his death. "Dr. [James] Wilson is the only medical witness that you will hear from in this courtroom who laid hands on Dick Dupre's body," Oliver said. "What he found… was plaque clogging his arteries caused by a lifetime of smoking."
Oliver derided as "courtroom medicine" defense claims tying various circulatory conditions Dupre's extended relatives suffered to Dupre's fatal artery disease. Oliver told jurors that most of Dupre's first-degree relatives, including his parents, siblings, and biological children, did not suffer from premature coronary artery disease, the condition that killed Dupre. Oliver said evidence would show that the lack of coronary artery disease among most first-degree relatives, including his parents, siblings, and biological children, would establish that genetics was not a substantial cause of Dupre's condition. "That's doctor's office, real-world medicine," Oliver said.
Next week: Plainitff's case in chief continues.
---
Arlin Crisco can be reached at acrisco@cvn.com.
Our weekly review is curated from our unequaled gavel-to-gavel coverage of Florida's Engle progeny cases.
Not a subscriber?
Click here to learn more about our expansive tobacco litigation library.