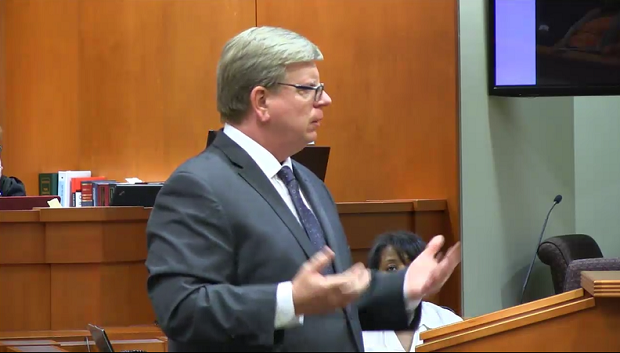 Trent Speckhals delivers his opening statement at trial over the head-on collision that killed Fatima Bird.
---
Decatur, GA—Jurors Wednesday awarded $5.35 million for the role a drunk driver played in the 2008 crash that killed a 22-year-old mother of two. Mitchell v. The Estate of Otis South, 09A03669.
Fatima Bird, 22, was killed in a late night, head-on wreck with Otis South, who was driving his Lincoln Town Car the wrong way on I-20 in Georgia's Douglas County. South, 41, and Melissa Sinkfield, 26, a passenger in Bird's car, were also killed in the July 4 weekend wreck.
South's blood alcohol measured .398, nearly five times Georgia's legal alcohol limit, after the crash. "It's so high that most people would be comatose or dead at that blood-alcohol level," Speckhals Law's Trent Speckhals, representing Bird's family, told jurors during Monday's openings in the trial on damages.
Before her death, Bird worked part-time as a hair stylist, but Speckhals urged jurors to look beyond earning capacity when determining damages. "The value of a life is not limited to what one earns," Speckhals said. "You can consider all the things outside of work that make life worthwhile, that make life worth living," Speckhals added, as he detailed Bird's life with her two daughters.
"At 22, her whole life was ahead of her. And then it was senselessly destroyed by Otis South," Speckhals said.
However, the defense urged jurors to remain as objective as possible in considering the case. "Your heart goes out to the plaintiff. My heart goes out to her," Ashley Rice, of Waldman, Castilla, Hiestand & Prout, told jurors during opening statements. "The plaintiff, and her family, and all of you are right to be angry at Otis. And if Otis was here, I'd have some things to say to him, too, about what he did. But, he's dead."
Rice reminded jurors they could not award punitives under Georgia law because South had perished in the wreck. "Otis has already been punished with the ultimate penalty," Rice said.
On the night of the crash, South had allegedly been drinking at The Blaze, an Atlanta-area strip club. In 2011, a DeKalb State Court jury ordered The Blaze to pay $1.75 million, under Georgia's dram shop law, for its role in the crash.
CVN recorded the trial against South's estate and will provide video on demand as soon as it is available.
Email Arlin Crisco at acrisco@cvn.com.
Related Information
The plaintiff is represented by Speckhals Law's Trent Speckhals.
The defense is represented by Ashley Rice, of Waldman, Castilla, Hiestand & Prout.
CVN recorded the trial and will provide video on demand as soon as it is available.
Not a subscriber?
Learn how you can see the best attorneys in action, in Georgia and across the country.