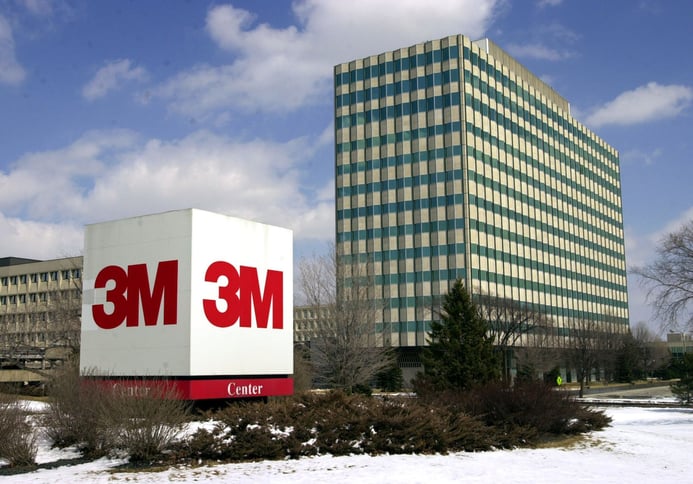 3M Co. headquarters in Minneapolis
Minneapolis - A massive $5 billion groundwater contamination lawsuit filed against chemical company 3M Co. goes before a jury on February 20, and the full trial will be webcast live gavel-to-gavel by Courtroom View Network.
The lawsuit being pursued by state Attorney General Lori Swanson claims that chemicals called perfluorochemicals, or PFCs, contaminated groundwater sources and have led to increased rates of birth defects, cancer and other illnesses. PFCs are commonly used in products like nonstick cookware, stain repellant and firefighting foam.
The state claims 67,000 local water drinkers consumed the chemicals, which leaked into groundwater supplies from 3M dump sites. The lawsuit alleges that 3M knew PFCs posed a significant health risk but failed to inform health officials.
3M acknowledges the presence of PFCs in groundwater supplies but claims the amounts are so small they are essentially harmless. The company accuses Swanson's office of building a case on shoddy science which has been directly refuted by other state government agencies.
The trial will be closely watched, given the widespread use of PFCs throughout the United States manufactured by 3M and by other chemical companies. This broad interest prompted Judge Kevin Burke to allow live gavel-to-gavel video coverage for the first time at a civil jury trial in Minnesota.
While video coverage in courtrooms has become increasingly common over the last decade, Minnesota only adopted guidelines in 2013 that allow for video coverage of civil trials without the consent of the parties.
The trial, anticipated to take at least six weeks to complete, will be a massive undertaking. Jurors will be presented with a phalanx of expert witnesses from both sides who will delve into decades worth of complex scientific evidence.
The well in Judge Burke's Hennepin County courtroom will be filled to capacity, with both sides bringing in large trial teams featuring numerous out-of-state attorneys. Swanson's office hired Washington, D.C.-based firm Covington & Burling LLP, while 3M is represented by a team from the Dallas-based Brewer Attorneys & Counselors and local Minnesota counsel from Faegre Baker Daniels LLP.
Jury selection begins on February 20, and is expected to take two days to complete.
CVN subscribers will be able to view the trial both live and on demand via www.cvn.com.
The case is captioned State of Minnesota v. 3M Co., docket no. 27-cv-10-28862.
Email David Siegel at dsiegel@cvn.com