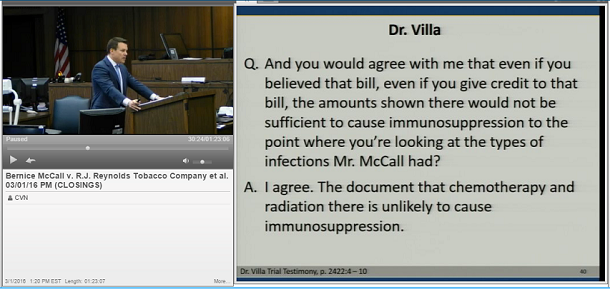 William Geraghty delivers closing arguments on behalf of Philip Morris in Bernice McCall's suit against the company. Jurors awarded McCall $350,000 in compensatory damages and rejected her claim for punitives, after finding an addiction to cigarettes caused her husband's lung cancer but not his death.
---
Fort Lauderdale—Jurors Wednesday awarded $350,000 to the widow of an alcohol abuse counselor who developed cancer after 40 years of smoking, but rejected the case's wrongful death claim and cleared cigarette maker Philip Morris of the lion's share of liability. McCall v. Philip Morris, 2007-CV-036888.
The jury reached its verdict after about six hours of deliberations, finding an addiction to cigarettes caused Martin McCall's 1992 lung cancer. Notably, however, jurors found treatment for the disease did not cause his death, which came less than three months after his cancer diagnosis.
McCall, who overcame alcoholism and worked for years as an alcohol abuse counselor in South Florida, began smoking as a 12-year old in 1952 and continued the habit until his death. His widow, Bernice, claims Philip Morris, which made several brands of cigarettes McCall smoked over the years, conspired to hide the dangers of smoking, fueling her husband's nicotine addiction and causing his lung cancer and death from complications related to cancer treatment.
Monday's $350,000 compensatory damage award for pain, suffering, and loss of companionship was a fraction of the $11.5 million in compensatories the Alvarez Law Firm's Alex Alvarez requested on the wrongful death claim in Tuesday's closing arguments.
Jurors also rejected plaintiff's claim for punitives, finding Martin McCall did not rely on Philip Morris marketing statements allegedly made during a decades-long conspiracy to hide smoking's health risks. The jury's decision on the punitive claim, and their apportionment of 75% of fault to Martin McCall, means the ultimate damage award will likely be reduced to $87,500 post-verdict.
The decision on damages hinged in large part on the cause of McCall's death. Bernice McCall's attorneys argued medical evidence proved McCall succumbed to pneumonia caused by the side effects of cancer treatments. During Tuesday's closing arguments, Alvarez reminded jurors of evidence, including testimony from internist Dr. Carl Bakken, that a combination of chemotherapy and radiation McCall allegedly received would have weakened his body's immune system, leading to the fungal infection that caused his fatal pneumonia.
"[The defense is] trying to convince you that his lung cancer didn't cause any of this and the treatments caused nothing, and this was just a coincidence," Alvarez said. "The organisms that [caused his pneumonia] can only happen if he is immunosuppressed, and what does the guy have? Radiation and chemotherapy. And they're trying to convince you that he didn't have any of that? And this is just a big coincidence? Come on, use your common sense."
However, the defense argued there was insufficient evidence McCall underwent cancer treatment that could have suppressed his immune system. During closing arguments, Geraghty noted Bernice McCall swore in pre-trial depositions that her husband never underwent chemotherapy. Geraghty also argued that the only medical documentation supporting the chemotherapy claim, an insurance bill for treatment on or after November 3, was undercut by evidence McCall had already been diagnosed with pneumonia, and would not have received chemotherapy, by that time. "The question is not whether Mr. McCall was immunosuppressed," Geraghty said. "The question is whether plaintiff has proven to you by the greater weight of the evidence that he was immunosuppressed because of a chain of events that began with his cigarette smoking that led to his lung cancer and his treatments.
"Plaintiff can't prove her case," Geraghty said.
The McCall case is one of thousands of similar Florida lawsuits against the nation's tobacco companies. They stem from Engle v. Liggett Group, a 1994 class action claim involving Florida smokers. A jury in that case found tobacco companies knowingly produced dangerous, addictive cigarettes and hid those dangers from the public. The Florida Supreme Court decertified the class on appeal, but its decision allows individual plaintiffs to rely on the jury's conclusions in the original trial if they can prove the smokers at the center of their cases suffered from nicotine addiction and a smoking-related disease.
Neither the parties' attorneys nor Philip Morris representatives could immediately be reached for comment.
Email Arlin Crisco at acrisco@cvn.com.
---
Related Information
The Alvarez Law Firm's Alex Alvarez and The Chaikin Law Firm's Jordan Chaikin represent Bernice McCall.
Shook Hardy's William Geraghty and Boies Schiller's Andrew Brenner represent Philip Morris.
Watch McCall v. Philip Morris, live and on demand.
Not a subscriber?
Learn more about CVN's unrivaled tobacco litigation library.