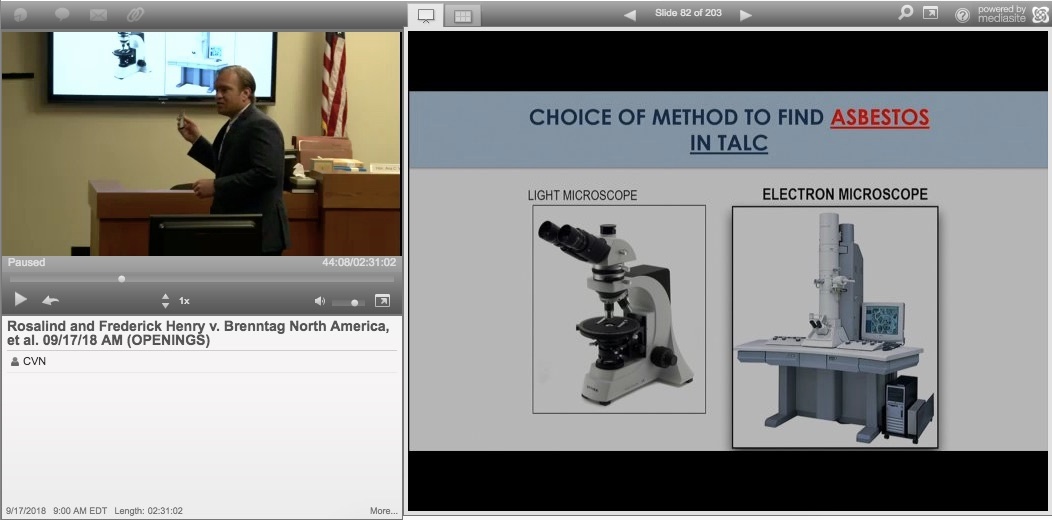 CVN screenshot of plaintiff attorney Christopher Swett delivering his opening statement in New Jersey
New Brunswick, NJ - Opening statements at the second trial in Johnson & Johnson's home state of New Jersey involving asbestos supposedly present in the company's cosmetic talc products began on Monday, while a California jury continued its deliberations in another J&J talc trial.
The trial in Middlesex County, New Jersey comes five months after another jury in the same court saddled J&J with a $117 million verdict, including $80 million in punitive damages, in the only other trial to date in the state over asbestos allegedly found in popular products like Johnson's Baby Powder and Shower to Shower.
Plaintiff Rosalind Henry claims she developed mesothelioma after using Johnson's Baby Powder for decades. Her attorney Chris Swett of Motley Rice LLC told jurors during his opening statement that she used the powder on her infant children almost every day from 1967 until 1977 and then occasionally on herself until 1990. She received a diagnosis of mesothelioma in 2016 at age 68, and her lawsuit argues the cancer is a result of inhaling asbestos fibers in the talc powder.
Henry's lawsuit originally included claims against J&J's talc supplier Imerys and Colgate-Palmolive Company, which also manufactured talc-based personal hygiene products. The trial would have been the first in New Jersey involving Colgate's talc products and the first in the country involving both J&J and Colgate, but Imerys and Colgate settled out of the proceedings during jury selection leaving J&J as the sole defendant.
While the New Jersey trial gears up, another J&J talc trial underway in California winds down as jurors enter their fifth day of deliberations. Both trials are being webcast and recorded gavel-to-gavel by Courtroom View Network.

Carolyn Weirick's lawsuit against J&J went to trial on August 20 in Los Angeles County Superior Court. Weirick claims exposure to asbestos-containing talc products going back to her infancy caused her mesothelioma, and her attorney Jay Stuemke of Simon Greenstone Panatier Bartlett PC showed jurors a baby powder bottle from Weirick's home that he said tested positive for asbestos during his closing argument.
Imerys was also a defendant in the case, but they settled out just before the jury began its deliberations.
In both trials J&J has maintained that its talc products never contained asbestos, and that the plaintiffs are basing their claims on faulty science and "hired gun" expert witnesses. J&J argues other factors besides asbestos can cause mesothelioma exposure, and that talc miners with exponentially greater exposure to the mineral than the plaintiffs don't show any more frequent occurrences of the disease.
These cases are distinct from the thousands of lawsuits pending throughout the country alleging that talc-based hygiene products cause ovarian cancer. Those claims, in which women allege that talc powder used on the genitals can travel up the Fallopian tubes, resulted in a string of huge plaintiff verdicts in Missouri and California over the last two years, some of which have since been thrown out on appeal.
Most of those cases involved arguments that talc itself is carcinogenic, however in July a Missouri jury returned a blockbuster $4.69 billion verdict in the first trial using the argument that asbestos in the talc powder and not talc particles themselves caused women to develop ovarian cancer.
Verdicts in both types of cases have generated national headlines and spawned thousands of additional cases, and J&J has taken an aggressive approach seeking to limit the news media's video coverage of the trials. Those efforts have been largely unsuccessful, and to date CVN has recorded and webcast talc trials in Missouri, California, New Jersey, South Carolina and Florida.
Gavel-to-gavel video of those trials, including hundreds of other products liability and personal injury trials from throughout the United States, is available to CVN subscribers as part of CVN's one-of-a-kind online trial video archive.
The current ongoing trials are captioned:
Weirick v. Brenntag North America, et al., case number BC656425, in Los Angeles County Superior Court, CA before Judge Margaret Oldendorf
Henry v. Brenntag North America, et al., case number L-1748-17, in Middlesex County Superior Court, NJ before Judge Ana Viscomi.
E-mail David Siegel at dsiegel@cvn.com