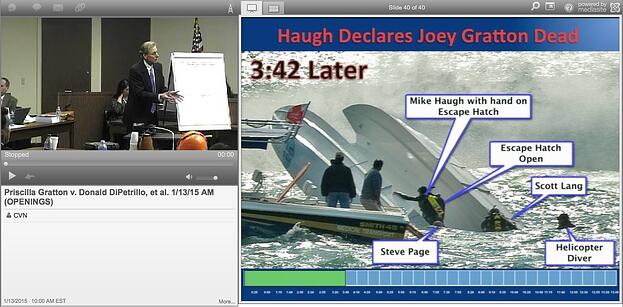 Plaintiff's attorney Gregory Barnhart shows jurors a photo of rescuers attempting to free Joey Gratton from his overturned racing boat. Click here to watch live via CVN. Click here for a copy of the complaint.
Fort Lauderdale - A Florida state court jury heard opening statements Tuesday in a wrongful death suit worth at least $2 million brought by the widow of champion powerboat racer Joey Gratton against Super Boat International Productions Inc., alleging rescue crews failed to pull Gratton from the water fast enough after his boat overturned.
Priscilla Gratton's suit accuses SBI president John Carbonell and other organizers of the Key West World Championships of being negligent by failing to ensure properly trained rescue divers were able to quickly reach Gratton's boat and for allegedly delaying rescue efforts by not immediately stopping the race after the 2011 accident.
Gregory Barnhart of Searcy Denney Scarola Barnhart & Shipley PA, representing Gratton, told the jury that special helicopter-deployed divers known as "angels" should have been able to retrieve Gratton, 59, from his sinking boat more quickly, according to a Courtroom View Network webcast of the proceedings. Instead, Barnhart said race organizers deployed Mike Haugh, a diver with no specialized rescue training who worked professionally as a tattoo artist.
"Time is critical," Barnhart told jurors while describing the allegedly botched rescue effort as the cockpit of Gratton's boat filled with water over the course of nearly 10 minutes. "This is not like returning a library book. Seconds count."
Barnhart said Haugh and other rescuers were unfamiliar with the design of Gratton's boat, and that Haugh failed to immediately provide oxygen to Gratton once gaining access to the boat's interior.
Gratton's boat flipped over while making a sharp turn, Barnhart said. Gratton, the racing boat's throttle operator, survived the initial accident but was allegedly unable to release his restraint harness, and Barnhart told the jury that the poorly coordinated rescue effort by undertrained personnel caused Gratton's death. The boat's pilot, Steve Page, escaped with minor injuries.
Barnhart told jurors the decision by Carbonell not to immediately halt the race after the accident also contributed to Gratton's death, because it hindered the ability of rescue boats to safely reach the accident site, and that waves created by other racing boats caused water to spill into the escape hatch on Gratton's boat.
"It's [Carbonell's] policy even if a boat rolls over, even if the lives of racers are in danger, he keeps [the race] going," Barnhart said.
While he didn't ask for a specific amount of damages for pain and suffering during his opening statements, Barnhart told jurors that economic loss damages alone could be as high as $1.9 million.
Gratton's death was one of three during the 2011 high-speed race. Jeffrey Tillman and Robert Morgan also died after their boat overturned, and Tillman's uncle has filed a similar wrongful death suit against SBI officials citing the lack of properly trained rescue teams. William Tillman is represented by William R. Scherer of Conrad & Scherer LLP, and the case is still pending according to court records.
During his comparatively brief opening statement on behalf of the defendants, William B. Milliken of Hayden Milliken & Boeringer PA described powerboat race participants as wealthy thrillseekers who know the risks of their chosen sport.
Milliken said the fact Haugh wasn't trained as a paramedic, firefighter or emergency medical technician was irrelevant, because only his skills as a diver mattered in the moments following the accident. Milliken said rescuers were blocked from immediately entering through the escape hatch while Gratton's partner exited the boat, and that there were problems opening the boat's canopy.
"This rescue team did everything they could, everything humanly possible to extract Joey, and unfortunately they do not extract him before he drowns," Milliken told the jury. "But that does not mean that they're liable or they did anything wrong."
Milliken disputed the amount of economic loss damages requested by Barnhart, citing the fact that Gratton had retired and his potential future income was limited.
"This obviously is a tragic case. You have a man that lost his life," Milliken said. "As triers of fact you have to make a decision based upon the evidence and the facts that you hear whether any of the defendants are responsible."
The trial before Judge Carlos Rodriguez is expected to last up to three weeks.
Attorneys for the plaintiff and a representative for Super Boat International did not respond to a request for comment from CVN.
Priscilla Gratton is represented by Michael D. Allweiss of Allweiss & Allweiss and by F. Gregory Barnhart of Searcy Denney Scarola Barnhart & Shipley.
The defendants are represented by William B. Milliken of Hayden Milliken & Boeringer PA and by Albert L. Kelley of Albert L. Kelley PA.
The case is Priscilla Gratton v. Donald DiPetrillo, et al., case number CACE12004442, in Broward County's 17th Judicial Circuit Court.
---