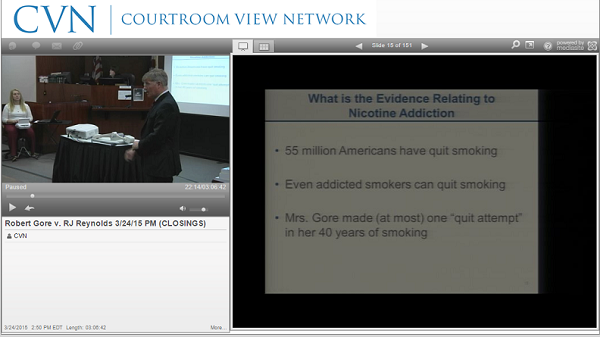 Robert McCarter delivers closings in Robert Gore's suit against R.J. Reynolds and McCarter's client, Philip Morris. Gore claims the tobacco makers' concealment of the smoking's health hazards led to his wife's artery disease and, eventually, her fatal cancer. Watch gavel-to-gavel coverage of the trial here.
---
Vero Beach, FL—Jurors today awarded $2 million in a Florida man's suit against tobacco manufacturers R.J. Reynolds and Philip Morris for the artery disease and cancer that he says killed his wife, a smoker for more than 40 years.
Jurors deliberated a day-and-a-half before reaching their verdict, which apportioned 54% of responsibility to Gloria Gore, the smoker at the case's heart, and 23% each to R.J. Reynolds and Philip Morris. Gore's widower, Robert Gore, sought $7.5 million in the Engle progeny suit, claiming that the tobacco companies hid the dangers of smoking for decades, which caused his wife's nicotine addiction, her carotid stenosis, and eventual fatal lung cancer.
In reaching its decision, the jury found that Gloria Gore's addiction to cigarettes for more than four decades led to both her carotid stenosis and lung cancer. Although it awarded $2 million in compensatories to Robert Gore, it refused to find liability for punitives.
The suit is one of thousands of similar Engle progeny lawsuits filed against tobacco companies in Florida. The cases arise from a 2006 Florida Supreme Court decision decertifying Engle v. Liggett Group Inc., a class-action tobacco case originally filed in 1994. Although that court ruled Engle cases must be tried individually, it found plaintiffs could rely on certain jury findings in the original verdict, including the determination that tobacco companies had placed a dangerous, addictive product on the market and had conspired to hide the dangers of smoking. To rely on those findings, individual Engle progeny plaintiffs such as Gore must prove the smoker's addiction to cigarettes and a causal link between the addiction and a smoking-related disease that manifested itself by November 21, 1996.
Doctors diagnosed Gloria Gore with carotid stenosis, an artery disease, in 1992. She ultimately died of lung cancer in 2000. However, because her carotid stenosis was the only disease to have "manifested" itself prior to the November 21, 1996 cutoff date for Engle class action membership, the link between that disease and her smoking served as a central point of dispute in the trial.
During closing arguments Tuesday, Shook Hardy's Robert McCarter, representing Philip Morris, told jurors that Gloria Gore's genetics, and not her smoking, led to her artery disease. "What you see is that her mother, a non-smoker, had (artery disease); her sister, a non-smoker, had it. She had two uncles, we don't know their smoking status, but they both had it. And, Mrs. Gore had carotid artery disease," McCarter said. "Cigarette smoking has nothing to do with it. It runs in your family whether you're a smoker or not."
Robert Gore's attorneys countered that medical testimony proved Gloria Gore's artery disease was linked to her smoking. During closings, Foote, Mielke, Chavez & O'Neil's Robert Foote reminded jurors that Gloria Gore's treating physician, Dr. W. Clark Beckett, a vascular surgeon, testified that he believed Gore's carotid stenosis would not have occurred absent her smoking. "This whole family history thing is a complete red herring," Foote said. "Because what you heard from the doctors who talked about it was that there is no question (that) what caused... her carotid artery disease was the smoking. The 4 or 5 million hits (from cigarettes) that she took over her life."
Beyond the potential link between Gloria Gore's smoking history and her carotid stenosis, attorneys sparred over whether she had been addicted to cigarettes, a fundamental requirement to succeed in an Engle progeny action. Arguing that testimony showed Gloria Gore tried to quit smoking, at most, only once in more than 40 years, McCarter told jurors "Without evidence that Mrs. Gore ever made a sincere attempt to quit smoking, how could anybody say that she was addicted?"
However, Foote reminded jurors that three physicians, including Beckett and addiction expert Dr. David Burns, testified that they believed Gloria Gore was addicted to cigarettes. "We have three medical opinions, and no opinion otherwise," Foote said. "This is not 'the greater weight of the evidence.' This is 100% of these people believe… that she was addicted to nicotine contained in defendants' cigarettes."
The week-and-a-half long trial, with Judge Cynthia Cox, presiding, was the second in less than a year for the suit. In August 2014, Judge Cox declared a mistrial in the case when jurors awarded no compensatory damages to Gore but still found defendants liable for potential punitive damages.
Attorneys could not immediately be reached for comment.
---
Additional information
Attorneys in the case include Foote, Mielke, Chavez & O'Neil's Robert Foote and Stark & Stark's Stephen Corr representing Robert Gore. Shook Hardy's Robert McCarter represents Philip Morris and Jones Day's Stephen Geise represents R.J. Reynolds.
Not a subscriber?
Click here to learn more about our expansive tobacco litigation library.