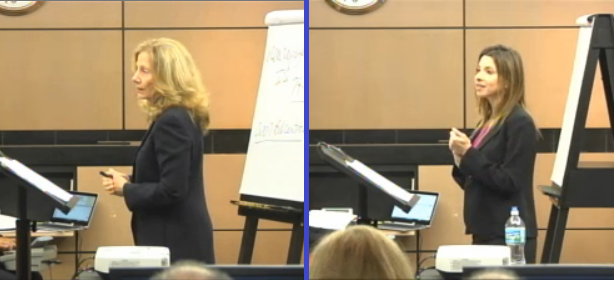 Nancy La Vista and Jamie Gursky deliver their opening statements at trial over Dr. Shaul Dadi's claims that electroconvulsive therapy overseen by psychiatrist Dr. Praturi Sharma damaged Dadi's brain.
---
West Palm Beach, FL—A Florida cardiologist suffered devastating brain damage from botched electroshock therapy, the cardiologist's lawyer claimed as a $27 million trial began Thursday against the psychiatrist who oversaw the treatments. Dadi v. Sharma, 2011CA16027.
"[Dr. Shaul Dadi] was a nuclear cardiologist who spoke five languages," Dadi's attorney, Nancy La Vista said. "Today, he can't practice medicine. He can't even read a medical journal. He can't remember a movie he watches. He's severely, profoundly damaged."
La Vista, of Clark, Fountain, La Vista, Prather, Keen & Littky-Rubin, told jurors Dadi's brain damage stemmed from electroconvulsive therapy, sometimes called electroshock therapy or ECT, negligently administered by psychiatrist Dr. Praturi Sharma in 2010, while Sharma treated Dadi for depression following the dissolution of his medical partnership.
During an ECT procedure, electric currents are passed through a patient's brain, triggering a brief seizure. According to the Mayo Clinic website, physicians believe ECT can change a patient's brain chemistry, reversing some types of depression and other mental health issues.
However, La Vista told jurors Sharma delivered much higher doses of electricity than standard protocol advised, permanently damaging Dadi's brain, and stripping him of critical thinking and comprehension skills that now render him unable to practice medicine or perform daily activities like driving.
La Vista argued Dadi, now 57, never gave informed consent to the procedure because he agreed to the treatments only after his judgment had been impaired by antipsychotic medication over the course of several days. "Dr. Dadi refused electroshock therapy five times [before eventually acquiescing]. Five," La Vista said. "That should have been a red flag to stop. A big red stop sign: this patient does not want this treatment. [But] it was done anyway."
La Vista, who told jurors she would ask for more than $27 million in damages, including $20 million for Dadi's lost wages, said evidence would show ECT was inappropriate for Dadi's type of depression. "There was a choice between life and brain damage, or life without brain damage," La Vista said. "And the choice of life without brain damage was never offered to him."
However, the defense argues Dadi was a suicide risk for whom ECT was a recommended treatment. During Thursday's openings, Cole Scott Kissane's Jamie Gursky told jurors the dissolution of the cardiologist's medical practice triggered a severe mental illness that led Dadi to attempt suicide three times before his hospitalization..
Gursky told jurors medical staff who treated Dadi both before and during the 2010 hospitalization unanimously agreed Dadi's mental condition warranted ECT. "There is no better evidence that ECT was appropriate, warranted, and needed than the fact that every single doctor who saw him agreed. They all agreed," Gursky said. "The only ones who don't agree are the ones who are reviewing this case in hindsight."
Gursky also argued Sharma followed proper protocol in administering the ECT, and she says evidence will show the psychiatrist used the correct voltage when treating Dadi. Gursky added Dadi's complaints of permanent memory loss and brain damage are not generally considered side effects of treatment. "Nothing about ECT caused Dr. Dadi's current condition," Gursky said. "ECT does not make people forget their languages. It doesn't make people clap like a seal and have sinister laughs at inappropriate times. It doesn't make people forget faces. It doesn't make people forget life-long memories like their engagements. ECT doesn't do the things that Shaul Dadi claims."
Gursky told jurors Sharma and other medical staff agreed Dadi had the capacity to consent to the treatment, despite receiving medication. "Every single physician, every one of them who evaluated Dr. Dadi didn't only agree that ECT was needed, but they all agreed that Shaul Dadi had the capacity to consent to the treatment," Gursky said. "He was depressed, he was ill, he was suicidal, he wanted to die, but he understood [enough to consent]."
Trial in the case is expected to go through the week.
Email Arlin Crisco at acrisco@cvn.com.
Related Information
Dr. Shaul Dadi is represented by Jeffery Fenster, of Fenster & Cohen P.A. and Nancy La Vista of Clark, Fountain, La Vista, Prather, Keen & Littky-Rubin.
Dr. Praturi Sharma is represented by Cole, Scott & Kissane's Michael Brand and Jami Gursky.
Watch the trial live and on demand when it begins.
Not a subscriber?
Learn how you can watch the best attorneys in the biggest trials, in Florida and across the country.