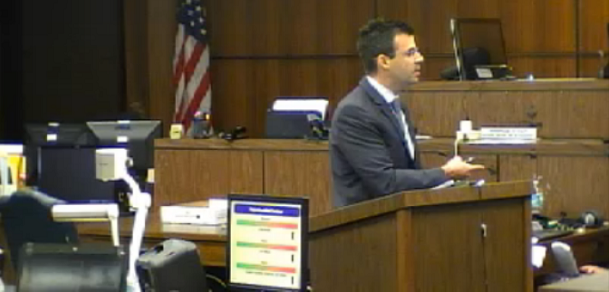 Eric Rosen argues R.J. Reynolds' decades-long concealment of smoking's dangers warrants punitive damages for the death of Elaine Konzelman, who developed fatal respiratory disease after smoking the company's cigarettes for years. Jurors awarded $20 million in punitives, brining the total award to nearly $29 million in the case.
---
Fort Lauderdale, FL—Jurors Tuesday imposed a $20 million punitive award against R.J. Reynolds for the role the tobacco company played in the fatal respiratory disease of a Florida smoker, bringing the total award in the case to nearly $29 million. Konzelman v. R.J. Reynolds, 2008-CV-019620.
The punitive verdict follows yesterday's $8.795 million compensatory award to Alan Konzelman, who claims the tobacco company's participation in a decades-long conspiracy to hide the dangers of cigarettes caused his wife's respiratory disease and death.

Elaine Konzelman, 79, died in 2010 after suffering from chronic respiratory disease, or COPD. She began smoking when she was 15 years old and smoked 1 to 2 packs a day for about 40 years until she was put on a ventilator because of the disease.
The $20 million in punitives exceed the $14 million Konzelman's attorney, Kelley Uustal's Eric Rosen, requested in Tuesday's closings. Monday's $8.795 million compensatory award also eclipsed the $5.5 million Rosen requested.
Konzelman's case stems from Engle v. Liggett Group Inc., a Florida state court class action originally filed in 1994, in which jurors found tobacco companies, including Reynolds placed a dangerous, addictive product on the market and conspired to hide its risks. The high court later decertified the class, but ruled that so-called Engle progeny cases may be tried individually. Engle progeny plaintiffs are entitled to the benefit of the jury's findings in the original verdict if they prove the smoker at the heart of a case suffered from nicotine addiction that was the legal cause of a smoking-related disease.
Tuesday's verdict followed a day-long second phase of trial focusing on whether Reynolds' conduct over the last two decades mitigated against imposing punitive damages against the company. During closing arguments Tuesday, King & Spalding's Jeffrey Furr told jurors a sea change within the company, combined with broad federal oversight, ensured tobacco products were well-regulated, tobacco manufacture was transparent, and the concealment that occurred through much of the 20th century could never be repeated. "[Reynolds has] turned the corner. They're transparent. They tell the FDA what they do." Furr said. "They conceal nothing. There aren't any secrets anymore."
Furr added Reynolds' FDA compliance was bolstered by the company's participation in a Master Settlement Agreement, or MSA, in which the tobacco industry has paid out billions of dollars to individual states and agreed to strict marketing restrictions. "If there's bad conduct in the past, Reynolds has paid its debt," Furr said, noting provisions of the MSA continue in perpetuity. "Reynolds has paid, and paid, and paid. And they're going to keep paying. They're going to keep paying. There's no question about that."
But Rosen argued the conspiracy to hide the dangers of smoking ended only at the speartip of widespread litigation. "[The conspiracy] ended… after all of the states in the United States were suing R.J. Reynolds," Rosen said. "And they were forced to get into this Master Settlement Agreement."
Rosen told jurors decades of Reynolds' central participation in the conspiracy warranted stiff punishment. "When you look at the scale [of cupability] it is the worst. It is the highest level," Rosen said. "It's not by accident. It's not being negligent. It's knowing that you're running through a red light when there [are] cars coming, and you see them coming, and you choose to run through the red light."
Neither the parties' attorneys nor R.J. Reynolds representatives could immediately be reached for comment.
Read more about the first phase of trial and the $8.8 million compensatory award.
Email Arlin Crisco at acrisco@cvn.com.
Alan Konzelman is represented by Kelley Uustal's Eric Rosen.
R.J. Reynolds is represented by King & Spalding's Jeffrey Furr.
Not a subscriber?
Learn how you can watch CVN's unequaled tobacco litigation coverage.