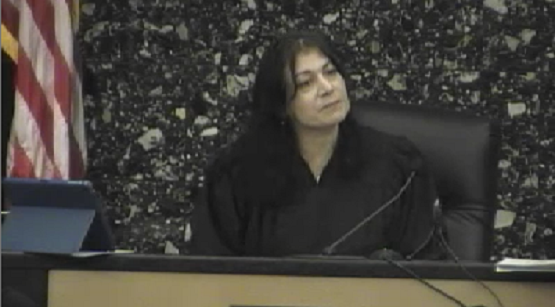 Judge Meenu Sasser polls jurors after their $4 million verdict in Perrotto v. R.J. Reynolds. Click here to watch the verdict.
---
West Palm Beach, FL—Jurors awarded more than $4 million to Deborah Perrotto in her Engle progeny suit against four tobacco manufacturers for the lung cancer and respiratory disease contracted by her husband, Nick Perrotto. Deborah Perrotto v. R.J. Reynolds.
The jury's verdict, delivered about 10 p.m. Friday evening, came after more than three hours of deliberations and found that cigarettes manufactured by Philip Morris USA, R.J. Reynolds Tobacco Co., Lorillard Tobacco Co., caused Nick Perrotto's lung cancer or chronic obstructive pulmonary disease. The decision, which did not find punitive liability for any of the defendants, apportioned 25% liability to Philip Morris, 20% to Reynolds, 6% to Lorillard, and 49% to Nick Perrotto. Jurors apportioned no liability to Liggett Group LLC, which was named as a defendant only on the suit's conspiracy claim.
The $4,087,338.67 total award included $4 million for pain and suffering, plus compensation for medical expenses.
Deborah Perrotto's suit against the tobacco manufacturers claimed that their concealment of smoking's dangers and production of unsafe cigarettes fueled her husband's nicotine addiction and ultimately led to his chronic obstructive pulmonary disease, lung cancer, and death. Nick Perrotto, who was diagnosed with lung cancer in 1992, ultimately died in 1996 following separate surgeries for brain cancer and a sigmoid volvulus, or twisted colon. Notably, the jury's decision found that smoking did not cause his death.
Nick Perrotto's cause of death served as a key point of dispute for both sides in the trial. Plaintiff's attorneys claimed that Perrotto's lung cancer started a chain of events that led to fatal complications from his volvulus surgery. In closing arguments Friday, Searcy Denney's T. Hardee Bass told jurors "Without the primary lung cancer there's no metastatic cancer in the brain, no brain surgery, no gastrointestinal complications, no volvulus, no tissue death, no perforation, no leakage, no infection, no sepsis, no septic shock, no death."
However, defense attorneys successfully argued that there was insufficient proof that linked lung cancer to Perrotto's volvulus and its subsequent complications. On Friday, Shook Hardy's Walter Cofer, representing Philip Morris, told jurors "No one can explain how brain surgery can cause a colon to twist, because it just doesn't happen."
The Perrotto award is the second multi-million-dollar verdict in CVN Engle cases this week. On Tuesday, a Miami jury awarded Diane Schleider $21 million in her wrongful death suit against Reynolds. A jury in Jacksonville is expected to resume deliberations Monday in Andy Allen's suit for the COPD death of his wife, Patricia Dawn Allen.
---
Related Information:
Watch the Perrotto trial on demand.
Not a subscriber?
Sign up for a seven-day free trial of our expansive tobacco litigation video library.