---
Highlights of the week's cases and a look ahead to next week.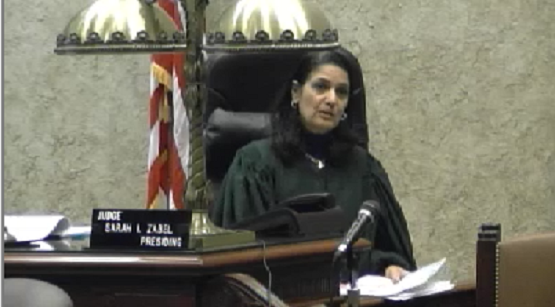 Judge Sarah Zabel instructs jurors prior to their deliberations in Schleider v. R.J. Reynolds. The jury ultimately awarded Diane Schleider $21 million in her suit against the tobacco manufacturer for the cancer death of her husband, Andrew Schleider. Click here to watch closing arguments.
---
Diane Schleider v. R.J. Reynolds
Verdict: For the plaintiff.
$21 million in compensatory damages.
No punitive liability.
Jurors on Tuesday awarded Diane Schleider $21 million in her wrongful death suit against R.J. Reynolds, after finding that Andrew Schleider's addiction to Reynolds-brand cigarettes caused his fatal lung cancer.
The verdict came after more than two days of deliberations, which began late last Friday. The jury, which did not find Reynolds liable for punitive damages, apportioned 70% of fault to the tobacco manufacturer and 30% to Schleider.
The award included $15 million for Diane Schleider's loss of companionship and $6 million for the loss of parental companionship to Andrew Schleider's daughter, Suzanne LeMehaute.
The verdict brings November's CVN trial record to 2-1 for Engle progeny plaintiffs in suits on the merits, with two potential verdicts (in Allen and Perrotto, below) remaining. The month saw six CVN Engle progeny trials, although one, Webb v. R.J. Reynolds, was a retrial limited to damages. Jurors have awarded a total of $28.35 million in damages so far this month.
---
Closing arguments took most of today, giving jurors less than four hours to deliberate before breaking for the weekend in Andy Allen's suit against R.J. Reynolds and Philip Morris for the 2009 death of his wife, Dawn.
During closings Friday, attorneys for both sides sparred over whether Dawn Allen, a smoker for more than 35 years, was addicted to the defendants' cigarettes or chose to smoke to maintain her weight and relieve depression. Jones Day's Mark Belasic, representing Reynolds, reminded jurors of evidence that Dawn Allen was conscious of her weight and suffered from depression. "(Plaintiff's) experts agree that people smoke to reduce stress. There's no question (Dawn Allen) did," Belasic said. "Their experts agree that people smoke for weight control. We know she did. Her own doctors say it."
Morgan & Morgan's Keith Mitnick, representing Andy Allen, contended that the strength of Dawn Allen's nicotine addiction was caused by a wide ranging tobacco industry conspiracy that denied that nicotine was addictive while closely regulating the chemical in their cigarettes to retain smokers. "She's addicted. Really, serious drug addiction," Mitnick said. "Not just some namy-pamby, like, chocolate. But a serious, honest-to-God, powerful drug addiction."
Coming Next Week: The jury is expected to resume deliberations Monday morning at 9 a.m.
---
Debbie Perrotto v. R.J. Reynolds (VERDICT UPDATED)
Verdict: For the plaintiff.
$4,087,338.67 in compensatory damages.
No punitive liability.
Closings concluded late Friday afternoon, sending the case to the jury Friday evening in Debbie Perrotto's suit against R.J. Reynolds, Philip Morris, and the Liggett Group for the cancer death of her husband, Nick Perrotto.
During the trial, Debbie Perrotto's attorneys argued that defendants' aggressive marketing practices and the concealment of smoking's dangers caused Nick Perrotto to begin smoking and led to a nicotine addiction and ultimately, his cancer-related death. Recounting evidence that tobacco companies saw14-24-year-olds as replacement smokers, Searcy Denney's T. Hardee Bass, asked "And how old was Nick Perrotto when he started smoking? The evidence is 13 or 14 years old. And he becamse a customer for... the next 25 years."
However, Womble Carlyle's Kurt Weaver, representing Philip Morris, told jurors Friday that Perrotto began smoking in the 1950s when the habit's potential health hazards were widely publicized. "In the middle of the 'Great Cancer Scare' Nick Perrotto decides to smoke," Weaver said. Detailing a famous Reader's Digest article on the link between smoking and cancer, Weaver asked "What are the chances that he wasn't aware of what (plaintiff's expert on tobacco history) Dr. (Robert) Proctor himself described as 'One of the most impactful popular reports on the hazards of smoking during that 1-2 year period?'"
---
Our weekly review comes from our unequaled gavel-to-gavel coverage of Florida's Engle progeny cases.
Not a subscriber?
Sign up for a seven-day free trial of our expansive tobacco litigation video library.