---
Each Friday, we highlight the week's Engle progeny cases and look ahead to next week.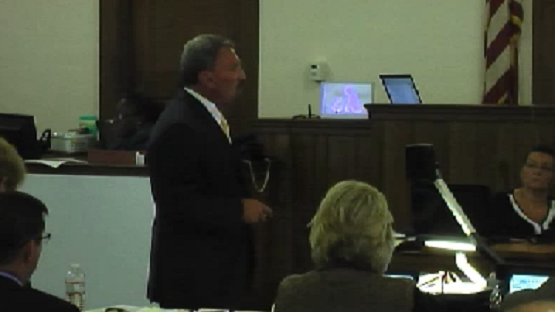 Jeffrey Furr gives closing arguments in Webb v. R.J. Reynolds. Click here for a clip.
---
Verdict: For the plaintiff
$900,000 in compensatory damages.
$450,000 in punitive damages.
Thursday evening, jurors awarded Dianne Webb $450,000 in punitive damages in her suit against R.J. Reynolds for the smoking-related death of her father, James Kayce Horner. The verdict came after contrasting evidence of Reynolds's sales and profits with testimony that Reynolds had changed the corporate practices that led it to deny smoking's dangers for decades. On Monday, economist Frederick Raffa told jurors that Reynolds's cigarette sales averaged to $19.4 million per day through 2014, and were so profitable that the company paid $3.3 million per day in dividends to its shareholders.
In closing arguments Thursday, James Gustafson, representing Webb, attempted to tie that daily dividend payment to a punitive award, contending that jurors should award four days of Reynolds's dividend payments, or $13.2 million. "(Reynolds executives) did what they did for money," Gustafson said, referring to evidence that Reynolds conspired to conceal the health dangers of smoking. "You get to do something about that."
By contrast, defense attorney Jeffrey Furr reminded jurors in his closing argument that Reynolds's changed corporate practices mitigated against a large punitive award. "The past is gone," Furr told jurors, noting that Reynolds was under new leadership and now publicly acknowledged the dangers of smoking.
The jury's $450,000 punitive award was in addition to the $900,00 in compensatories it awarded last week.
---
After jurors were unable to reach a verdict in three hours of deliberations Friday afternoon, proceedings recessed for the weekend in Diane Schleider's suit stemming from her husband Andrew's 1997 cancer death.
In closing arguments Friday, Diane Schleider's attorney, Gary Paige, reminded jurors of evidence that Reynolds had conspired to conceal the dangers of smoking while aggressively marketing cigarettes to children, such as a young Andrew Schleider. "(Reynolds and tobacco companies it acquired) had enough money to spend $250 billion promoting their product as healthy, and they had enough power to reach members of Congress that Mr. Schleider didn't have," Paige said. "I'd ask you to compare the actions of a youth smoker who became a drug addict, to the actions of (Reynolds and the tobacco manufacturers it acquired)."
However, Reynolds's attorney, Frank Bayuk, told jurors that the evidence was insufficient to hold Reynolds responsible for Schleider's smoking addiction. Bayuk contended that there was no proof that Schleider was a regular smoker before he was 21, and no evidence that Schleider saw any Reynolds advertisements or commercials when he began smoking. "You heard a lot of evidence from Mr. Paige about youth marketing. What's the story of youth marketing in terms of the specific evidence in this case?" Bayuk asked. "There is just no evidence of it. That's what you have to work on in this case."
Next week: The jury is expected to resume deliberations Monday at 8:30 a.m.
---
Perrotto v. R.J. Reynolds, et al.
The bulk of the first full week of trial in Deborah Perrotto's suit seeking damages for the alleged smoking-related illnesses of her husband, Nick Perrotto, featured testimony from Robert Proctor, an expert on the tobacco industry. Proctor spent three days on the witness stand detailing the history of cigarette manufacturing and marketing, including evidence concerning a decades-long conspiracy by defendants R.J. Reynolds, Philip Morris, and the Liggett Group. Proctor's told jurors that defendants repeatedly denied the dangers of nicotine and cigarettes over the course of decades, despite knowing of they were addictive and caused cancer.
On cross-examination, Proctor acknowledged that tobacco documents purporting to deny knowledge of the specific dangers of smoking may have been technically correct. However, Proctor said that this was only because "there were so many poisons in the smoke you could take your pick."
Next week: Plaintiff's attorneys are expected to close their case in chief next week.
---
Allen v. R.J. Reynolds and Philip Morris
Much of the four-day week in Andy Allen's suit against tobacco manufacturers R.J. Reynolds and Philip Morris focused on the addictiveness of nicotine, defendants' capitalization on its customers' addiction, and its effect on Allen's wife, Dawn Allen, whose death in 2009 served as the impetus of the suit.
Dr. David Burns, an expert on the tobacco industry and nicotine addiction, walked jurors through internal tobacco industry documents showing defendants' knowledge of the addictive nature of nicotine and their belief that nicotine addiction was necessary to continue selling cigarettes. "They needed the addiction in order to continue to successfully market cigarettes," Burns said. "And if, by some magic wave of the wand, those people who wanted to quit and were trying to quit could be successful, the market would disappear."
On cross examination, Burns testified that quitting smoking involved a conscience decision and individual effort. "It is up to the smoker even in the face of addiction to make the attempt to quit. The addiction gets in the way of the smoker being able to make that choice successfully," Burns said. "Everyone is responsible for their own behavior, regardless of whether they are selling an addictive product or using an addictive product."
Allen's attorneys contend Dawn suffered from chronic obstructive pulmonary disorder caused by 35 years of smoking and that she successfully quit smoking in 2002 only after she was placed on supplemental Oxygen and rendered unable to inhale a cigarette. The defense contends that Allen was a smoker by choice.
Next week: Plaintiff's attorneys will continue their case in chief next week.
---
Courtroom View Network features the most expansive coverage of Florida's Engle progeny tobacco cases, including gavel-to-gavel trial footage.
Not a subscriber?
Click here for seven days of free video access to our full library of Engle progeny tobacco litigation.