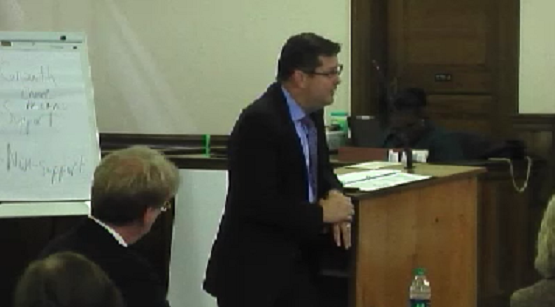 James Gustafson tells jurors they should award $13.2 million in punitive damages in his client Dianne Webb's wrongful death suit against R.J. Reynolds. The jury ultimately awarded $450,000 in punitives. Click here to view a clip from his closing argument.
---
Bronson, FL—Jurors awarded Dianne Webb $450,000 in punitive damages Thursday in her Engle progeny wrongful death suit against R.J. Reynolds Tobacco Co. for the lung cancer death of Webb's father James Kayce Horner.
The jury needed less than 90 minutes to reach its decision, which awarded far less than the $13.2 million Webb's attorney James Gustafson requested during closing arguments in the punitive phase. Last week, jurors awarded Webb $900,000 in compensatory damages.
Webb's suit against Reynolds stemmed from the 1996 death of her father, James Kayce Horner, a long-time smoker of Reynolds-brand cigarettes. A 2010 trial in the case found that the tobacco manufacturer's concealment of smoking's dangers caused Horner's nicotine addiction and fatal lung cancer. A Florida appellate court reversed the $80 million damage award in that trial, which included $8 million in compensatories and $72 million in punitives, but upheld the finding of liability on the merits, setting the stage for this month's retrial solely on damages
In his closing argument Thursday, Gustafson contended that the punitive damage figure should be tied to Reynolds's dividend payments, which he said amounted to $13.2 million. Calling the jury the "conscience of the community" Gustafson reminded them of evidence that Reynolds and other tobacco manufacturers hid the dangers of smoking while profiting from a product they knew was unsafe. "(Reynolds executives) did what they did for money. They knew people were going to die. They didn't care how many. They didn't care who it was. That was their attitude," Gustafson said. "But you get to adjust it, you see. You get to do something about that."
However, defense attorney Jeffrey Furr told jurors in his closing argument that Reynolds was a different company than the one that concealed research on the addictiveness of nicotine and publicly denied that smoking cigarettes caused cancer. "The past is gone," Furr said. "Every author of every single document plaintiffs showed you no longer works in the industry. None of the recipients of those documents work in the industry, nobody carbon-copied on those documents works in the industry."
Furr argued that, if jurors believed punitives were necessary, they should award an amount "reasonably related to the compensatory award," which he suggested would be between $450,000 and $900,000.
With its verdict, the jury ultimately accepted that suggestion.
Related Information
Watch Webb v. R.J. Reynolds on demand.
Not a subscriber?
Click here for seven days of free video access to our full library of Engle progeny tobacco litigation.