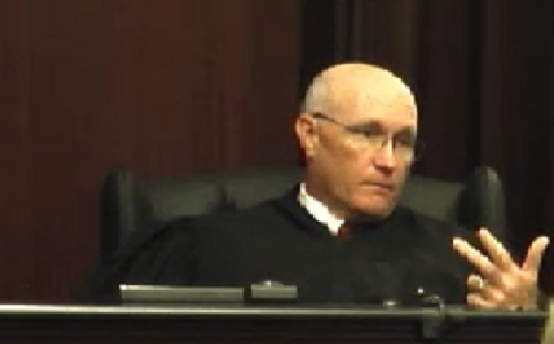 Judge Russell Healey addresses attorneys after a jury awards nearly $4.5 million to Helen Taylor in her suit against R.J. Reynolds.
---
Jacksonville, FL—Jurors awarded Helen Taylor more than $4 million in damages after finding that her history of smoking R.J. Reynolds cigarettes was fueled by a nicotine addiction that caused her chronic obstructive pulmonary disease and peripheral vascular disease. Helen Taylor v. R.J. Reynolds
The $4,478,654.92 compensatory award in the Engle progeny tobacco lawsuit included $2.5 million for Taylor's pain and suffering as well as a finding that Reynolds is liable for punitive damages. The compensatory award will ultimately be reduced by the jury's apportionment of 42% of liability to Taylor and 58% to Reynolds. Phase II of the trial, to determine punitives, began shortly after the compensatory verdict was announced. Those proceedings, which adjourned at approximately 5:30 p.m. this evening, are expected to resume tomorrow at 9:30 a.m.
Taylor's suit claimed her 56-year history of smoking ultimately caused her lung and arterial diseases. Her initial claims included Philip Morris as well as R.J. Reynolds. However, resolution of Taylor's suit against Philip Morris left Reynolds as the only defendant in this trial.
The length of time Taylor smoked Reynolds-brand cigarettes was one of the key issues in the case. The defense contended that Taylor had not smoked Reynolds-manufactured cigarettes long enough to damage her lungs and arteries, noting that, in a 2008 deposition, Taylor testified that she had smoked Winston cigarettes, made by RJR, from 1962 to 1972. However, on the witness stand, Taylor testified that she was uncertain exactly how long she had been smoking Winstons and that it could have been up to half of her smoking life.
In closing arguments, Cory Hohnbaum noted the discrepancy. "She changed her story during trial now that the case is only against R.J. Reynolds," Hohnbaum said. He noted that, given Taylor's 56 years of smoking, her claim at trial that she smoked Winstons for about half of her smoking life nearly tripled her previous estimate of 10 years. "Why the change, from 10 years to 28 years," Hohnbaum asked. "It's because plaintiff has the burden to prove that smoking Winston cigarettes caused her COPD and PVD. And nobody is going to tell you that the 10 years she smoked Winston cigarettes, stopping 40 years ago, caused her COPD or PVD."
However, Robert Shields, representing Taylor, said that the length of time Taylor smoked Reynolds cigarettes under any estimate was sufficient to cause her lung and artery diseases, when in conjunction with her full smoking history. Shields reminded jurors in closing arguments that Dr. David Burns testified that Taylor's smoking of Reynolds cigarettes sufficiently injured her lungs, which, combined with later smoking, led to her COPD and PVD.
The jury's award came after more than 12 hours of deliberations over two days. Mid-Wednesday, after less than two hours of deliberating, the jury revealed its concern over a deadlock when it asked Judge Russell Healey what would happen if it was unable to agree. Judge Healey declined to give an Allen charge at that point and instead advised jurors to rely on their previous instructions. The jury ultimately needed no further direction on the issue.
Related information: