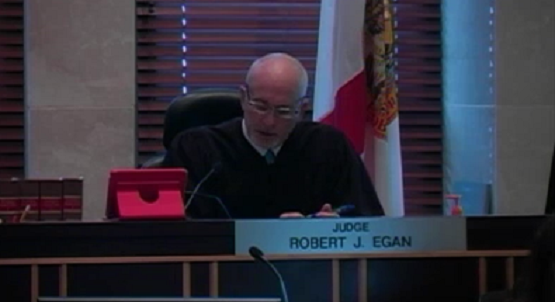 Judge Robert Egan addresses jurors after they found in favor of the defense in Annie Bishop's wrongful death Engle progeny lawsuit.
---
By Arlin Crisco
Orlando—Tobacco manufacturers prevailed in an Engle progeny wrongful death lawsuit after a jury rejected claims by a deceased smoker's widow that nicotine addiction caused her husband's fatal lung cancer. Annie Bishop v. R.J. Reynolds, et al.
After deliberating for a little more than 4 hours, jurors answered "no" to the preliminary question of whether smoker Robert Ramsey was addicted to cigarettes and whether that addiction legally caused his cancer. Ramsey, who smoked at least a pack of cigarettes a day for decades, was 51 when he died in 1992. His wife, Annie Bishop, sued R.J. Reynolds, Liggett Group, Lorillard, and Phillip Morris, makers of the cigarettes Ramsey smoked throughout his life.
The trial ultimately turned on the issues of nicotine addiction and causation, which are required to recover in an Engle progeny tobacco lawsuit. Bishop's attorneys argued that Ramsey was a nicotine addict who did not know the risks of smoking when he began the habit, and that he successfully quit smoking only after several failed attempts. During closing arguments on Tuesday, William Clark reminded jurors of testimony concerning Ramsey's withdrawal symptoms when he tried to quit, and how Ramsey successfully weaned himself from smoking in the 1980s. "Common sense tells you, if Mr. Ramsey was not addicted, why didn't he just put the cigarettes down and walk away," Clark asked. "Why did he have to go through all of those steps to finally get smoking under control, before he could quit?"
However, the defense characterized Ramsey as a smoker by choice rather than because of addiction, particularly when he resumed smoking in 1974, after a collapsed lung caused him to quit smoking for more than three weeks. In closing arguments, John Walker, representing R.J. Reynolds, reminded jurors of evidence that nicotine withdrawal symptoms were believed to completely dissipate after 21 days without smoking. Walker then noted that Ramsey resumed smoking nearly a month after his lung collapsed, despite the fear that his smoking caused his lung problems. "What does he do with knowledge of the risks, no nicotine in the system, no withdrawal, and a personalized concern about what smoking might be doing to himself?" Walker asked. "He goes back to smoking."
Bishop was one of two Florida Engle progeny cases given to the jury on Tuesday. At about 5:30 p.m. Eastern, jurors in Jacksonville suspended deliberations for the evening in Taylor v. R.J. Reynolds; they are expected to resume deliberations Thursday morning at 9:30 a.m.