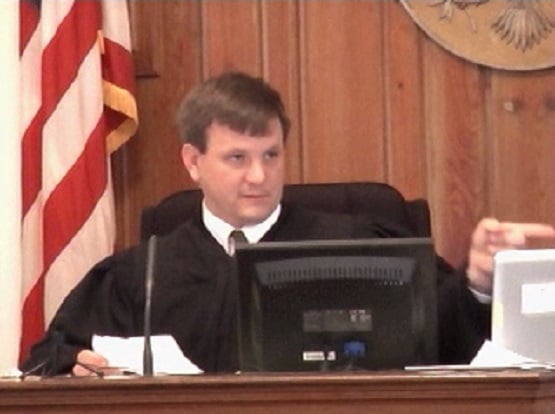 Judge Stanley Griffis instructs the jurors in the first Webb v. R.J. Reynolds trial, which yielded an $80 million verduct. Jury selection begins Monday in the retrial on damages.
---
This week includes a full slate of newsworthy trials opening from Nevada to Florida, including...
Bernard Paul v. Health Plan of Nevada
After two weeks of jury selection, a Nevada suit against United Healthcare HMOs is expected to open this week with a half-billion dollars at stake, as Bernard Paul claims his HMOs sent him to a clinic that infected him with hepatitis C.
Paul's suit, against Sierra Health Services, Inc. and Health Plan of Nevada, Inc., is one of several Nevada suits stemming from the arrest and conviction of Dr. Dipak Desai, who ran the Desert Shadow Endoscopy Center. Desai was sentenced to life in prison after a state investigation found that his clinic reused biopsy equipment, spreading hepatitis C among his patients. Some of those patients, like Paul, were referred to the clinic by the insurers, which are subsidiaries of healthcare conglomerate UnitedHealth Group.
Paul's lawsuit turns on the insurers' duty to their clients and whether they should have known that Desai's clinic followed dangerous and illegal medical practices.
Plaintiffs have won earlier CVN-broadcast suits against the insurers for their role in Desai's spread of hepatitis C. In 2013, a jury found the insurers liable for $524 million for sending Helen Meyer to Desai's clinic, where she contracted the liver disease. Meyer v. Health Plan of Nevada Inc., et al. Last April, Gwendolyn Martin and her husband won more than $1.2 million in similar claims against the insurers. Martin v. Pacificare of Nevada, Inc., et al.
Visit Bernard Paul v. Health Plan of Nevada to watch the case.
Four Florida Engle Cases
A quartet of Florida Engle progeny trials are expected to open this week, led by retrials of two proceedings that garnered big plaintiff awards in their first visits to the courthouse.
Allen v. R.J. Reynolds is a retrial of a 2011 proceeding that led to a $40 million verdict against tobacco manufacturers R.J. Reynolds and Philip Morris and in favor of Andy Allen, who claimed his wife died from chronic obstructive pulmonary disease after smoking defendants' cigarettes.
On review, Florida's First District Court of Appeal found that the Jacksonville trial court had inappropriately instructed the jury. The appellate court noted that Allen must show not only that his wife was addicted to defendants' cigarettes and that she suffered from COPD, but that her addiction was the legal cause of the disease. The appellate court found that the trial court's instructions failed to include that element of causation, requiring a retrial.
In Levy County, Webb v. R.J. Reynolds revisits a landmark $80 million verdict in 2010 to Dianne Webb, for the smoking-related death of her father, James Kayce Horner. Two years ago, Florida's First District Court of Appeal ruled that the Webb jury's $8 million compensatory award was improperly motivated by hardships Webb and her father suffered that were unrelated to his smoking. Because the court vacated the compensatory award, it also stripped the $72 million punitive award, reasoning that compensatory determinations were required prior to calculating a punitive award. It then remanded the case for a new determination on damages.
Jury selection also begins Monday for two trials in the southern part of the state. In West Palm Beach, jurors will hear Debbie Perrotto v. R.J. Reynolds, in which the Law Offices of Sheldon Schlesinger, coming off of a recent $3.1 million verdict for its clients in Irimi v. R.J. Reynolds, will represent the plaintiff. Meanwhile, Steffany Sommers brings her wrongful death Engle progeny suit in Miami, Florida, seeking damages for the death of Bert Sommers. The Sommers trial is the second CVN Engle progeny proceeding presided over by Judge Spencer Eig. The first, 2012's Virginia Williams v. R.J. Reynolds, resulted in a $5 million verdict.
Which trials are you watching?
Watch the cases below: