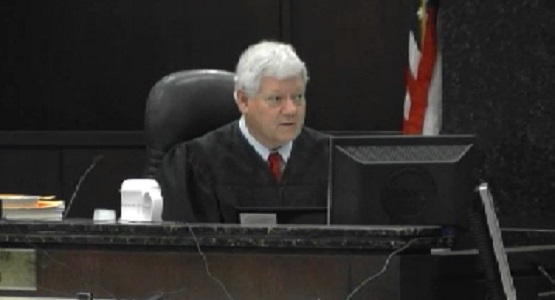 Judge William Levens polls jurors after their $1.3 million verdict in favor of the family of Barbara Ruth Lourie, who died in 1997 from lung cancer. Jurors found Barbara 63% responsible in the Engle progeny wrongful death case brought by her husband James against three tobacco manufacturers.
---
Lourie v. R.J. Reynolds Tobacco Co., et al.
Tampa, FL—Jurors Friday afternoon awarded the family of Barbara Lourie more than $1.3 million in their wrongful death suit against Phillip Morris USA, R.J. Reynolds Tobacco Co., and Lorillard Tobacco Company.
Jurors received the case yesterday and deliberated about 7 hours before finding the tobacco manufacturers liable to Barbara Lourie's husband James and son Steven for Barbara's 1997 death from lung cancer. Jurors awarded James $663, 296 and Steven $708,253, but apportioned 63% of responsibility to Barbara Lourie.
Barbara Lourie had smoked for more than 40 years prior to her death. However, because key medical records had been destroyed and Barbara Lourie had not shown symptoms of lung cancer such as coughing and respiratory bleeding, tobacco manufacturers argued that Lourie's cancer may have originated elsewhere before metastasizing in her lungs. In closing statements Thursday, Pam Yates argued there was limited documentation to support the claim that Barbara Lourie's lung cancer was caused by smoking and noted that much of plaintiff's expert testimony stemmed from reviews of records produced by others. "Is it enough to say 'We have a smoker here and cancer ended up in the lungs'? Is that the end of the inquiry?" Yates asked. "Not in medicine; not in a court of law."
However, James Lourie's attorney Brent Bigger reminded jurors Thursday that medical staff who treated Barbara Lourie testified that she had lung cancer caused by her smoking. While acknowledging that defendants' expert, Dr. Bryan Peterson concluded that she did not suffer from lung cancer, Bigger added "But actually, Dr. Peterson said, if it was lung cancer, then it definitely was caused by smoking. Even he agreed with that."
"Of course she had lung cancer," Bigger emphasized. "All the medical records say lung cancer."
---
On the Docket for Next Week
Jury selection begins on Monday in this Dade County case presided over by Judge Abby Cynamon. This will be Judge Cynamon's first Engle progeny trial broadcast by CVN. However, Shook Hardy's William Geraghty, representing Philip Morris, is a veteran of seven previous CVN Engle progeny trials. He won his last trial, January's Gonzalez, et al. v. Philip Morris, et al.