Last week's flashback to our Series 1 Engle trading cards was so popular, we were asked to feature a few more key cards from that series and highlight how their subjects have fared over the last three years. Our upcoming Series 2 cards feature new attorneys, law firms, and cases, with the most current statistics on this critical Florida tobacco litigation.
---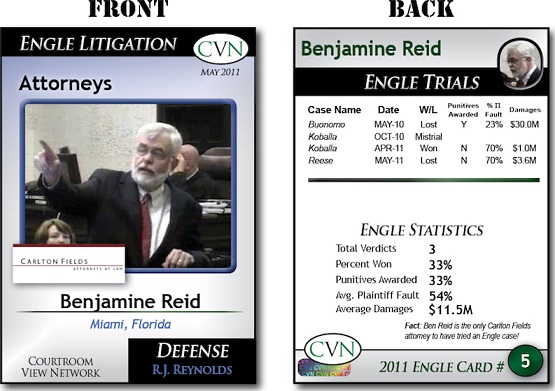 Since we issued his card in 2011, Carlton Fields's Benjamine Reid has represented R.J. Reynolds in four more Engle cases, punitives awarded in only one case.
---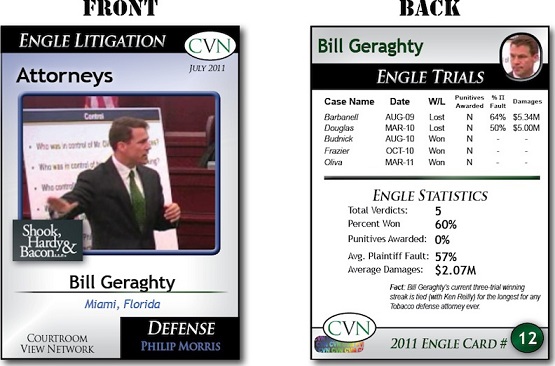 Bill Geraghty has won two of the four CVN-broadcast Engle cases he's tried since we issued his card in 2011. Jurors in a third case found his client Philip Morris 5% at fault but awarded plaintiffs no damages.
---
Card #18, Shook, Hardy & Bacon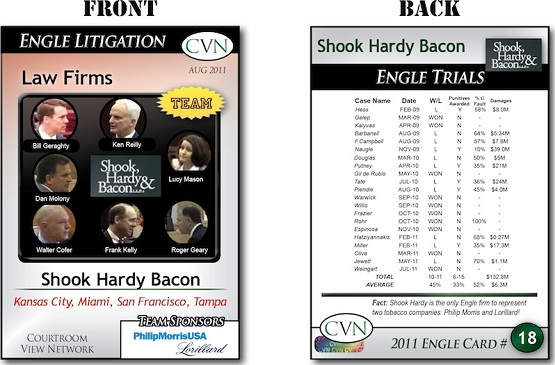 Shook Hardy remains one of the most prolific defense firms in Engle litigation. Since the firm's card was published in 2011, it's represented its clients in 29 Engle trials covered by CVN, including seven so far in 2014.
---
Come back next week to see who will be featured on Trading Card Tuesday.