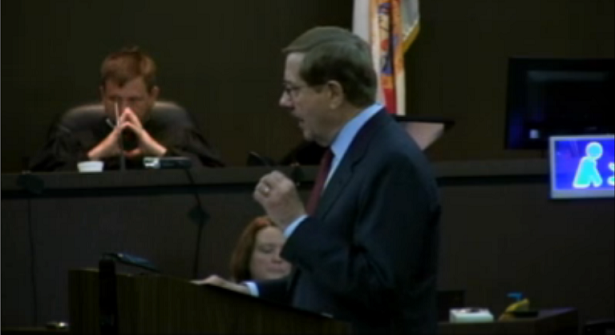 Bob Shields delivers his closing argument on behalf of Mary Faricy-Pardue, who sued R.J. Reynolds and Philip Morris for the death of her husband, John "Jack" Faricy, a long-time smoker who developed heart and respiratory disease. Jurors awarded more than $19 million in the case.
---
Gainesville, FL—A Florida jury slapped R.J. Reynolds and Philip Morris with more than $19 million in damages for the role it found the cigarette makers played in the death of a former University of Florida professor. Faricy-Pardue v. R.J. Reynolds, 2014-CA-2010.
The $19.385 million verdict includes nearly $5.9 million in total compensatory damages awarded Friday and $13.5 million in punitives imposed Monday for the death of John "Jack" Faricy, 67, a former Distinguished Service Professor of marketing at the University of Florida's College of Business.
Faricy, a smoker for more than 50 years, died in 1988 after suffering from chronic heart and respiratory diseases. His wife, Mary Faricy-Pardue claims the cigarette companies' concealment of smoking's dangers throughout much of the 20th century caused her husband's nicotine addiction and ultimately his death.
A key point of dispute during the nine-day trial was whether Faricy, a long-time marketing professor, was duped by a tobacco industry scheme designed to cast doubt on the scientific evidence that smoking was dangerous and addictive. During Friday's closing arguments in the trial's first phase, King & Spalding's Ray Persons, representing Reynolds, told jurors Faricy chose to smoke despite being well aware of the attendant dangers. Persons argued Faricy had read articles and seen TV news programs detailing the hazards of smoking for years, and knew the marketing themes tobacco companies employed to sell cigarettes. "What statement from the tobacco industry did plaintiff prove Professor Faricy ever relied upon?" Persons asked. "None."
However, Faricy-Pardue's attorney, Bob Shields, of Doffermyre, Shields, Canfield & Knowles, argued Faricy relied upon years of tobacco industry denials that cigarettes were harmful. Shields reminded jurors of evidence Reynolds and Philip Morris funded the "Tobacco Industry Research Committee" as an arm designed to undercut the scientific community's warnings against cigarettes, and he claimed the committee's tactics influenced Faricy's smoking. "Jack Faricy bought into the campaign of doubt," Shields said. "He thought there was a controversy (over smoking's health effects). He told Mary that it hadn't been proven, that there was a controversy, and the only people that were saying that were the tobacco companies, pursuant to their conspiracy."
The Faricy-Pardue case is one of thousands of Engle progeny cases in Florida, which stem from a 2006 Florida Supreme Court decision decertifying Engle v. Liggett Group Inc., a class-action tobacco suit originally filed in 1994. Although the state's supreme court ruled so-called Engle-progeny cases must be tried individually, it found plaintiffs could rely on certain jury findings in the original case, including the determination that tobacco companies had placed a dangerous, addictive product on the market and had conspired to hide the dangers of smoking. However, individual Engle-progeny plaintiffs must prove a variety of elements to establish class membership, including nicotine addiction and a causal link between that addiction and specific health problems such as heart disease.
Email Arlin Crisco at acrisco@cvn.com.
Related information
Mary Faricy-Pardue is represented by Bob Shields, of Georgia's Doffermyre, Shields, Canfield & Knowles.
R.J. Reynolds is represented by King & Spalding's Ray Persons and Kathryn Lehman, from the firm's Atlanta office..
Philip Morris is represented by Arnold & Porter's Keri Arnold, from the firm's New York office.
Not a subscriber?
Click here to learn more about our unrivaled tobacco litigation library.