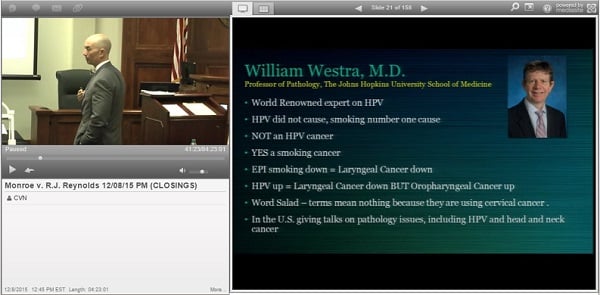 Juan Bauta argues Florence Monroe's throat cancer was caused by years of smoking R.J. Reynolds-brand cigarettes.
---
Quincy, FL—Jurors Wednesday awarded $11 million to a former smoker for the role they found R.J. Reynolds played in causing the throat cancer that took her voice box. Florence Monroe v. R.J. Reynolds, 2013-CA-001121.
Florence Monroe, 71, started smoking at 14 and continued the habit until diagnosed with laryngeal cancer in 1993. Doctors removed Monroe's larynx, or voice box, as part of Monroe's cancer treatment.
Wednesday's verdict, reached after more than a day of deliberations, found Monroe's cancer was caused by her nicotine addiction and decades of smoking R.J. Reynolds-brand cigarettes.
However, jurors rejected Monroe's claim for punitive damages after finding she had not relied on marketing claims Reynolds made during the alleged course of a decades-long, industry-wide conspiracy to hide the dangers of cigarettes.
That conclusion, combined with the jury's determination that Monroe was 42% responsible for the cancer, will likely reduce the post-verdict award to $6.38 million.
Monroe's attorney, The Ferraro Law Firm's Juan Bauta, requested up to $46 million in compensatory damages, plus unspecified punitives during Tuesday's closing arguments.
The week-long trial turned in large part on the cause of Monroe's throat cancer and the reasons behind her smoking.
Reynolds attorneys contended the human papillomavirus, or HPV, caused Monroe's cancer. During Tueaday's closings, Jones Day's John Walker highlighted medical documents speculating on a link between HPV and Monroe's cancer. "It's all over Mrs. Monroe's medical records. Over and over and over again," Walker said. "Everything from describing the features of it . . . all the way up to and just out and out saying 'This looks like human papillomavirus effect.'"
But, Bauta noted smoking was the number-one cause of throat cancer and reminded jurors Dr. William Westma, an HPV expert, believed the virus did not cause laryngeal cancer. "(Westma) said that laryngeal cancer is not caused by HPV based on his own studies, and he's the guy doing the research," Bauta said. "He's the guy that's out there publishing and teaching on HPV (and its effect on the) head and neck, not HPV from a gynecological standpoint, not HPV and cervical cancer."
Bauta also argued Monroe's nicotine addiction was driven by Reynolds' alleged role in a 50-plus year scheme to hide the dangers of cigarettes and build a "culture of smoking." Bauta said Monroe was motivated by tobacco industry claims that filtered cigarettes were safer than unfiltered brands and menthol cigarettes helped colds, claims Bauta said were false. "(Reynolds agents) were out there selling it. They were out there . . . outspending everybody who was trying to get the message out that cigarettes were bad," Bauta said.
However, Walker told jurors Monroe's smoking wasn't motivated by tobacco industry messaging. He contended Monroe understood the warnings about cigarettes, from family members and the media, but she disregarded the information because she enjoyed smoking. "The testimony wasn't that she didn't know the risks," Walker said, "But that she knew the risks and wasn't concerned about them."
Monroe's suit is one of thousands of similar Florida cases against the nation's tobacco companies. Those cases stem from Engle v. Liggett Group, a 1994 class action claim involving Florida smokers. A jury in that case found tobacco companies knowingly produced dangerous, addictive cigarettes and hid those dangers from the public. The Florida Supreme Court subsequently decertified the class on appeal, but its holding allows individual plaintiffs to rely on the jury's conclusions in the original trial if they can prove the smokers at the center of their cases suffered a smoking-related disease caused by an addiction to cigarettes.
While individual plaintiffs such as Monroe can recover compensatory damages by proving class membership, they typically cannot win punitive damamges unless they also prove they relied on a tobacco company's deceptive statements or its role in a conspiracy to hide the dangers of smoking.
Neither the parties' attorneys nor Reynolds representatives could immediately be reached for comment.
Email Arlin Crisco at acrisco@cvn.com.
---
Related Information
Florence Monroe is represented by The Ferraro Law Firm's Juan Bauta, Darryl Parks, and Allan Kaiser.
R.J. Reynolds is represented by John Walker, Jack Williams, and Uchechi Amadi.
Watch gavel to gavel coverage of the trial on demand.
Not a subscriber?
Learn more about CVN's unrivaled tobacco litigation library.