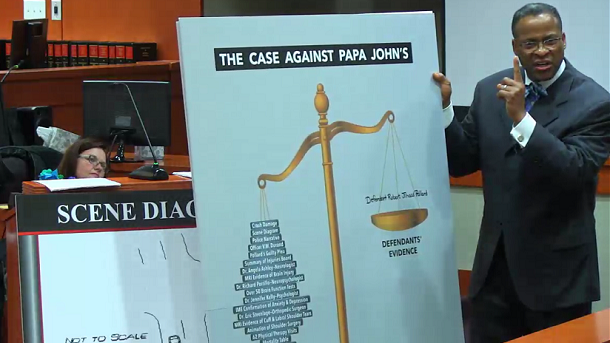 Keenan Nix delivers the closing arguments at trial against Robert Pollard and Papa John's Pizza Inc., for a collision Nix says left his client, Glenda Williams, with permanent brain damage. Jurors awarded Williams $11 million.
---
Decatur, GA—A DeKalb County State Court jury awarded $11 million Monday to a woman who allegedly suffered long-term brain damage in a rainy evening collision with a Papa John's Pizza delivery driver. Williams v. Pollard, et al., 14A52522-5.
Jurors needed less than four hours to find Robert Pollard fully liable for the 2014 collision with Glenda Williams, now 51. Williams claims Pollard crossed the center line on a rain-slick road and struck her car while delivering pizzas for Papa John's. The accident, she says, left her with an array of injuries, including post-concussion syndrome and brain damage that impairs her concentration and renders her frequently confused, among other conditions.
After the decision, Williams' attorney, Morgan & Morgan's Keenan Nix, said he was pleased with the verdict, but believed the evidence could have led to a $20 million award or more. "This is Papa John's, and they had no defense that had any credibility or integrity to it at all," Nix said. "We asked for a big number because the harms and the losses were huge. And the jury totally got that."
However, Hall Booth Smith's R. David Ware, representing Papa John's and Pollard, countered that the award was significantly less than the amount Nix requested in closings. "The plaintiff asked the jury to award $45 million in damages based on the position that she has permanent brain damage," Ware said. "Obviously the jury did not believe the plaintiff sustained anywhere near that damage and only awarded 25% of the request."
Monday's verdict capped a three-day trial that focused on who caused the evening crash on DeKalb County's Rogers Lake Road and on the severity of Williams' injuries. During Friday's closing arguments, the defense challenged Williams' claim that Pollard was driving erratically when he struck her head-on. Instead, Ware reminded jurors Pollard said his car hydroplaned as he slowed to enter an s-curve and Williams' car broadsided him after he was stopped. "In terms of fault, you can't get there with Mr. Pollard," Ware said.
Ware added Williams' claim in court that she tried to stop the car to avoid the collision contradicted her earlier statements. And he argued her recollection of swerving to try to avoid a crash proved Pollard wasn't solely liable. "That sounds like a classic definition of an accident," Ware said. "They both are at fault, [or] nobody's at fault. It's an accident. It happens."
But Nix argued police testimony, along with evidence from the scene, supported the conclusion Pollard's car was moving when the vehicles collided. Nix reminded jurors V.W. Durand, the DeKalb County Police Department officer who cited Pollard for the wreck, testified Pollard's car placed a line of skid marks in Williams' lane before the collision. "The physical evidence doesn't lie," Nix said, adding Pollard's description of the accident "defies common sense."
Beyond the issue of fault, the defense challenged the extent of Williams' brain damage. Ware said Williams' neurologist, Dr. Angela Ashley, noted Williams had improved significantly, and Ashley made made no specific projections of life-long brain damage in her medical notes. "That's what Dr. Ashely said [after examining Williams] in January. And she does not say... 'This will continue for 30 years.' It just doesn't say it," Ware told jurors. "You're going to be asked to award [Williams] millions of dollars for 30 years, but the doctors don't say [that]. You have to speculate, you have to guess."
But Nix noted Ashley and other medical experts concluded Williams sustained serious, life-long brain damage. Nix walked jurors through Ashley's testimony, which included her belief Williams suffered the most severe mild brain injury the neurologist had seen in 20 years of practice. "[Ashley] is a board-certified neurologist that knows more about the human brain in her thumbnail than all of us in this courtroom put together," Nix said. "And what did she tell you? [Williams] suffered two traumatic brain injuries. One focal, the other diffuse, and we see all of these symptoms and they're going to be there for the rest of her life."
Nix also reminded jurors the defense called no expert witnesses to counter plaintiff's medical evidence. "They didn't bring you one medical witness to say that anything I said was inaccurate," Nix told jurors. "Where is that witness? I want to see that witness, because that is the only thing that can stop you from doing the right thing in this case, and they didn't show up."
After the verdict, Nix said he believed Ashley's uncontroverted testimony was the key to the jury's decision. "Once [the jury] determined that there was very credible medical evidence to support the plaintiff's claims for severe brain injury, well you've got to bring somebody into court to challenge that, or you're going to face a runaway train," Nix said. "And that's exactly what happened."
But Ware told CVN the verdict did not close the books on the case. "There are a number of appealable issues upon which we expect to prevail," Ware said.
CVN recorded the trial and will provide online gavel-to-gavel footage as soon as it is available.
Email Arlin Crisco at acrisco@cvn.com.
---
Related Information
Glenda and Michael Williams are represented by Morgan & Morgan's Keenan Nix and Christopher Graddock and The Summerville Firm's Darren Summerville.
Robert Pollard and Papa John's Pizza are represented by R. David Ware and Phillip Friduss, of Hall Booth Smith, and Charles E. Hoffecker.
CVN will offer gavel-to-gavel footage of the trial on demand as soon as it is available.
Not a Subscriber?
Learn more about CVN's unparalleled coverage of top Georgia trials.