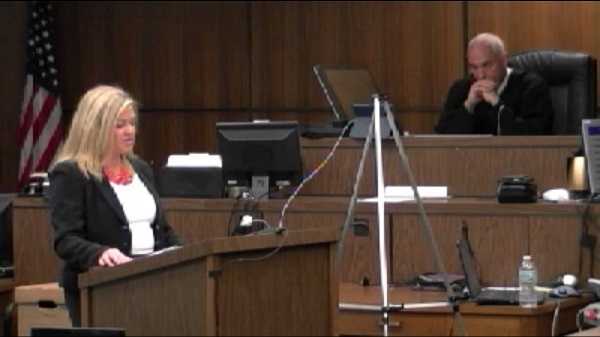 Ursula Henninger argues that Paul Pollari died "with cancer not from cancer," during closings of Rose Pollari's wrongful death suit against Philip Morris and Henninger's client, R.J. Reynolds. Click here for on-demand and live trial coverage.
---
As opening statements began this week in the retrial of Robert Gore's suit to recover for his wife's carotid artery disease and fatal cancer, attorneys argued over whether smoking or other risk factors caused her health problems.
"(The defense) can't argue that these diseases are caused by smoking. And here's a woman that had 5 million hits (from cigarettes)," Foote, Mielke, Chavez & O'Neil's Robert Foote, representing Robert Gore, told jurors Monday. "I don't think there's any question that if you have 5 million hits, and we know that lung cancer and carotid problems are caused by cigarettes, that that had to be a contributing cause. That's just common sense."
Gloria Gore, who smoked 1-2 packs of cigarettes a day for 45 years, suffered from carotid stenosis and ultimately died of lung cancer in 2000. Because Gloria Gore's carotid stenosis was the only disease that manifested itself prior to the November 21, 1996 cut-off date for Engle class membership, plaintiff's counsel must establish as a threshold issue that the stenosis was caused by her addiction to cigarettes.
However, during openings, the defense argued that Gloria Gore's carotid stenosis was caused by a genetic predisposition to artery disease and other factors such as high cholestreol rather than smoking. "(Gore's) sister had coronary artery disease at roughly the same age that Mrs. Gore had carotid artery disease. Was her sister's caused by smoking? No, her sister was a non-smoker. Her mother had the same problem with coronary artery disease, her mother was a non-smoker," Shook Hardy Bacon's Robert McCarter, representing Philip Morris, told jurors in openings. "For Mrs. Gore, the clogged artery thing was genetic. That just ran in her family and she had other risk factors for it."
Gore is before Judge Cynthia Cox for the second time in less than a year. In August 2014, Judge Cox declared a mistrial in the case when jurors awarded no compensatory damages to Gore but nonetheless found defendants liable for potential punitive damages. In that trial, Gore's attorneys sought $7.5 million in compensatory damages.
Next week: Closings are expected next week.
---
Pollari v. R.J. Reynolds, et al.
During closings Friday of Rose Pollari's wrongful death trial, her attorneys urged jurors to overlook the lack of medical documentation concerning the origin of her husband Paul Pollari's cancer and instead focus on the testimony of the doctor who treated him.
Dr. Howard Abel, Paul Pollari's treating physician "was the only man who came in here and said, to a reasonable degree of medical probability, 'I know why this man died,'" The Alvarez Law Firm's Alex Alvarez, representing Rose Pollari, told jurors.
Alvarez said Abel, who signed Pollari's death certificate attesting that he died of lung cancer that metastasized to his brain, based his determination on his months of testing and treatment of Pollari. "He signed that death certificate before there was even a lawsuit," Alvarez said, arguing that even without medical documentation, Abel's testimony concerning the tests he performed should be sufficient. "How else would he have known that (Pollari) had lung cancer? How else would he have known that it metastasized to the brain if he didn't do all of those tests and scans? Where did he get that?" Alvarez asked. "If he didn't do it, why would he write it on the death certificate?"
Rose Pollari is seeking $7 million plus punitives from Phillip Morris and R.J. Reynolds for the death of her husband, Paul, who smoked up to two-and-a-half packs of cigarettes a day until his death at age 62. Pollari had been diagnosed and treated for cancer prior to his death, but the routine destruction of medical records prompted questions concerning the disease's origin.
On Friday, King & Spalding's Ursula Henninger highlighted those questions telling jurors that "plaintiff cannot prove that Mr. Pollari had primary lung cancer, and Mr. Pollari died with cancer, not because of cancer."
Henninger acknowledged to jurors that Abel treated Pollari and signed the death certificate in 1994, but told them he now has no recollection of the specific treatment her performed on his patient. "He doesn't remember Mr. Pollari. He doesn't remember what he did to determine the cause of death," Henninger said. "He doesn't remember a single thing about Mr. Pollari outside of what those medical records say."
Henninger also contended that the fact that Pollari was hospitalized for severe bleeding from an ulcer and checked himself out of the hospital just two days before his death was sufficient to cast doubt on what killed Pollari.
Alvarez argued, however, that even if complications from Pollari's bleeding ulcer were fatal, they were caused by his cancer treatment. After reminding jurors of Abel's testimony tying ulcers to the effects of cancer treatment, Alvarez said "(Pollari) is a man who never once had a peptic ulcer, never once had an upset stomach, never once was taking any medications for this until he started getting treated for the lung cancer."
After closings, the jury deliberated for less than an hour Friday afternoon before court recessed for the weekend.
Next week: The jury will continue deliberations Monday at 9 a.m.
---
Judge Stephen Dakan declared a mistrial in the case Wednesday after jurors had deliberated for less than two days but twice told the judge they were deadlocked.
Jurors seemed to have difficulty reaching consensus with the fundamental question of Engle class membership. Minutes before they told the judge they were unable to reach a consensus, they asked whether they were required to agree on each element of the first jury question regarding question and causation. Read more on the mistrial here.
---
Our weekly review is curated from our unequaled gavel-to-gavel coverage of Florida's Engle progeny cases.
Not a subscriber?
Click here to learn more about our expansive tobacco litigation library.