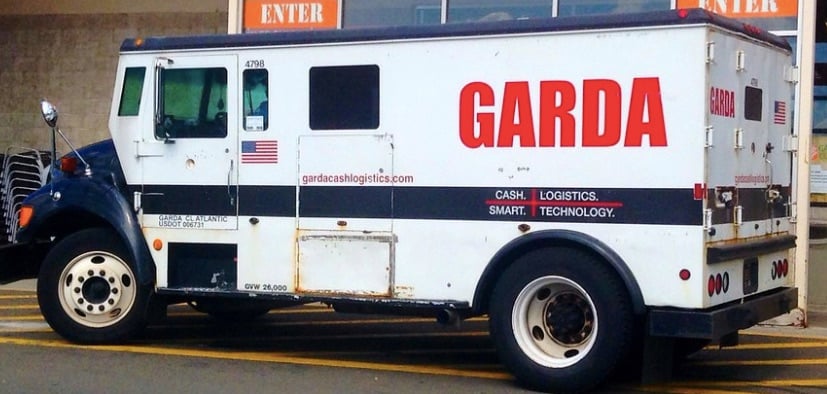 stock image of a Garda armored truck
Dallas, TX - A Texas state court jury heard opening statements this week in a wrongful death lawsuit worth potentially $100 million filed by the family of a motorcyclist who died in a collision with an armored truck operated by security company GardaWorld Corp.
Plaintiff Beyanca Martinez and her children sued Garda in 2018 after her husband, Virgilio Martinez Garcia, died following a collision that they allege was the result of an illegal lefthand turn made by the Garda truck driver, King Easley. Easley was driving slightly ahead of and alongside Martinez on a road in Arlington, Texas on January 21, 2018, when he attempted a turn from the far right lane, resulting in Martinez slamming into the truck's side.
Garda denies the allegations, and argued in court filings that Garcia's supposed excessive speed caused the accident.
The full trial is being video recorded gavel-to-gavel by Courtroom View Network.
Martinez's lawsuit accuses Garda, a Canadian-based company with over 200 offices worldwide, of ignoring "numerous crashes involving fatalities or serious injuries" identified by Garda's former Executive Director 0f Workers' Compensation and Risk Management. The complaint claims factors identified as recurring problems by the Garda executive, such as unauthorized cell phone use by drivers and the use of unsafe, unqualified drivers, played a role in Virgilio Martinez's death.
Police initially told Martinez they believed her husband caused the accident, but surveillance video later uncovered of the accident led to prosecutors charging Easley with vehicular homicide, though a grand jury failed to return an indictment in the case.
The complaint also blames the collision on the lack of a GPS navigation system in the truck, which Martinez's attorneys argue would have prevented Easley from having to make a sudden, sharp turn.
During opening statements in the trial, attorney Christopher Hamilton of Hamilton Wingo LLP asked jurors to award Garcia's family between $80 - 100 million dollar in compensatory damages.
Prior to the start of the trial, plaintiff attorneys argued in court filings that Easley should be held responsible for failing to immediately render aid to Garcia in the moments following the collision, instead choosing to contact a supervisor, but those claims were later dropped. Both Easley and a Garda messenger accompanying him remained in the armored truck following the crash.
Garda's attorneys deny that Easley had any obligation to render aid, stating in court filings that he blacked out immediately after the impact. They also claim the messenger, Barham Ghafoor, was unaware of the collision and believed the truck had been hit by a rocket-propelled grenade, or RPG, in an attempt to rob the vehicle.
The trial, expected to take between two and three weeks to complete, is taking place before Judge Tonya Parker in Dallas County's 116th Civil District Court.
Attorneys for Garda filed a motion prior to the start of the trial seeking to bar news media from filming the proceedings, but those objections were overruled by Judge Parker.
In addition to Mr. Hamilton, Martinez is also represented by Ray Khirallah, Stephen Blackburn and Andrea Fitzgerald, also of Hamilton Wingo, an eight-attorney personal injury firm based in Dallas.
Easley and Garda are represented by Christopher White, Edward Davis and Brittney Angelich from the Dallas office of Lewis Brisbois Bisgaard & Smith LLP, a powerhouse defense firm with approximately 1,200 attorneys in 51 offices throughout the United States, in addition to Jessica Barger and E. Marie Jamison of Wright Close & Barger LLP, a Houston-based defense firm.
The case is captioned Beyanca Martinez, et al, v. King Easley, et al., case number DC-18-02249.
E-mail David Siegel at dsiegel@cvn.com
Correction: An earlier version of this story suggested that arguments were made regarding King Easley's alleged failure to render aid during the trial. Those claims were dropped by the plaintiffs prior to the start of the trial, and the presiding judge issued a pre-trial ruling excluding evidence of a duty to render aid from the proceedings.