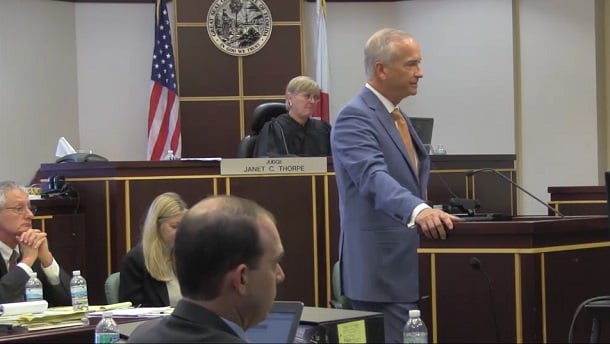 Mark Avera delivers the closings at trial against Domino's Pizza over the crash that paralyzed and ultimately killed Richard Wiederhold. Jurors found the pizza company liable and awarded more than $10 million.
---
Orlando, FL—Jurors last week handed down a $10.1 million verdict against Domino's Pizza for the wreck that paralyzed and ultimately killed a former Brevard County fire chief. Wiederhold v. Domino's Pizza, 2011-CA-001589.
The jury took less than three hours Friday to find pizza delivery driver Jeffrey Kidd and Domino's liable for a January 2011 wreck that overturned a pickup truck driven by Richard Wiederhold. The accident occurred on Florida's State Road 50, when Kidd, a driver for a Domino's franchise owned by Fischler Enterprises, allegedly pulled in front of Wiederhold, who swerved into a median and back across the roadway before the truck overturned. The accident left Wiederhold, a Central Florida firefighter for more than 30 years, a quadriplegic.
A year later, Wiederhold, 62, died from complications stemming from his paralysis.
Wiederhold's wife, Yvonne, who was engaged to Wiederhold and traveling with him at the time of the accident, claims her husband swerved to avoid hitting Kidd, who she contends pulled dangerously into Wiederhold's path.
Friday's award includes $10 million to Yvonne Wiederhold and more than $100,000 in injury-related expenses. Jurors apportioned 90% of fault for the wreck to Kidd and 10% to Wiederhold, likely reducing the award to a little more than $9 million post-verdict.
The decision capped a four-day trial that focused largely on who caused the accident and whether Domino's was liable for Kidd's actions.
The Crash's Culprit: Questions Surround the Accuracy of Accident Reconstruction
During Friday's closings, Rissman Barrett's Richard Womble, representing Domino's, argued evidence proved Wiederhold caused the accident by speeding and then swerving to avoid Kidd rather than braking.
Womble noted the defense's accident reconstruction expert, Donald Fournier, believed Wiederhold was driving 70 miles an hour, or 10 mph over the speed limit, just before the accident. Womble said Fournier determined Wiederhold could have avoided the wreck by driving the speed limit or by braking hard rather than swerving. "Was Mr. Wiederhold paying attention?" Womble asked. "That is a decision for you to make."
Avera & Smith's Mark Avera, representing Yvonne Wiederhold and her husband's estate, countered that data Fournier used to reconstruct the accident conflicted with testimony from both Kidd and Yvonne Wiederhold concerning the vehicles' positions in the moments before the crash. "When you change those variables, it places Rich Wiederhold much closer to where Mr. Kidd is when he pulls out [into traffic]," Avera said. "In that scenario, [Wiederhold] has no time. He has time to perceive the danger, the emergency, and react to it."
Pizza Giant's Liability Turns on Its Franchise Agreement
Regardless of which driver was at fault, Womble argued evidence proved Domino's wasn't liable for the accident because the Fischler franchise that Kidd worked for was an independent business rather than an agent of the pizza chain. Womble walked jurors through the franchise agreement, claiming its language did not give Domino's enough control over the franchise to render it an agent. Key decisions, such as the hiring and firing of personnel, were left to the franchise, which was referred to as an independent contractor in the agreement, Womble noted. And while a company guide detailed various requirements the franchise must fulfill, Womble said, "It's 17 sections [long and]…, maybe four chapters are required."
However, Avera told jurors Domino's exercised control over all major aspects of the Fischler franchise, rendering it liable for the crash under agency principles. Avera argued the franchise documents included a host of restrictions that extended all the way down to Fischler delivery drivers, who were forbidden from using radar detectors or carrying more than $20 cash, among other rules. "I don't know how you carry your own money when you're working at a franchise, delivering pizza," Avera said. "That's control. That's evidence of [the] right of control."
Avera also argued the franchise agreement's description of Fischler as an "independent contractor" was merely a "label" to avoid liability, and it had no effect when compared to the control Domino's had under the agreement. "That label is not going to work. That dog's not going to hunt," Avera said. "You can put it in there, you can say 'We're not principal and agent.' But you are."
The jury's $10.1 million award matched Avera's request during openings.
CVN recorded the trial and will offer gavel-to-gavel footage on demand as soon as it is available.
Email Arlin Crisco at acrisco@cvn.com.