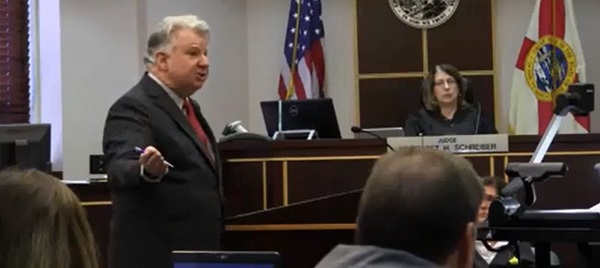 James Gordon delivers his closing argument in a suit against McDonald's franchise manager Marie Harrison. Jurors awarded $1.5 million to the parents of Joshua Lopez, who was killed in a 2012 collision with Harrison.
---
Orlando, FL—Jurors this week awarded $1.5 million to the parents of a motorcyclist killed in a collision with a McDonald's franchise manager, but cleared the franchise of liability. Gregory v. Harrison, 2013-CA-001562.
Wednesday's verdict found Marie Harrison liable for the 2012 collision between her SUV and a motorcycle driven by 22-year-old Joshua Raim Kalphat Lopez, but concluded Harrison, a manager of a McDonald's franchise owned by Basich Inc., was not acting within the scope of her employment when the wreck occurred.

The jury's verdict, awarding $750,000 to each of Lopez's parents, Michelle Kalphat and Raim Lopez, plus about $8,600 in funeral and medical expenses, found Joshua Lopez 25% responsible for the collision, likely reducing the overall award proportionately.
The $1.5 million award was half of the $3 million requested in closings Wednesday.
The November 2012 collision occurred near an intersection east of Orlando as Harrison pulled away from a stop sign and allegedly into the path of Lopez's motorcycle. He died soon after the crash.
The seven-day trial turned on each driver's role in the collision. The defense argued Lopez had used marijuana and cocaine hours before the crash and his speeding caused the accident. During Wednesday morning's closings, Harrison's attorney, Clark & Romano's Michael Romano, reminded jurors of evidence Lopez may have been going up to 75 miles-per-hour, or about 30 miles-per-hour above the speed limit, and had aggressively passed another car in the moments before the collision.
Romano argued Harrison looked for traffic before turning into the intersection, but, because of Lopez's alleged speed and limits on perception and distance, known as the looming threshold, Harrison was unable to react to the motorcycle's sudden approach in time. "When you're pulling out into the roadway, you're looking at traffic straight ahead," Romano said. "You're not looking, (thinking) 'Oh, the looming threshold is there. I've got to look and see if there's a motorcycle traveling at 70 or 75 miles an hour.'"
Garrison Yount's Scott Yount, representing Basich Inc., added that Lopez's speed may have been influenced by drug use prior to the collision. Yount reminded jurors of expert testimony from pharmacology expert Glen Farr, who testified Lopez was impaired from marijuana and cocaine he used hours before the crash. "And the fact that it was both, made it worse," Yount said.
During his closing, Beers & Gordon's James Gordon, representing Lopez's parents, countered that Lopez's blood test results showed no drugs active in Lopez's system at the time of the crash. Gordon noted Farr refused to say whether the drugs impaired Lopez's mental functioning specifically. "He doesn't have that opinion. That's why you didn't hear it," Gordon said.
Instead, Gordon said Lopez's acquaintance, Carla Cartwright, testified Lopez did not appear impaired before the accident. "We have nothing to hide. We showed you Joshua was not impaired in the best way that could be done," Gordon said.
Gordon also argued the defense had not proven Lopez was speeding before the crash. Reminding jurors of accident reconstruction testimony that concluded it was impossible to calculate Lopez's speed, Gordon said, "It was (Harrison's) actions (in pulling into the intersection) that are the proximate or legal cause—look at the definition when you make the verdict in this case—as to how the collision occurred."
While Gordon contended Harrison was responsible for the accident, he argued Basich Inc., as owner of the McDonald's franchise Harrison managed, also shared responsibility because Harrison was in the midst of a work-related supply run when the crash occurred. Gordon suggested Harrison's later claim she was on her way home when the accident happened was fabricated to insulate Basich from liability. "What does Marie need to do in those few tragic moments after she's pulled right out in front and killed this young man, (while wearing) her McDonald's uniform?" Gordon asked. "Think about what's going on through her mind. Think about the fact that she's permitted to use her cell phone. Think about the fact that there are cell phone calls being made, back to the office."
However, Yount told jurors undisputed evidence supported Harrison's version of events. "If anybody's credibility should be challenged here, it's the credibility of the plaintiff of coming before you and telling you that Marie Harrison was working at the time of this accident," Yount said. "The testimony here is unequivocal, unrebutted that she was going home. So, if we're going to question credibility, let's not make it the credibility of (company director) Dana Basich. Because that's not fair. His credibility is supported by the evidence."
Attorneys for the parties could not immediately be reached for comment.
CVN will provide gavel-to-gavel video of the trial, on demand, as soon as it becomes available.
Email Arlin Crisco at acrisco@cvn.com.
---
Related Information
Beers & Gordon's James Gordon represents Michelle Kalphat and Raim Lopez. Garrison, Yount, Forte & Muculhay's Scott Yount represents Basich Inc.
Read the third amended complaint.
CVN will offer on-demand, gavel-to-gavel video of the trial as soon as it is available.
Not a subscriber?
Learn how you can watch CVN Florida's unparalleled coverage of the state's key trials.