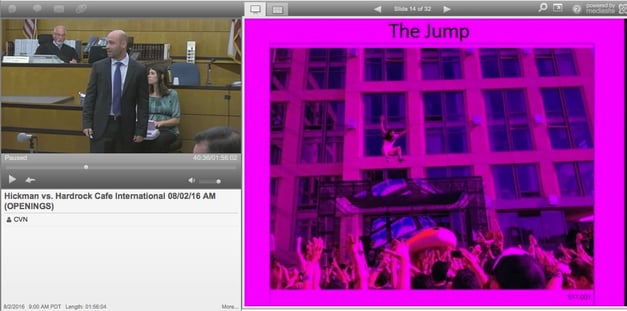 Plaintiff's attorney Jeremiah Lowe shows jurors an image of Steve Aoki just seconds before he landed on Brittany Hickman during a concert in 2012. Click here to see video from the trial.
San Diego - A concertgoer claiming she suffered a traumatic brain injury when celebrity disc jockey Steve Aoki jumped into the crowd during a performance at a Hard Rock Hotel is seeking millions of dollars from the hotel and restaurant franchise, according to attorneys who gave opening arguments on Tuesday at a trial in California state court.
Plaintiff Brittany Hickman alleges that she was nearly paralyzed in 2012 when Aoki leapt from above the stage onto an inflatable raft held up by fans in the audience, trapping her underneath and knocking her unconscious. Hickman, who was in her mid-20's at the time of the incident, sued Aoki and Hard Rock Cafe International Inc. in 2013, claiming Aoki's impact left her with a concussion and a herniated disc that eventually required spinal fusion surgery to repair.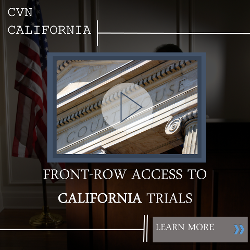 Hickman reached a confidential settlement with Aoki prior to the start of the trial, but her attorney Jeremiah Lowe of Gomez Trial Attorneys argued to jurors that Hard Rock should pay "substantial" damages for failing to protect fans from a performer who garnered worldwide fame for his onstage antics, which include sometimes jumping into the audience from scaffolding above the stage.
"This was something he was known for, something he had done many times in the past," Lowe said, according to a Courtroom View Network webcast of the trial. "Hard Rock Hotel San Diego did not do anything to protect their guests from Steve Aoki performing this stunt."
Hard Rock has argued Aoki alone is responsible for Hickman's injuries, which their attorney Kevin Gramling of Klinedinst PC argued aren't severe enough to warrant the damages she seeks.
"The reason we're here is because they want millions, and millions, and millions of dollars," Gramling said during his opening statement, explaining that Hard Rock staff had no warning that Aoki would perform the leap, and that Aoki himself only decided to try the stunt five-minutes before the start of his show.
Aoki, the Grammy-nominated son of the founder of the Benihana restaurant chain, is one of the most popular "electro house" musicians in the world.
Lowe told the jury that while Hickman doesn't show any outward signs of a traumatic brain injury today, that she still suffers from the effects of the concussion she received in 2012. She struggles with neck and arm pain, migraines, memory loss, dizziness, and fatigue.
"The reality is she cannot be the same active person she was before," Lowe said.
Lowe didn't give jurors a specific amount for overall damages, but he did say Hickman's past and future medical expenses could climb as high as $780,000, noting that her symptoms will require ongoing care for years to come.
However Gramling argued that the testimony from Hickman's hired experts who calculated that amount would conflict with the testimony of physicians who treated her at the time of her injury, and that her symptoms are not consistent with a serious concussion. He said she suffered the type of minor concussion from which people generally make full recoveries, and that MRI scans performed a year after the incident didn't show any permanent brain damage.
Hickman completed a lengthy course of physical therapy after her initial injury, but Gramling said she never mentioned any symptoms normally associated with a serious head trauma.
"In the months after the accident she didn't have the complaints that she now has relative to the continued effects of the concussion," he said.
The trial is taking place before Judge Joel Pressman, and the proceedings are being webcast gavel-to-gavel by CVN.
An attorney for Hickman and representatives for Hard Rock did not respond to requests for comment.
The case is Hickman v. Hard Rock Cafe International, case number 37-2013-00064985-CU-PO-CTL, in San Diego County Superior Court.
E-mail David Siegel at dsiegel@cvn.com