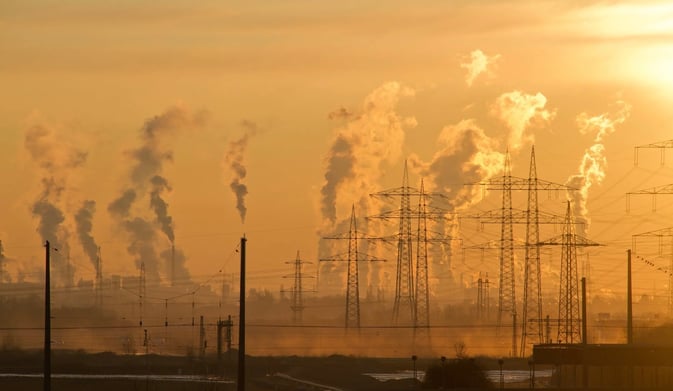 stock photo of industrial pollution
Helen, MT - A Montana state court judge has delivered a groundbreaking victory for a group of young plaintiffs who sued the state alleging the impact of its pro-fossil fuel policies is contributing to climate change, and the full trial is available for gavel-to-gavel viewing via Courtroom View Network's trial video library.
CVN was the only news media outlet to cover the historic first-of-its-kind bench trial in June before Judge Kathy Seeley gavel-to-gavel, and both monthly and annual CVN library subscribers can see firsthand the arguments and testimony that led to an outcome that could serve as a bellwether for related litigation around the country.
In her 103-page decision issued August 14, Judge Seeley found that a state ban on the consideration of climate impacts in determining the issuance of energy permits prevented Montana from taking necessary steps to address the alleged climate crisis, deeming the prohibition unconstitutional. The 16 plaintiffs, aged 5 to 22, maintained they would be directly impacted by the effects of worsening climate change in the future.
Montana argued at trial that the state's role in global climate change was far too small to have a direct impact on the plaintiffs. The Montana Attorney General's office has vowed to appeal, blasting the decision as "absurd" and a ""taxpayer-funded publicity stunt."
The plaintiffs' success at the trial phase and the outcome of any appeal will be closely watched, as similar litigation gains momentum in states throughout the country. The next such trial is scheduled for June of next year in Hawaii state court.
Subscribers to CVN's video library not only get unlimited gavel-to-gavel access to the full climate change trial, but also to hundreds more civil trials from all across the United States featuring many of the country's top plaintiff and defense attorneys. Sign up using CVN's Summer Special discount and save even more on access to the world's only online video collection of civil trials.
E-mail David Siegel at dsiegel@cvn.com