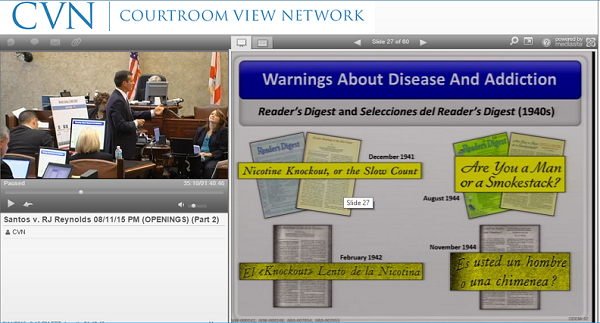 Randall Bassett highlights articles on smoking and health published by Reader's Digest and Selecciones del Reader's Digest, magazines that Renato Santos regularly read. Santos' represenative Rebecca Santos is suing Bassett's client, R.J. Reynolds, claiming the tobacco company's marketing deception led to Renato's emphysema.
---
Miami—Attorneys sparred over the influence allegedly deceptive tobacco marketing had in a Cuban immigrant's smoking decisions as trial opened Tuesday in a suit against R.J. Reynolds over his fatal emphysema. Santos v. R.J. Reynolds, 2008-CA-000849.
Renato Santos, 87, died from emphysema in 2007. Rebecca Santos, his estate's representative, claims Reynolds hid the dangers and addictiveness of the Pall Malls Renato smoked for decades, fueling his nicotine addiction and causing his fatal respiratory disease.
During openings Tuesday, Rebecca Santos' attorney, Austin Carr, told jurors that Renato, who was born in Cuba in 1920 and immigrated to the U.S. in 1962, was the vistim of a tobacco industry marketing scheme designed to deceive the public about smoking's health effects. Carr walked jurors through decades of tobacco industry documents discussing the most effective ways to hide the dangers of cigarettes. "They made conscious choices to conceal what they knew" about smoking, Carr said. "And what they told the public was a very different picture from what they really knew."
However the defense argued Santos was never influenced by American tobacco industry marketing. During Tuesday's openings, King & Spalding's Randall Bassett told jurors Santos had smoked for more than 20 years when he moved to the U.S. and began buying Reynolds' unfiltered Pall Malls, the brand he smoked until quitting cigarettes in 1990. Bassett noted that, by contrast, filtered cigarettes were more popular than their unfiltered counterparts in 1962, and Pall Mall's share in the U.S. tobacco marketplace dropped significantly in the following four decades. "That evidence suggests that Mr. Santos wasn't listening, wasn't hearing anything from the tobacco companies," Bassett said. "But consistent with who he was, Mr. Santos was making his own decisions about smoking."
Rather than being deceived by tobacco marketing, Bassett claimed Santos was a prolific reader who likely saw various news reports detailing smoking's dangers. "He had a subscription the Reader's Digest during the time that he was in the United States. He also had a subscription to the Miami Herald. He read it every day," Bassett said. "The evidence is going to show that more warnings about smoking and health were being published in those magazines and in those newspapers."
However, Carr challenged the contention that Santos read any smoking-related articles printed in those publications. A graphic Carr showed in his opening statement noted the Reader's Digest printed 36 stories on smoking and health out of more than 13,000 total articles they published between 1924 and 1966. "The evidence is not going to show you what Mr. Santos actually read," Carr said, before Judge Jacqueline Hogan-Scola sustained an objection to the comment.
The Santos case is one of thousands of similar Florida lawsuits against U.S. tobacco companies. The cases arise from a 2006 Florida Supreme Court decision decertifying Engle v. Liggett Group Inc., a class-action tobacco case originally filed in 1994. Although the state's high court ruled Engle cases must be tried individually, it found plaintiffs could rely on certain jury findings in the original verdict, including the determination that tobacco companies had placed a dangerous, addictive product on the market and had hidden the dangers of smoking. To rely on those findings, individual Engle progeny plaintiffs such as Santos must establish a causal link between deceptive tobacco marketing, addiction, and smoking-related disease.
Trial in the case is expected to continue through the end of next week.
Neither the parties' attorneys nor Reynolds representatives could be reached for comment.
Email Arlin Crisco at acrisco@cvn.com.
---
Related information
Rebecca Santos is represented by Austin Carr and Koch, Parafinczuk, and Wolf's Justin Parafinczuk. R.J. Reynolds is represented by King & Spalding's Randall Bassett and Cory Hohnbaum.
Watch live and on-demand coverage of the trial.
Not a subscriber?

Click here to learn more about our unrivaled tobacco litigation library.