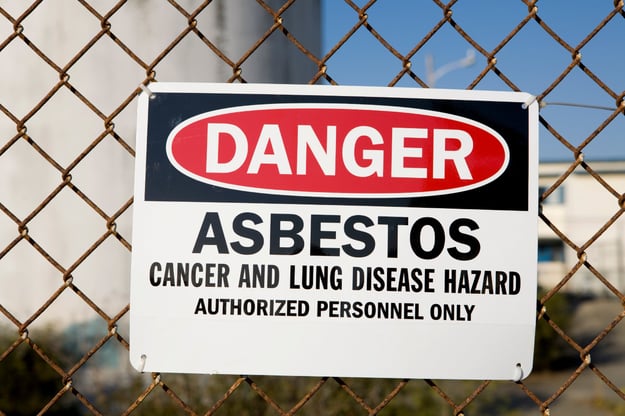 Stock photo of asbestos warning sign
Oakland — A former plumbing contractor who claims he developed cancer from exposure to asbestos-containing pipes as a teenager in the 1970's has settled a lawsuit worth more than $2 million against Rexel SA subsidiary Westburne Supply Inc., two days after opening statements took place in a trial that was scheduled to last for weeks.
California state court Judge Brad Seligman informed jurors on Sept. 3 that 61-year-old plaintiff Mitchell Slavensky and his wife Cheryl had reached a settlement with O'hare Supply, a plumbing supply company acquired by Westburne. Slavensky's lawsuit said he developed mesothelioma, a terminal form of lung cancer, from inhaling asbestos dust generated by hand-cutting asbestos-containing pipes sold by the company.
Slavensky's attorney Brent Zadorozny of Simmons Hanly Conroy told the jury during his opening statement that economic damages alone in the case would exceed $2 million, and that he planned to ask for an unspecified amount of damages for pain and suffering that would be "incredibly large." However he conceded the jury would likely assign some fault to other manufacturers of asbestos-containing products to which Slavensky may have been exposed.
Zadorozny accused Westburne of knowingly selling asbestos-containing pipes in the early 1970's despite health concerns about exposure to the mineral first being raised in the 1930's, and a definitive link between asbestos and cancer being confirmed by the 1950's.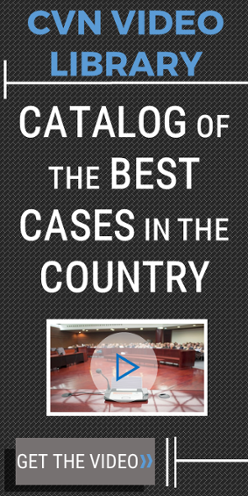 "Westburne should have known that the products they were selling with asbestos were deadly," Zadorozny said, according to a Courtroom View Network webcast of the trial. (Click here to see video from the trial, along with other asbestos cases in CVN's one-of-a-kind video archive.)
Details of the settlement were not made public, and attorneys for the parties did not respond to requests for comment.
Slavensky could not avoid inhaling asbestos dust while sawing through pipes as part of his summer job working for a plumbing contractor from 1970 to 1974, Zadorozny argued. He told jurors that Slavensky was oblivious to the risk posed by the dust, because Westburne didn't provide any warnings or safety instructions with their asbestos-containing pipes.
"He had no idea of the dangers," Zadorozny said. "He had no idea that what he was doing was a tremendously risky proposition."
Mesothelioma can take decades to develop, and Slavensky was not diagnosed with the disease until November 2014. Since that time, Zadorozny said he has been reduced from an independent business owner to someone who relies on narcotic painkillers just to get out of bed each day. He also painted a bleak picture when describing Slavensky's prognosis.
"Once you get the fibers lodged in the lung, you're done," Zadorozny said. "It continues to get worse. It's incurable."
Westburne's attorney Tom Scully of Walsworth WFBM LLP told jurors during his opening statement that Slavensky could have developed cancer from exposure to asbestos in products other than piping sold by Westburne. He acknowledged that Slavensky had been "dealt a terrible hand" but urged jurors not to be motivated by sympathy for his deteriorating condition.
"You promised, each and every one of you, not to allow sympathy to interfere with your decision," Scully said. "And I'm gonna hold you to it."
Scully suggested that Slavensky could have been exposed to asbestos brought home by his father, who worked as a pipefitter and died of asbestos-related illness in 2010. Scully desribed this as "take home exposure," noting that Slavensky often vacuumed out the cab of his father's work truck. He also said Slavensky acknowledged using asbestos-containing products while working as a service technician for a heating and air conditioning repair company.
Asbestos was a legal and widely-used product when Westburne sold it in the early 1970's, Scully argued. He said Westburne merely sold asbestos-containing pipe, and that the product's manufacturer CertainTeed Corp. had a responsibility to warn suppliers about the risks posed by asbestos, but failed to do so.
CertainTeed, along with a wide range of other companies including Georgia-Pacific LLC and Honeywell International Inc. was originally listed as a defendant in Slavensky's lawsuit, but only claims against Westburne remained by the time the case went to trial.
Before discharging the jurors, Judge Seligman said their brief service played a key role in the outcome of the lawsuit.
"Actually facing a jury, and in this case getting started in the trial, and doing all the preliminary work and laying out the case and being ready to go is what the parties needed to get to the point where they could finally resolve the case," Judge Seligman said.
The case is Slavensky v. Basco Drywall & Painting Co., et al., case number RG15754136, in the Superior Court of California for the County of Alameda.
E-mail David Siegel at dsiegel@cvn.com.