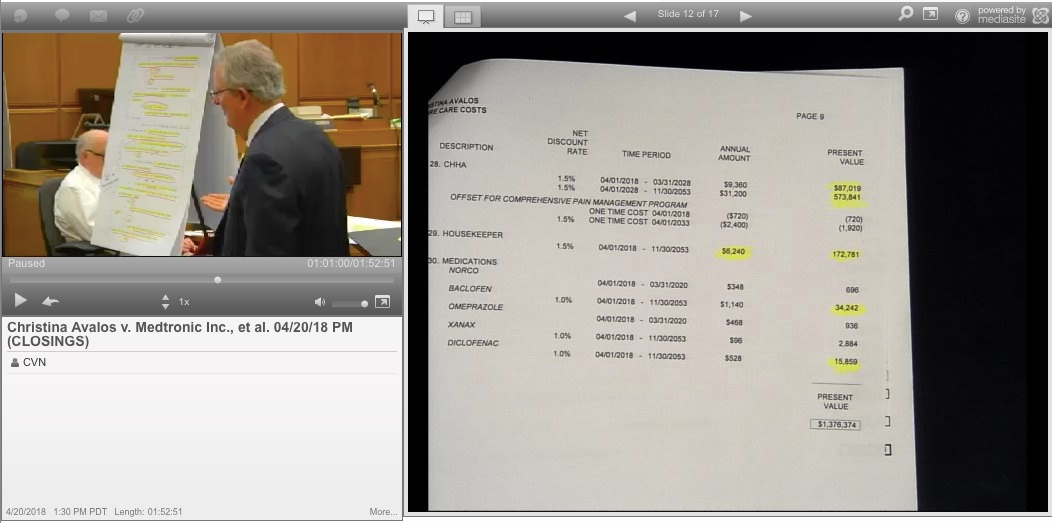 CVN screenshot of defense attorney Dennis Ames delivering his closing argument
Los Angeles - A California state court jury delivered a defense verdict on Monday for a surgeon accused of engaging in "off-label" use of medical device company Medtronic's "Infuse" spinal implant on a patient without her consent, in the first such case to go to trial.
The Los Angeles County jury decided 11-1 that Dr. William Dobkin, a spinal surgeon at Hoag Hospital in Newport Beach, was not negligent in his use of Infuse to treat plaintiff Christina Avalos' chronic back pain, and that he obtained the proper consent before using the implant during her two lumbar surgeries.
Avalos, a nurse, claimed she would never have allowed Dobkin to use Infuse if she knew that it was not approved by the Food & Drug Administration for use in lumbar surgeries. Her attorney told jurors that the Infuse implant, which contains a synthetic protein meant to stimulate bone growth, caused excessive bone growth in Avalos, that left her suffering from chronic, disabling pain.
Avalos' attorney, Bijan Esfandiari of Baum Hedlund Law, asked jurors to award her over $6.4 million in damages, according to Courtroom View Network's gavel-to-gavel webcast of the trial.
Dobkin's attorney, Dennis Ames of La Follette Johnson De Haas Fester & Ames, successfully argued that the use of Infuse to treat Avalos was consistent with the standard of care, and that her continuing pain is the result of pre-existing medical conditions that the surgery failed to cure.
"The fact that she wasn't cured does not determine liability," Ames told jurors during his closing argument. "The standard of care is a standard of conduct. It is not a standard of result."
Esfandiari explained to jurors that Dobkin used Infuse in 99 percent of his patients. He suggested that percentage would only be possible if patients didn't learn about the adverse outcomes allegedly associated with using Infuse in lumbar surgery.
"When somebody is using a product in 99 percent of their patients, is there any autonomy left for their patients," Dobkin asked the jury. "If you were a patient of Dr. Dobkin, then you're getting Infuse."
Ames countered that documentation in Avalos' chart and her own sworn testimony proved that Dobkins discussed the risks and benefits of Infuse and properly obtained her informed consent.
Ames told jurors that they must make their determination about the standard of care based on testimony provided by expert witnesses on the subject. Ames cited testimony from a Harvard-trained UCSF professor of orthopedic surgery who stated that Dobkin's use of Infuse was medically acceptable, even if it wasn't specifically approved by the FDA.
Esfandiari dismissed the defense experts as "hired guns" and asked jurors to give more weight to the opinion of physicians who actually examined and treated Avalos.
The Infuse implant consists of a sponge containing growth-stimulating protein that is placed inside a small metal cage. The device received FDA approval in 2002 for use in specialized back surgeries, but doctors soon began using it to treat a wider variety of more common conditions.
Off-label use is legal in the United States, because the FDA regulates medical devices and not the actual treatment that patients receive.
Medtronic faced accusations of purposefully marketed Infuse for off-label use even as increasing evidence of adverse outcomes piled up, and in 2006 the company paid $40 million to settle a Justice Department probe of a whistleblower's claims that the company paid "kickbacks" to doctors to encourage the use of Infuse.
Avalos' lawsuit originally included product liability claims against the company, but they were dropped prior to trial, which proceeded with Dobkin as the only remaining defendant. Medtronic faced roughly 6000 actual and threatened lawsuits related to the Infuse but claims to have resolved most of them after setting aside $300 million in settlement funds.
Although Medtronic was no longer a defendant, Avalos' case is believed to be the first time a jury determined whether or not a surgeon's use of Infuse was medically negligent.
Ames told CVN that he and his client are "both grateful and satisfied with the results of the trial."
Esfandiari did not respond to requests for comment.
The 14-day trial took place before Judge Terry Green. Gavel-to-gavel video of the trial, along with hundreds more from throughout California and the rest of the United States, is available to CVN subscribers.
The case is captioned Christina Avalos v. Medtronic Inc., et al., case number BC537742.
Email David Siegel at dsiegel@cvn.com