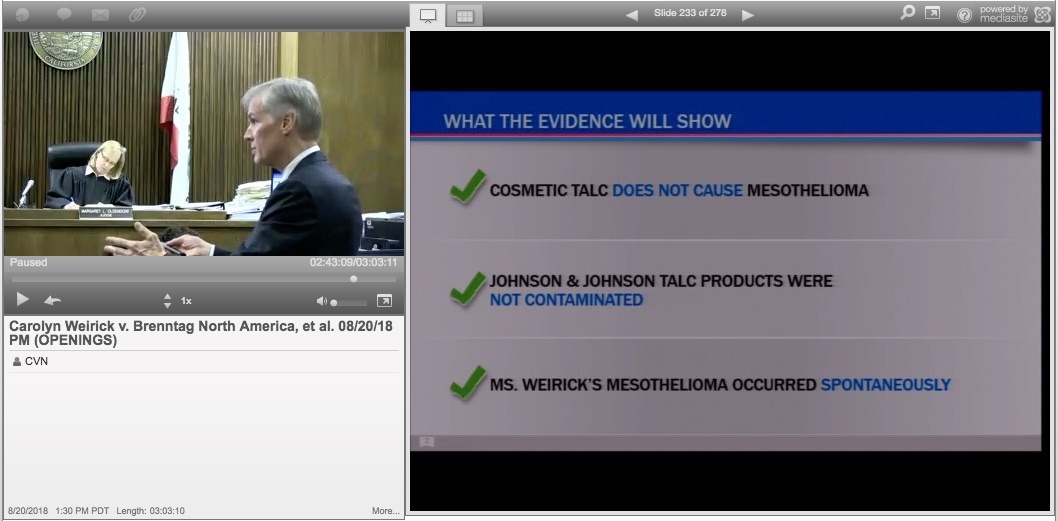 CVN screenshot of J&J attorney Christopher Vejnoska delivering his opening statement
Pasadena, CA - A California state court jury heard opening statements on Monday in the sixth lawsuit to go to trial over claims that asbestos supposedly present in Johnson & Johnson's cosmetic talc products causes mesothelioma.
It took two weeks to select a jury in plaintiff Carolyn Weirick's case. Weirick, 59, was diagnosed with mesothelioma in 2017 and blames decades of using Johnson's Baby Powder and Shower to Shower for her illness. Mesothelioma is a fatal form of lung cancer often associated with asbestos exposure.
J&J faces nearly 5000 lawsuits involving claims that its talc products cause ovarian cancer, but a growing number of cases allege that J&J knew for years that its talc products contained asbestos and failed to warn consumers.
J&J and co-defendant Imerys Talc America, their talc supplier, maintain that those accusations are chiefly motivated by overzealous plaintiffs attorneys and based on flawed scientific studies.
The full trial is being webcast and recorded gavel-to-gavel by Courtroom View Network, which also recorded most of the other J&J talc trials to date involving both mesothelioma and ovarian cancer claims.
Weirick is represented by Jay Stuemke of the Texas-based firm Simon Greenstone Panatier. Simon Greenstone also represented plaintiffs in the the three prior mesothelioma-related J&J talc trials to date in Los Angeles County.
The first of those trials ended with a defense verdict last year. The next resulted in in a $25.75 million plaintiff verdict, and the next ended in a mistrial when the elderly plaintiff died.
Stuemke told jurors that both J&J and Imerys had access to hundreds of studies that showed their talc products contained asbestos, which is often found in the same location as talc mineral deposits. He said the companies knew the potential health risks to consumers even while they sold safer cornstarch-based products.
"This case is about a breach of that trust by Johnson & Johnson first, joined by Imerys, throughout my client's lifetime," Stuemke said. "The trust that we're talking about is a trust that's been carefully cultivated over 100 years."
He attempted a pre-emptive strike on J&J's argument that they performed extensive testing to determine their talc was asbestos-free by suggesting that testing relied on equipment that couldn't detect microscopic asbestos fibers.
"They're using a bathroom scale to test for needles, and then they're telling you there's no needles because it doesn't show up on the scale," he said.
J&J's attorney, Christopher Vejnoska of Orrick Herrington & Sutcliffe, told jurors that Weirick's attorneys couldn't provide definitive evidence linking her cancer to cosmetic talc products, suggesting that cancer sometimes "just happens."
"That's not an excuse," he said. "That's just science."
Vejnoska cited Weirick's significant family history of cancer as a possible contributing factor to her illness, noting that many women develop mesothelioma without exposure to asbestos.
He vehemently denied that J&J's talc products ever contained asbestos, telling jurors that company documents wouldn't indicate a coverup, but rather that J&J took proactive steps to ensure their products were safe.
"Johnson & Johnson's talc products were not contaminated with asbestos," he said. "That didn't happen by accident. That didn't happen by luck. It happened because Johnson & Johnson went to extraordinary lengths to ensure that its products were not contaminated and to be sure that people could trust those products."
No clear trend has emerged yet in the five previous trials, and these nascent courtroom tests are being closely watched by attorneys throughout the country. In addition to the three earlier trials in Los Angeles County, a New Jersey jury delivered a $117 million plaintiff verdict in April and a South Carolina case that same month ended in a mistrial when the jury deadlocked.
J&J and Imerys face a number of potential talc/mesothelioma trials in the coming weeks, and attention is shifting back to mesothelioma-related cosmetic talc cases after a Missouri jury awarded $4.6 billion to 22 women who developed ovarian cancer in July.
Besides being the largest verdict by far in any talc case to date, that trial also broke ground by introducing the argument that asbestos in J&J's talc products caused ovarian cancer, versus previous trials that hinged on the argument that ovarian cancer was caused by the talc itself.
The first trial involving both J&J and Colgate begins September 4 in New Jersey, and CVN plans to similarly webcast and record the proceedings. Another trial is potentially set to begin that same week in Los Angeles County, and another the following week in South Carolina.
In the current trial before Judge Margaret Oldendorf J&J is also represented by Warrington Parker of Orrick, and by Alexander Calfo, Julia Romano and Jennifer Stewart of King & Spalding LLP.
Imerys is represented by Bradford DeJardin and Erin Carpenter of Dentons US LLP.
The case is captioned Carolyn Weirick v. Brenntag North America, et al., case number BC656425, in Los Angeles County Superior Court.
E-mail David Siegel at dsiegel@cvn.com