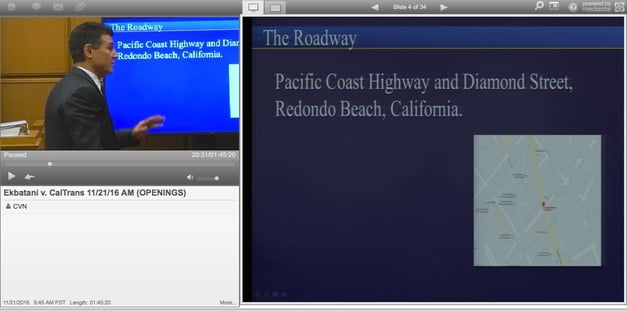 Plaintiff's attorney Garo Mardirossian delivers his opening statement. Click here to see video from the trial.
Los Angeles - A Redondo Beach intersection with poor visibility that was allegedly known by state officials to be dangerous was the cause of a traffic accident that resulted in the partial amputation of a former UCLA football player's leg, his attorney told jurors in a trial currently underway in California state court.
During opening statements on November 21, attorney Garo Mardirossian argued to jurors that a gradual incline and lack of a left turn signal at the intersection contributed to a collision in 2012 that severely injured Amir "Nick" Ekbatani, who was driving home form a date. Mardirossian claimed the California Department of Transportation received numerous citizen complaints about the intersection but took no action.
Ekbatani, now 29, was riding his motorcycle north on the Pacific Coast Highway when he was struck by a taxi van that failed to yield the right-of-way while making a left turn onto Diamond Street, according to his complaint. Mardirossian told jurors that southbound drivers on PCH face an incline that makes it impossible to see oncoming traffic until they've already reached the intersection.
"You don't see them until you're all the way to the top," Mardirossian said, noting that repaving of the intersection over the years has made the problem worse. He didn't tell jurors a specific amount of damages he would ask for on behalf of Ekbatani, who underwent 13 surgeries on his left leg and now walks with a prosthesis, but he said they would be "substantial."
The trial is being webcast and recorded gavel-to-gavel by Courtroom View Network.
Representing Caltrans, Deputy Attorney General Jill Siciliano told jurors that the state agency should not be responsible for the design of the intersection, because they inherited it decades ago from Los Angeles County. The county designed the highway, and no fatal accidents have occurred at the intersection in question in over 20 years.
"They've done everything possible to make it a safe thoroughfare," Siciliano said of Caltrans.
Siciliano placed the blame on the driver of the taxi van, Mesfin Kinfu, who she claimed made a dangerous sharp turn off of PCH onto the side street.
"The evidence will show he was driving recklessly," she said. Siciliano also argued that Ekbatani was not driving defensively, and that his dark clothing made him difficult to see at night.
Ekbatani's original complaint included Kinfu and his employer, United Independent Taxi as defendants, but those claims were resolved prior to the case going to the jury. Kinfu is pursuing a counterclaim against Caltrans.
Mardirossian played video depositions from two citizens who filed complaints about the intersection, that he said should have warned Caltrans about the potential for collisions.
"I really thought they needed a left-turn signal," 90-year-old Renee Soiffer said during her deposition. Soiffer worked at the nearby Redondo Beach Main Library in 2005 and testified that she contacted the mayor's office after witnessing numerous accidents at the intersection.
"I thought it was a dangerous intersection for many people," she said.
Mardirossian played testimony from Russell Smith a driver who blamed poor visibility at the intersection for a 2005 accident. He also claimed police officers raised concerns about the intersection as far back as 2001.
Siciliano told the jury that Caltrans only received the complaint from Soffers.
The trial is taking place before Judge Anthony Mohr in Los Angeles County Superior Court, and the full proceedings are being webcast and recorded gavel-to-gavel by CVN.
The case is Ekbatani v. United Independent Taxi Drivers, et al., case number BC504902.
E-mail David Siegel at dsiegel@cvn.com.