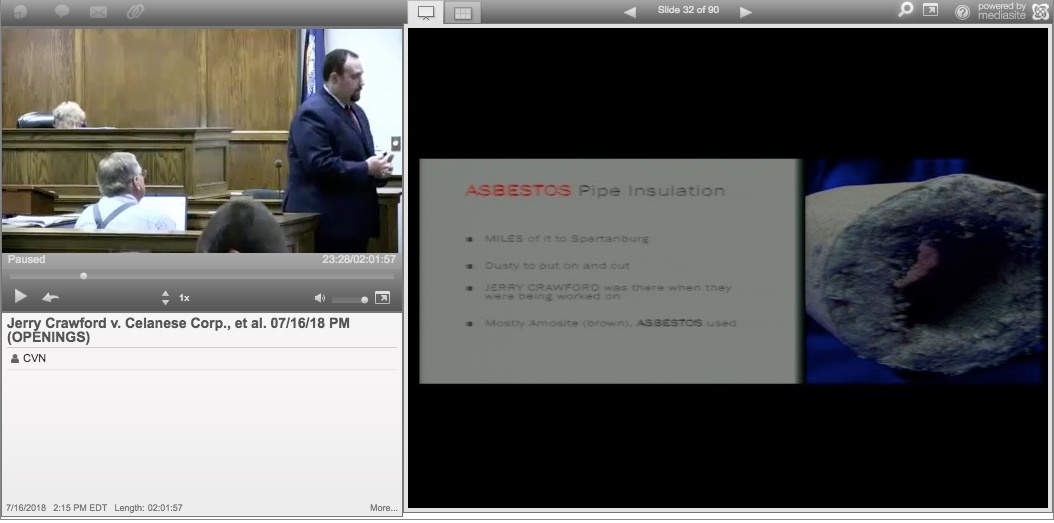 CVN screenshot of plaintiff attorney Aaron Chapman delivering his opening statement
Spartanburg, SC - A South Carolina state court jury heard opening statements on Monday in a lawsuit filed by a man stricken with fatal cancer who claims a defunct pipe insulation company is responsible for his exposure to asbestos in the 1970's.
Plaintiff Jerry Crawford, a former employee at the materials company Celanese Corporation's plant in Spartanburg, alleges he developed mesothelioma due to working in close proximity to asbestos-containing pipe insulation supplied by Covil Corporation, the sole defendant in the case.
Crawford's lawsuit originally named Celanese and other defendants including Carrier Corp., Fluor Enterprises and Honeywell, but only Covil, which went out of business in 1991, remained an active defendant when the case went to trial.
The full proceedings are being webcast and recorded gavel-to-gavel by Courtroom View Network.
The trial began with a major setback for Covil, when Judge Jean Toal granted a motion for sanctions filed by Crawford's attorneys, who accused Covil of falsely representing that records critical to the plaintiff's case were destroyed in a warehouse fire.
Judge Toal determined that claim was not supported by evidence, and that spoliation occurred. She issued an order that Crawford's attorneys could present evidence about the warehouse fire to the jury, but more importantly that the jury would be given an instruction prior to the start of opening statements that "Jerry Crawford was exposed to asbestos insulation supplied and installed by Covil Corporation at Celanese between 1970 and 1974."
Covil's attorneys quickly filed a motion for reconsideration, arguing that the sanction of a factual conclusion that goes to the ultimate issue in the trial is an abuse of discretion under South Carolina law.
The motion was unsuccessful, and Judge Toal delivered the instruction just before attorney Aaron Chapman began his opening statement.
As a result Chapman, of the Texas-based firm Dean Omar & Branham LLP, told jurors the remaining issues for them to decide would be whether or not asbestos was the cause of Crawford's illness, the potential amount of damages awarded, and what percent responsibility Covil bore for Crawford's illness compared to other defendants previously involved in the case.
"We fundamentally disagree over the value of a human life," Chapman said.
Throughout his opening Chapman used the refrain, "They knew it, they did it, and they hid it," to refer to Covil's use of asbestos pipe insulation into the 1970's despite having information for years prior that asbestos caused cancer. He characterized Covil's use of asbestos despite knowing the risks as "a business decision."
Chapman also described how Covil claimed company records for the period Crawford worked at the Celanese plant were destroyed in a fire, when they were in fact protected in a metal vault within the warehouse.
Covil's attorney, Mark Wall of Wall Templeton, told jurors that while some records were preserved in a vault, they did not include sales records central to Crawford's case.
Despite the jury already hearing Judge Toal's earlier instruction, Wall argued that there were no records indicating Covil ever sold pipe insulation to Celanese, and that no employees of the construction company that built the plant recalled using Covil products.
Hall also claimed that Crawford's asbestos exposure could come from years of changing brakes on cars after working for Celanese.
The trial is not the first to take place over alleged asbestos exposure at the Spartanburg Celanese plant. In 2015 another Spartanburg County jury awarded $14 million to a machinist who also worked at the plant in the 1970's.
That trial was also recorded and is available as part of CVN's video archive, along with gavel-to-gavel video of numerous other asbestos, talc and other toxic tort and product liability trials.
The current case is captioned Jerry Howard Crawford and Evelyn Kay Crawford v. Celanese Corporation, et al., case number 2017-CP-42-4429 in the South Carolina Court of Common Please, Seventh Judicial Circuit.
Email David Siegel at dsiegel@cvn.com