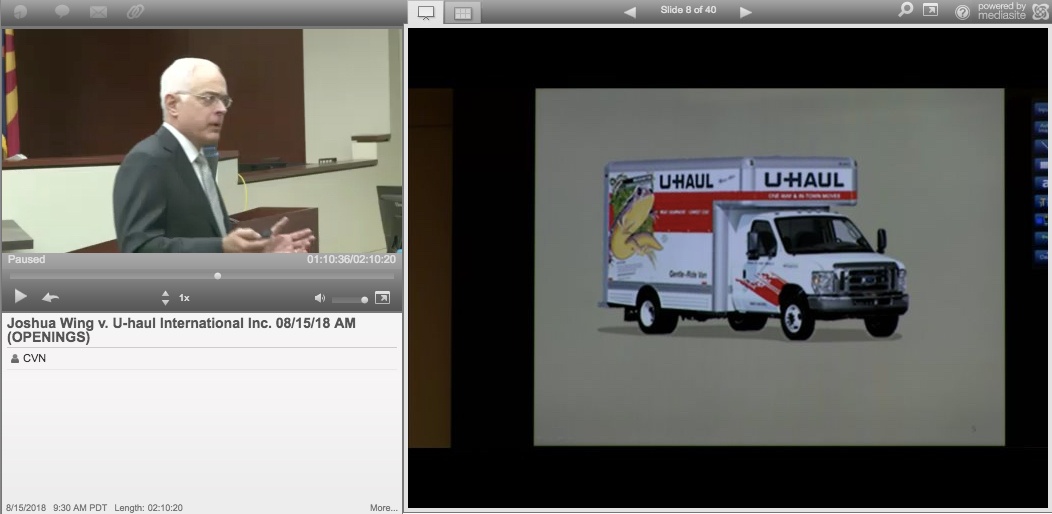 CVN screenshot of plaintiffs attorney Jon Kieffer delivering his opening statement
Phoenix, AZ - U-Haul International Inc. faced accusations Wednesday in an Arizona state courtroom that its decision to rent out tow dollies without brakes caused a truck pulling another vehicle to roll over on a highway, leaving a passenger permanently paralyzed.
Plaintiff Joshua Wing's spinal chord was severed in 2014 when he was thrown from the passenger seat of a Dodge pickup truck while towing a Toyota 4Runner from Oregon to Texas. His lawsuit claims a lack of brakes on the tow dolly caused the truck to swerve out of control and accuses U-Haul of removing brakes from its tow dolly fleet to cut down on maintenance and repair costs.
Wing's lawsuit also argues that U-haul violated an Arizona law requiring any vehicle trailer in excess of 3000 pounds to have independent brakes, a position affirmed by the judge in a pre-trial ruling.
U-Haul blames the truck driver's supposed reckless driving for the accident, maintaining he drove at speeds nearing 90 miles-per-hour despite the tow dolly only being designed for a maximum speed of 55 miles-per-hour. The company also cited Wing's not wearing a seatbelt at the time of the crash.
The full trial is being webcast and recorded gavel-to-gavel by Courtroom View Network.
Wing's attorney, Jonathan Kieffer of Wagstaff & Cartmell LLP, told jurors that Wing would never walk or work again. He said at the conclusion of the trial he would ask for at least $10 million in compensatory damages and unspecified punitive damages, describing how U-Haul made nearly $100 million renting tow dollies in less time than it took Wing's lawsuit to make it to trial after being filed.
Kieffer claimed during his opening statement that U-haul is the only company renting out tow dollies without brakes designed for vehicles smaller than heavy six-wheel trucks to tow other large vehicles. He said companies like Penske Truck Rental and Budget Truck Rental refuse to rent out dollies like the one used by Wing due to safety concerns.
"This is a company that consistently and knowingly put profits ahead of safety and did it for years," Kieffer told jurors.
Keiffer explained that the truck's driver, Matthew Delcollo, had to swerve onto the highway's shoulder to avoid a car that suddenly changed lanes. He tried to decelerate, but Keiffer said the tow dolly's lack of brakes meant it didn't slow down and caused the truck to fishtail and spin out of control.
He told jurors that U-haul used to sell tow dollies with brakes during the 1980's but gradually phased them out after implementing a policy of removing the brakes if they required maintenance or repair work in excess of $75.00.
"We know that if this tow dolly had brakes, this accident would have been prevented," he said.
U-Haul's attorney, Chandler Bailey of Lightfoot Franklin White LLC, pushed back on that claim, telling jurors that U-Haul tested brakes on a small number of tow dollies in the 1980's but eliminated them after determining they were not appreciably safer than dollies without brakes.
"99.9 percent of U-Haul's tow dollies have never had brakes on them," he said.
Bailey argued that the model tow dolly Wing used was designed in 1999, and that U-Haul subjected it to extensive testing to determine it was safe.
He accused Delcollo of ignoring speed warning labels on the tow dolly while trying to aggressively pass another driver on the shoulder of the highway.
"Driving too fast. Unsafe passing. Punching the gas off on the emergency shoulder. Poor decisions, and no seatbelt," Bailey stated. "That's what caused this wreck."
Bailey argued the court's ruling that the tow dolly violated an Arizona law requiring brakes on trailers in excess of 3000 pounds was the first such decision in the statute's 40 year history, noting that tow dollies were generally not classified as trailers in the rental truck industry. He also described how the model tow dolly used by Wing was specifically designed for use with passenger cars and trucks.
"No tow dolly with or without brakes would have changed the outcome of this unfortunate accident," he said.
In addition to hearing Wing's claims, jurors will also consider claims brought on behalf of his minor son Clayton.
The trial before Judge Theodore Compagnolo will run through Labor Day, and the full proceedings will be webcast by CVN.
The case is Joshua Wing and Clayton Wing v. U-Haul International Inc. and U-Haul Co. of Oregon, case number CV2016-050917 in Maricopa County Superior Court.
Email David Siegel at dsiegel@cvn.com