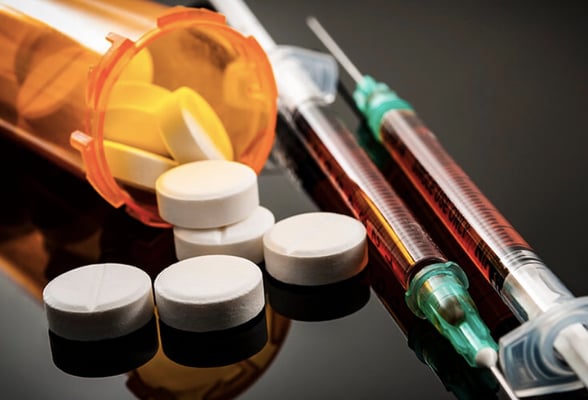 Central Slip, NY - A New York State court jury began hearing openings statements on Tuesday in a landmark trial over pharmaceutical companies' alleged responsibility for the opioid crisis, and the opening and closing statements will be webcast gavel-to-gavel by Courtroom View Network.
Openings began before Suffolk County Supreme Court Justice Jerry Garguilo on Tuesday morning and were still underway Wednesday afternoon.
The case, brought by the New York Attorney General's office and Nassau and Suffolk Counties, had originally been scheduled for trial in early 2020, but those plans were scuttled due to the pandemic shutdown. When the trial begins, it will mark the first jury trial in a state court opioid case.
New York's state courts prohibit electronic news media coverage of any proceedings involving witness testimony, so CVN's video coverage will be limited to opening and closing arguments.
CVN is currently providing exclusive on-demand video coverage of an ongoing opioid bench trial in California state court, and in 2019 CVN webcast the first opioid bench trial in the country in Oklahoma state court.
An opioid jury trial is currently underway in West Virginia, however it is taking place in federal district court where electronic news media coverage is largely prohibited.
A number of pharmaceutical companies, including Johnson & Johnson, McKesson and Teva Pharmaceutical industries face allegations at trial that their marketing and promotion of opioid-based painkillers contributed to an ongoing public health crisis that has cost state and local governments billions of dollars.
The drug companies maintain the medications in question all have FDA approval and help millions of people suffering from pain every year who don't develop an addiction.
The sprawling trial is expected to include hundreds of witnesses and could take months to complete. The proceedings will take place in a nearby law school's moot court auditorium to accommodate the numerous trial participants.
The case is captioned In re: Opioid Litigation, case number 400000/2017, in the Supreme Court of the State of New York, County of Suffolk.
E-mail David Siegel at dsiegel@cvn.com